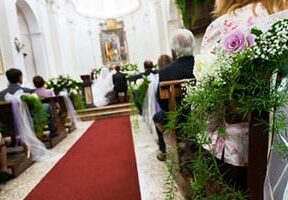 Aug 30
Honeymoon travel
Your travel arrangements will need to be very carefully thought out, especially if you have a specific plane, train or boat that you need to catch after the reception. Be realistic about the time that you will be able to get ¿way from the reception, and also make realistic assessments of how long it will take you to get to your destination, remembering that you will both be tired.
Many couples choose to spend their first night in an hotel in this country even if they are going abroad the next day – this can be an ideal way of recovering from the exhaustion of the day itself without having to cope in a foreign country as well. Many airports have hotels near them, and some of the hotels even have bridal suites so that you can really spend your first night in style.
The hotels may not be in very attractive settings, but all you are likely to want the first night is a good dinner and a comfortable bed!
If you will be driving away from the reception, don't forget that your car is likely to be decorated in various appropriate ways. If this idea appals you, make sure that your car is well hidden and arrange for a trusted friend to drive you to its hiding place when you are ready. If you don't mind having the car decorated, remember to allow some time in your timetable for stopping at a friendly garage and repairing the damage.
Alternatively, you may choose to leave your reception by taxi, or a friend could drive you to the station, car hire firm, etc. Whatever your travel arrangements are, double check them before the day itself and again on the morning of the wedding day; this could be a task that you could ask your best man to undertake. If you are using your own car, make sure that it is well supplied with petrol, oil and water, and that the tyres are pumped up.
You may choose to leave your reception by some more exotic means, such as a carriage and pair, a boat, or even a balloon! You could also arrange for the wedding car that brought you from the service to return and see you off to your honeymoon in real style: Confetti will probably be liberally sprinkled at this stage, so check your pockets, collars, etc, unless you want everyone to know that you are newlyweds!
Checklist for planning your honeymoon
Where will we go?
Will someone have supplies of food, milk, etc, ready when we return?
How long will the holiday last?
What tour operator are we travelling with?
Will we be touring or staying in one place?
Who is our contact in case of difficulties?
What date will we leave?
Is there a phone number or address where we can be reached?
Do we want to stay anywhere different the first night?
Will we need any extra money for accommodation, petrol, tips, etc?
If so, where?
Will we need money for meals?
What date will we return?
Will we need extra money for sightseeing trips?
What transport will we need from the reception?
How much spending money will we need?
What time will we need to leave the reception?
How will we take this – currency, traveller's cheques, etc?
Do we need to hire a car?
Do we need foreign currency?
II so, when and where will we pick it up?
If so, when do we pick it up?
Do we want to take our car abroad with us?
Do we need visas for the country we're visiting?
If so, what documents are needed?
Do we need any injections?
Do we both have current passports?
What are the times of our travel arrangements on the outward journey?
Do we both have suitable going-away outfits?
What are the times of our travel arrangements home?
Does the bride's passport need her name changed?