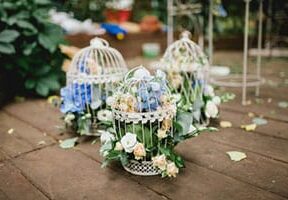 Aug 16
Honeymoon preparations
It's easy to neglect preparations for your honeymoon in the rush of preparations for the wedding day itself, but most of your packing can be done well in advance, with just the addition of last-minute things such as washing kits and money at the end. While there is plenty of time, think out carefully the kind of things you will need and begin assembling them, and this will save you a lot of headaches when the pressure is on.
Clothes
Choose clothes that are suitable for the climate of the place you will be visiting. Most people take far more clothes than they need when they go abroad; it's horrifying how quickly they can mount up and make your suitcase feel as if it weighs a ton. Find out about the place that you will be staying; are you going to a self-catering place in the sun, in which case you will probably want only swimsuits, shorts and T-shirts and sundresses, with the occasional more elegant outfit, or are you going to an upmarket hotel where you will be expected to dress for dinner? Will you need long jeans or long-sleeved shirts to protect you from insects, sunburn, rough rides on camels or donkeys? Is there any special clothing you will need, for instance if you plan to do a lot of sailing, climbing, canoeing, etc?
Equipment
Find out as much as you can about the facilities of the hotel or guest house where you will be staying – for instance, it would be annoying to cart a hairdryer and travel iron several thousand miles only to discover that every room has their own provided. If you will be self-catering, do you need to take food with you or can it be bought nearby? If you are going on a special interest holiday, is there any equipment that you need to take with you? If so, add it to your list and collect it early on so that you aren't scrabbling around trying to obtain it at the last minute.
Documents
Your documents will of course be the most important items of all; if you forget a swimsuit or underclothes it will be annoying but not disastrous as you can always buy replacements, but if you forget your passports or plane tickets you may not be able to travel at all. Insurance is vitally important too; no-one wants to think of disasters happening on their honeymoon, but if they do it would at least be nice to have insurance cover for them. Make a list of all the documents you will need, and double-check it the day of the wedding.
Pic 21
Where will you live?
One extremely important question to decide well before the wedding day is where you will live after you are married. If one of you already has a house it may be easiest to move in together there; however, the place may not be big enough, particularly if it is a typical single person's flat or bedsit, so this may not be practical. Or, you may be setting up your married life in a completely new area, and may have to find new accommodation from scratch.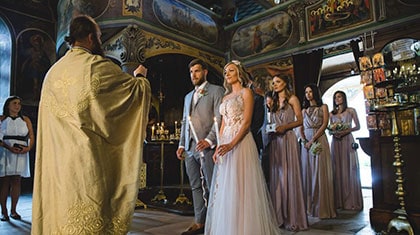 Living with relatives
If you are not well off you may decide to live with one or other sets of parents, or with another relative, until you can afford a place of your own. This, like most living arrangements, has both advantages and disadvantages. The advantages are that you don't need to get involved in the trouble and expense of buying a house until you have had a chance to adjust to married life; you will be able to live more cheaply than if you were living on your own; you should be able to share some of the chores such as cooking, washing, cleaning, gardening, shopping, etc; and both couples will have someone else around for companionship. Potential problems are, of course, manifold, and this situation may be particularly difficult for the son or daughter-in-law who has married into the family; he or she may feel that they have not taken on a marriage partner but a whole family!
If you are going to live in this kind of arrangement when you are first married, talk it over all together and make sure that everyone is happy with it. Make clear certain conditions so that there will be no misunderstanding – for instance, exactly how much you are going to pay for housekeeping, how the chores will be divided, how you will pay for electricity, phone calls, laundry, etc. If at all possible, set a definite time limit on the arrangement – for instance that you will live there for a year while you save, and then start looking for a place of your own. Some families are able to make over a whole part of their house into a flat or annexe for the newly-married couple, which can mean that you have a lot of the advantages of living under one roof without many of the disadvantages.
Be sensible and realistic about how the arrangement is likely to work; for instance if you find it difficult to get on with one set of parents, it will be a very difficult start to your married life if you are constantly quarrelling. If it is your parents that you will be living with, be sensitive to the fact that your husband or wife will probably feel very left out at first as the newcomer to the home.
House-sharing
Sharing a home with friends has many of the advantages and potential disadvantages of living with relatives, but if you choose to live with friends you can at least ensure that you have similar tastes, interests and lifestyles. If you are looking at this kind of arrangement, make sure that all of you get on well together, that there is no danger of sexual tensions or jealousies among you, and that you are all able to communicate well if you are unhappy with any aspect of your living arrangements. Once again, make it clear at the outset what each person will be expected to contribute in terms of money, time and talents.
Renting accommodation
Renting accommodation on your own can be a good half-way stage between leaving home and buying a house of your own; you will have independence and the chance to be together without the extra financial strains of owning and caring for your own house and having to make decisions on the rates, maintenance, etc. Of course not all renting is plain sailing. If you are renting a council house the conditions will be well laid out and your duties clearly detailed; the council will pay for the maintenance of the property and you will simply need to keep it in good order.
If you are renting privately, try to build up a good relationship with your landlord as he will be the key to whether you are happy in that flat or house.
If possible, try and find out about the landlord before you make any firm arrangements, for instance, from other people in the same block of flats or in other properties administered by the same landlord. Find out whether he is helpful, difficult over money, cooperative over repairs, etc; also find out how often the rent has to be paid, whether a cheque or cash is preferred, whether this includes heating, lighting, gas, water, phone, etc.
It is also worthwhile checking on your rights as a tenant – unfortunately there are still some unscrupulous landlords around who may try to push you out with little notice, or put the rent up astronomically as soon as you are settled in. If the rent is not too high, renting accommodation can give you a good chance to save capital so that you can put a significant deposit on a house of your own, which is in turn a good way of reducing your mortgage payments, so although renting may be a little awkward at times it can be very useful for the newly-married couple.