Ring size
"Define your ring size"
The ring sizes must be measured at a jeweler shop with plastic ring sizer.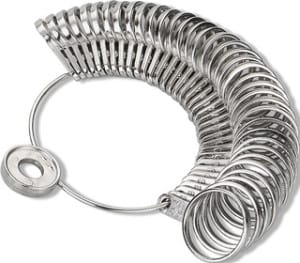 If you don't have spare time to go to a jeweler, please write me an email with your address and I will send you plastic ring sizer for free in order to define your correct ring size.
Basically, ring sizers should be closest to your wedding rings in ring shape and width. But rarely have the jewelers so many ring sizers in shape and width of the ordered rings. Therefore you'd better refer to a wedding rings specialist.
The wedding ring fits you best when it doesn't resist too much or too less when you are putting it on or off, although this can vary depending on the shape of fingers.
1. If you choose a ring, which is up to 6 mm wide and inside slightly cambered, it's just enough the ring to be measured by a jeweler with a normal 3 mm wide – inside flat ring gauge. Like I said, the ring should not resist too much or too less while taking on or taking off.
2. The measure for 7 or 8 mm wide rings is the same (the resistance while taking the ring on and off shouldn't be too much or too less) but it should be one size bigger. For example, if size 54 fits you good, than you should order ring size 55 as the rings are 7 or 8 mm wide. If a smaller size is chosen, the ring would be too narrow.
3. The right size for 9 or 10 mm wide rings should be also bigger than the correct one. It should be taken 1.5 to 2 sizes more than the correct one.
Many jewelers are not very familiar with the measurements and measure the ring sizes with a 3 mm wide ring gauge exactly without asking how wide will be the ring. Then in the most cases the rings are made too narrow.
Please read carefully what I wrote and proceed very carefully while determining your ring size.
Ring sizes must be measured by a jeweler! In NO cases you can measure the ring size by yourself using cardboard stencils, rulers and so on. The results in this case will be 90% incorrect.
Although some changes of ring sizes are possible, they are used to be very expensive.
In Germany and Austria, the wedding ring is worn on the right wedding finger.
The engraving: the final individual touch. I offer the classic version, namely mechanical engraving inside the ring. You can choose between 3 different fonts.
Font 1:

Font 2:

Font 3:

Font 4 Russian (Cyrillic):

You could choose every text you like inside your wedding or engagement rings for instance: names, dates etc. all up to 25 signs per ring.