Ring size
"Define your ring size"
The ring sizes must be measured at a jeweler shop with plastic ring sizer.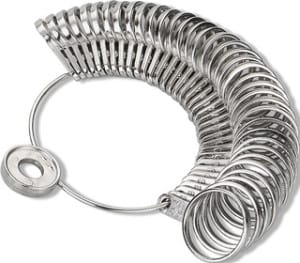 If you are US Customers, please contact us about your ring size! If you don't have spare time to go to a jeweler, please write us an email with your address and I will send you plastic ring sizer for free in order to define your correct ring size!
The perfect ring sizer should not be too lose or too tight. If you get a plastic ring sizer at home, please take about 4-5 minutes and don't underestimate the measurement. If your ring size is between two measurements, there is no problem for us to make rings in size e.g. 54,5 or 62,5
Font 1:

Font 2:

Font 3:

Font 4 Russian (Cyrillic):

You could choose every text you like inside your wedding or engagement rings for instance: names, dates etc. all up to 15 signs free of charge
If you have any questions, please do not hesitate to contact us at:
2trauringe.gold[at]gmail.com
Please replace [at] with @ !
Tel. (+49) 0157 8478 5771