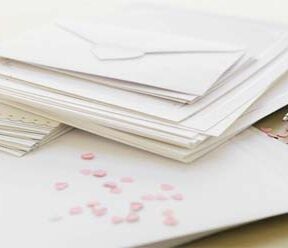 Jul 21
Sending invitations
The invitations should be sent out by the bride's family (generally by her mother) if the bride's parents are hosting the wedding. If the bride and groom are doing it themselves, the bride should send them out. By convention the invitation is addressed to the wife if it is sent to a couple; the wife replies, addressing her reply to the bride's mother. On the invitation the couple can either be addressed formally as Mr and Mrs Robert King, less formally as Robert and Anita King, or informally as Robert and Anita, depending on how formal the wedding is and how well the hosts know the people being invited. Always make it clear on an invitation whether children are invited; this saves embarrassment later. If you are inviting a whole family, the invitation can read Mr and Mrs Robert King and family; Robert and Anita King, Harriet, Emily and James; or Robert, Anita, Harriet, Emily and James.
Inclusions
If there is any possibility that the guests will not know exactly how to get to the church or reception, include a photocopied sketch map with the invitations, marking all the relevant points. You may also wish to include a gift list with the invitations (see the section on presents), although this does tend to look a little grasping! Even if you are going to send a gift list out to all the guests, it is more tactful to do so at a later stage.
With us, you always have the choice to have your wedding rings produced in grey gold 14ct, white gold 14ct or platinum 600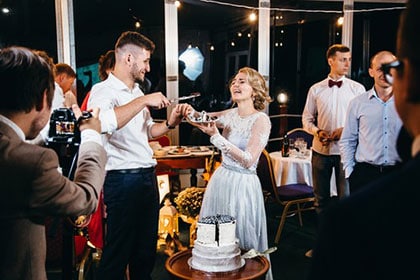 Acceptances
Generally, formal invitations require formal acceptances, written in the third person; for instance Mr and Mrs Geoffrey Waters thank Mr and Mrs Brown for their kind invitation and will be delighted… or regret they cannot… However, more and more people these days reply to invitations informally, and are more likely to write something such as Geoff and Margaret Waters will be delighted… or we will be delighted… signed, Geoff and Margaret. Keep a log of replies (see pp 54-55) and also a running total; don't forget to tell the caterers, etc, if the total is very different from the numbers originally expected.
In Bulgaria, wedding invitations traditionally took the form of cakes sent out by the
bride's parents.
In ancient rural Germany, a person known as a 'wedding inviter'was employed to do the job; the man was decorated with flowers and ribbons and carried a decorated stick to knock on the guests ' doors.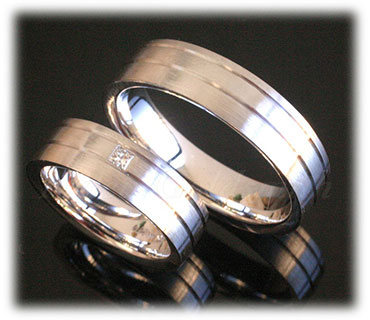 Checklist for invitations
How many invitations will we need?
What style of invitations do we want?
Do our stationer's have anything suitable, or do we want them designed and printed specially?
What color paper do we want?
What color ink?
Do we want a monogram?
Do we want a photograph or picture?
Are there any other personal touches we want incorporated?
What wording do we want?
Who will be printing the invitations?
How much will they cost?
How far in advance will we have to order them?
When will we have to collect them?
Unique wedding rings – made in Germany only in our online store for jewellery