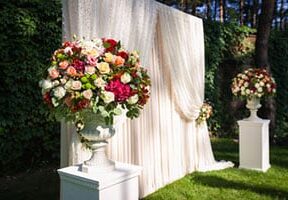 Oct 06
Book the Registrar in England Wales Scotland – Plan my Wedding
You can tie the knot at a registry office, or any wedding venue in the UK that has a civil wedding licence, but wherever you decide to hold your ceremony, you have to 'give notice' of your intention to have a civil partnership at your local registry office. The earliest you can give notice to the registry office is one year in advance, although you can usually book a provisional date if you want to book further in advance. If you are in a real hurry, the minimum requirement is a 15-day notice period. Even if you want to elope to Scotland and you fancy the romance of marrying in Gretna Green, you still need to allow 15 clear days before you can tie the knot.
In England and Wales, you must make an appointment with the registrar (which may take a few weeks to arrange). You will both be interviewed separately and your details are then filled in online in a system called Ron – Registration online, which means that all registry offices have access to the information.
In Scotland, you can download an application form from the Internet and send the required details by post. You can also apply by post in Northern Ireland. This means you don't have to meet the registrar ahead of your ceremony in Scotland or Northern Ireland – you can just turn up on the day. However, I would advise meeting the registrar who is going to conduct your ceremony, so you are not complete strangers on such an important day. You can go through the details of the ceremony, and they will also be able to advise you on details such as the best places for people to stand to give readings or how to make a grand entrance.
Registry offices usually have a range of ceremony rooms for varying sizes of parties. These may include a small room with space for you and a couple of witnesses, through to the rooms where the council holds civic events.
At least two weeks before your ceremony, the registry office will publish the details on its notice boards. These include your name, date of birth, marital status, occupation, nationality and where the civil partnership will take place. However, unlike for straight couples, and to prevent any potential homophobia, they don't include your address. In England, Wales and Northern Ireland, once you have given notice it is valid for twelve months, so if you want a big lead-up, or still need some time to think about it, you have some breathing space. However, in Scotland you have to get your act together, as you have only three months.
What paperwork do you need to give notice?
You need to take along two pieces of identity – ideally one should be your passport and another proving where you live.
If you're divorced, you also need to provide the decree absolute. If you've already had a civil partnership dissolved, you must take along the final order of dissolution. If you've mislaid the paperwork, you can contact the court where the divorce or dissolution took place, or contact The Principal Registry of the Family Division. If your former husband, wife or civil partner has died, you should take along their death certificate.
What if one of us is subject to immigration controls?
If you are subject to immigration controls, you must give notice of your intention to register a civil partnership at one of the designated 76 registry offices in England and Wales (details on gro*gov*uk). All registry offices in Scotland and Northern Ireland are designated.
How much does the ceremony and partnership certificate cost?
These may vary depending on the day of the week you are holding your ceremony and how far the registrar has to travel – if you're having the ceremony at a licensed venue rather than the local registry office. When you get your estimates, keep them in a file or record in the Budget Planner, then, when you have decided on the best price and supplier, fill in the final column of the Budget Planner.
Special circumstances
a) the 15-day waiting period does not apply, and
b) you can register a civil partnership at a place other than a licensed venue.
What else do we need?
You need to have decided on the date of your civil partnership ceremony, even if you haven't yet chosen the venue. You may want to research venues before confirming the date (see Finding a venue), but you can change the date with the registrar if circumstances change.
What happens if one of us changes their mind?
If you change your mind about going through with the ceremony, after you have given notice, you need to write to the registrar. However, you will lose any fees paid.
What actually happens on the big day of signing?
You can either sign on the dotted line, 'the civil partnership schedule', in front of two witnesses, or you can make it into more of a ceremony. Camden registry office sent us four different options for the wording of the ceremony, all bound in a specially designed brochure. The words were much more romantic than I had expected. You can choose to amend the wording as long as it's agreed with the registrar ahead of time. You can also add readings, poetry or pieces of music.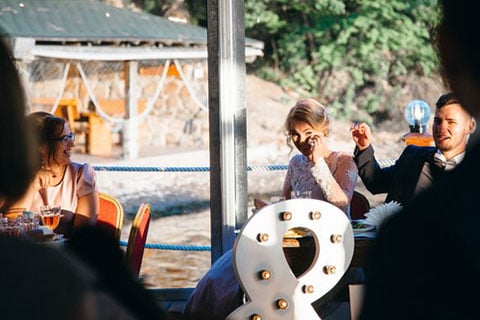 Key points to note are:
• Readings or poetry must have no religious connections or connotations.
• Photographs are normally taken after the ceremony.
• Video or audio recordings can be done throughout the ceremony with the agreement of the registrar.
• In our case, there were two registrars, but sometimes there is only one.
Although the Civil Partnership Act prevents any religious service from taking place during the registration of a civil partnership, there are gay-friendly clergy who are willing to travel the length and breadth of the country to give you a blessing after the event, although this can't take place at the registry office. For more information, see Celebrants.
Top tips
• Book the registrar as soon as possible.
• Remember to give notice at your local registry office even if you want to marry somewhere else.
• Don't forget you need two witnesses.
• Think about how you can make the ceremony personal.