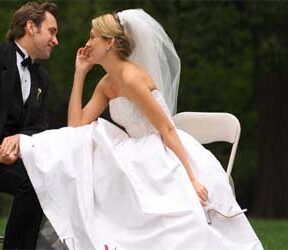 Aug 05
Fabrics, bridesmaids dresses
During the 50s and 60s satins were the rule for bridesmaids' dresses, and were very suitable for the extremely simple princess styles and straight skirts of those eras. Since the advent of 'flower power' and subsequent fashion trends, dresses for both bride and bridesmaids have become much more feminine. As a result many more fabrics have been brought into use for bridesmaids' dresses – prints, ginghams, cottons, slubbed silks, broderie anglaise, checks, etc. Choose a fabric that complements your wedding dress; for instance if you are all layers and layers of fine net and organdie, bridesmaids in tartan wouldn't look very appropriate – or if you are in Edwardian style, bridesmaids in satin and net crinolines would look strange. Don't just look in the 'bridal' departments of shops for fabrics and dresses; these tend to be very safe and predictable. Shop around in boutiques and the other departments, and you could come across just what you are looking for.
If you want to buy custom wedding rings of platinum from a picture or a draw, you can ask our sales support about that and they will give you a great offer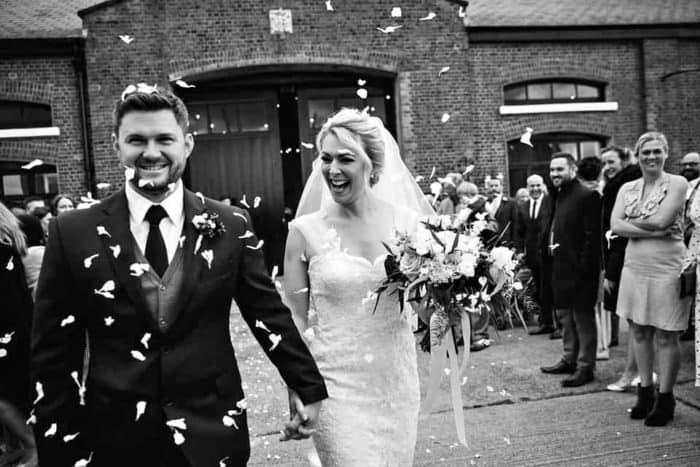 Accessories
Once again it is best to have accessories that complement your own in style; the bridesmaids' bouquets, headdresses and shoes should all echo your own rather than clash with them. Shoes for older bridesmaids could be sandals, court shoes or satin slippers; shoes for younger bridesmaids could be pale party shoes or ballet slippers, or even patent leather shoes in a pretty style. As with your own shoes, make sure that all those of your attendants are non-slip!
Checklist for bridesmaids' clothes
Who are my bridesmaids going to be?
What fabric will be suitable?
Should the fabric be plain or patterned?
Do we want any extra design features, such as tucks, bows, sashes, ribbons, flowers, frills, overskirts aprons, etc?
What colors) will they be wearing?
What headdresses will they wear?
Will this blend in with the rest of the wedding party?
Will their dresses reflect mine in style?
What shoes will they wear?
Will they be bought, made or hired?
II made, who will make them? Will the same person make them all?
What color tights or socks will they wear?
Is there a chief bridesmaid?
If so, how will she be distinguished?
What jewellery will they wear with the dresses?
Is the style flattering to all my bridesmaids?
Does the color chosen suit them all?
When will the dresses be ready?
Can they all wear the same style of dress?
If not, how can we adapt the basic style?
Who will look after the dresses until the day?
Where will the bridesmaids dress for the wedding?
What length will the dresses be?