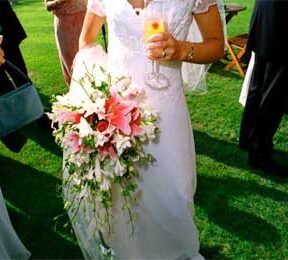 Jul 11
Styles for bridesmaids dresses
Bridesmaids' dresses can come in almost any shape and color; the styles shown here are just some of the many options.
1 Formal plain satin dress with fitted bodice, puffed and gathered sleeves and gently gathered skirt.
2 Ruffled dress with sash and puffed sleeves.
3 Gingham dress with broderie anglaise apron and mob cap.
4 Ruffled and frilled dress that could be made up in a plain or printed fabric.
5 Striped dress with leg-of-mutton sleeves and square neckline.
6 White dress with sash and underskirt in a contrasting color.
7 Bride's and bridesmaid's dresses showing how the same basic style can be adapted. The bride's dress has flowers along the neck ruffle and
skirt, and a gathered overskirt that has been caught up with ribbons. The bridesmaid's dress has a narrower neck frill and ruffle around the skirt.
8 Dresses for two bridesmaids of very different ages, made up in two shades of peach. Both dresses have gathered and ruffled sleeves and are trimmed with lace.
9 Matching bridesmaids' dresses in white overlaid with spotted voile; these dresses would suit bridesmaids of any age from young girls to a matron of honor.
When you start planning your budget, try to spend enough money for your his and hers wedding rings because it is the only thing that remains after the wedding over the years and here the quality matters!
Flower girls' dresses
If you have a very small sister, niece, cousin, etc, you may want to have her in your wedding party as a flower girl. This role could be purely decorative – she could be chosen just to look pretty and add some variety to the attendants – or you could detail her to precede the bride down the aisle scattering flower petals or confetti.
Of course, you will need to check this with the church caretaker before the event!
If you have a flower girl as well as bridesmaids, her outfit should in some way be distinctive so that she doesn't appear to be just another bridesmaid. Her dress could be in the same fabric as the others but made up in a different style, for instance shorter with pantaloons, or smocked with puff sleeves instead of low-necked with a fitted bodice. Alternatively she could wear a dress that is quite different but still toning; if the bridesmaids are in peach she
could wear a peach and cream print, for example, or if they are in a yellow and green flower print she could wear a pretty dress in plain yellow or pale green.
Shown here are some styles that would be eminently suitable for a small flower girl.
1Peasant style, with gathered skirt, checkered overskirt, white puff- sleeve blouse and black waistcoat.
2Party dress with tucked sleeves and hemline, wide sash and pantaloons.
3Layered white dress with trails of flowers from the sleeves and overskirt.
4Smocked dress with puffed sleeves and ribbon decoration.
Pageboys' outfits
Pageboys' clothes
These styles show a selection of the outfits that could be chosen for a pageboy or pageboys.
1Velvet jacket and grey trousers with bow tie.
2Morning suit complete with wing collar and top hat.
3Traditional velvet knickerbocker suit.
4Formal suit with striped trousers and waistcoat.
5Bellhop's outfit.
6Scottish outfit including kilt and sporran.
7Sailor suit.
If you still didn't find your bridal ring set, please check out our web page and you will find definitely something beautiful for you!
Groom's clothes
Groom and other men
It is easy for the groom's clothes to be forgotten in all the busy preparation and planning of the bride's outfit, but if she is looking her best it is important that she has a groom to do her justice! Also the groom sets the whole tone for the clothes of all the other men in the wedding party; if the groom wears a morning suit, so should the bride's father and the groom's father, the best man and any ushers. At a very formal wedding it might even be requested that all the male guests wear morning dress. If the groom and best man simply wear smart suits, that too will set the pattern for the other guests.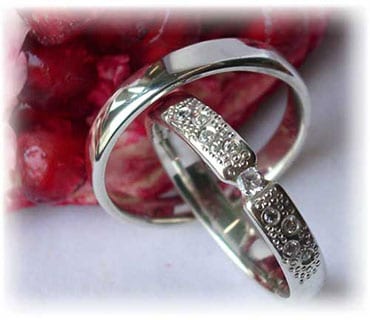 Accessories
You will need to decide first of all on what kind of suit you will wear, and once you have done that you can choose accessories to go with it. For instance, with a morning suit you have a choice of a plain collar and tie or a wing collar and stock; you could also choose top hats, gloves, and a matching or subtly contrasting waistcoat. You will also need to think about shoes and socks; black is generally the best choice if you are wearing black, grey or blue, but these days there are also many attractive men's styles available in grey and blue. If you are wearing a brown lounge suit, choose brown or beige shoes and socks to match. Think carefully about what kind of tie you want; it could be any color from plain blue or grey to striped or quite brightly colored.
Color schemes
It is important to check that the color scheme you choose for yourself and the best man tones well with the colors for the bride and bridesmaids. With a little forward planning it is possible to make sure that the whole wedding party is well coordinated. For instance, the bridesmaids could be in a red and white print, carrying red and white flowers, or in pink with red trimmings, and the men could wear grey or blue with red buttonholes or red ties. Or the bride could be in cream, the bridesmaids in yellow, carrying cream, yellow and peach flowers, and the groom and best man could wear brown or beige
morning suits.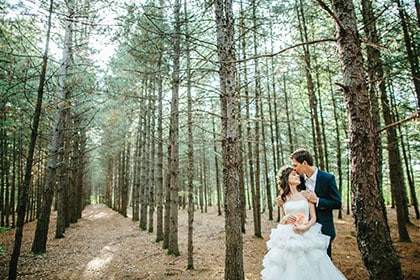 To hire or to buy?
You will need to sort out early on where you are going to get your wedding clothes. If you are wearing a lounge suit you have several options: you could wear one you already have; you could have a suit made; you could buy one off-the-peg; or you could hire one. Hire firms don't just do very formal
clothes. If you choose to wear a morning suit you will almost certainly need to hire it; it is unlikely that you would wear one often enough to justify buying one at great expense. Check with the hire firm when you can collect the suit, when it needs to be returned, and whether it has to be cleaned before being returned.
Checklist for groom's clothes
Use this list to check that you have got all your clothes and accessories sorted out and ready for the big day.