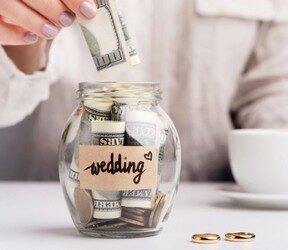 Jul 24
Wedding Budget
Getting married is notoriously expensive. Some couples are more than happy to spend out a great deal on this, the showiest day of their lives; others may have to save money wherever they can, especially if the bride and groom are footing all the bills themselves. Although the bride's father traditionally pays for the largest part of the wedding, these days many couples contribute to the costs. Whoever is paying, it is worth finding out beforehand just how much each stage of the wedding is likely to cost so that you can budget accordingly and cut costs if necessary. That way all of you will be saved nasty surprises when the bills arrive!
Clothes Wedding Budget
The clothes that are bought or made ready for the big day can eat up a sizable part of your budget. The wedding dress is often the focus of the preparations for the bride, and not surprisingly; she wants to look her very best on this special occasion, and having the dress of her dreams may be part of that.
Many wedding dresses can be bought for around £200 or less, but the material is unlikely to be of first-class quality; for anything a bit special you are more likely to pay about £400 or more. Of course some incredible creations can leave you little change out of £1,000, but few brides (or their fathers!) can spare that much for one garment. Costs can be reduced considerably by making your own dress or having it made, and you will certainly be able to afford something more special for the price you would have paid for an off-the-peg dress. Hiring or borrowing is, or course, even cheaper.
If you have a limited budget for your dress, don't let sales staff pressurise you into buying something beyond it; this is another good reason for having someone with you for moral support. Insist that they show you dresses that are within or very near your price range. And don't forget the cost of all the accessories, these can add up alarmingly quickly. Bridal shops can charge you a lot for accessories such as shoes, headdresses, underskirts, hats, etc.; if possible get them somewhere else, where they will be much better value, or in the case of things like headdresses and petticoats you could make your own. Many grooms have a new suit made for the wedding, and generally this will cost at least £100 if it is made-to-measure; an off-the-peg one will be cheaper if you can find a good fit. Hiring morning suits or other clothes is not terribly expensive, but it does mean that the best man and the other men in the wedding party, such as the bride's father, groom's father and ushers, will also have to pay to hire similar outfits.
Clothes for the attendants, especially if you have lots of bridesmaids and pageboys, can also be very expensive. Many bridesmaids these days contribute at least something towards the cost of their outfits but you should not demand that they do so. As with the bride's outfit there are many 'hidden' expenses such as the bridesmaids' shoes, headdresses, petticoats, etc.
Rings Wedding Budget
Engagement rings are often bought before the couple start to count the cost of the wedding, so you may have been more extravagant at this stage than you will be later! The cost of an average engagement ring is around £200, but of course they can be much cheaper or very much more expensive. Wedding rings tend to be cheaper as they are not generally set with stones or of unusual designs; the cost will probably be under £100 each unless they are of platinum or very heavy rings in 18ct gold. Some couples just buy a wedding ring for the bride, but more and more grooms these days are wearing rings too, and this of course doubles the expense.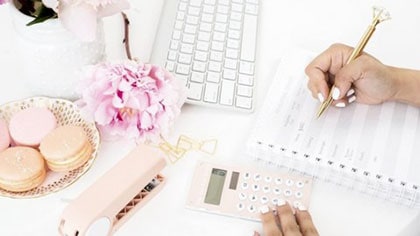 Stationery Wedding Budget
If you have your wedding stationery specially printed with your own details you can expect to pay around £80-£100 for invitations and orders of service; the price will vary depending on how many of each you order. If you have your stationery designed for you the cost could be more or less, depending on the intricacy of the design and whether you want any special card, etc. If you extend the range of your stationery with matchbooks, place cards, tablecloths, serviettes, thank you notes, etc., your bill will be still higher.
Transport Wedding Budget
Many a bride dreams of arriving at the church in a white Rolls Royce – but you may start to have nightmares when you look into prices! If you are hiring all the main cars for a wedding, then you will need at least two and probably three or four; each can cost well over £100. And, if course, if you want anything more fancy such as a vintage car or a horse and carriage the costs will be still steeper. Ask for estimates from as many firms as you can so that you can be sure you are getting the best deal.
Photography Wedding Budget
Unless you have a very skilled photographer among your relatives or wedding guests, it is best to entrust the photography on the big day to a professional. Firms vary widely in what they offer; some have a flat fee for the day and a certain number of prints; others will charge for the orders taken. The average price is around £200 for a fairly standard service; some firms offer a variety of special effects, or special ways of mounting or presenting the photographs, but these extras can be very expensive. Many couples these days choose to take advantage of modern technology and have their services and receptions recorded on video; naturally this will add to the expense.
Flowers Wedding Budget
Considering the attractive part, they play in any wedding, professionally arranged flowers are not prohibitively expensive. Bouquets may be around £15 each for a simple style, somewhat more for more extravagant designs or if you have requested specific flowers that may be hard to obtain. Flower arrangements for the church and reception can be arranged similarly; check how much the florist is likely to charge for these and decide how many you want according to your budget. Many couples have corsages made up for the mothers of the bride and groom; these are not terribly expensive. Buttonholes for the men in the wedding party are a nice finishing touch; if you are feeling very generous or are working to a large budget, you may choose to provide buttonholes for all the guests.
Beauty Pre-Wedding Routines Budget
If you want to look your best on the big day, you may well choose to have a facial, manicure, sauna, etc., beforehand. Some brides also choose to be made up professionally as a once-in-a-lifetime treat. And don't forget the cost of having your hair done for the day.
Reception Wedding Budget
The reception is often the largest figure in the budget. As well as the cost of hiring the hall, hotel or restaurant there is often a full meal provided for a considerable number of guests. On top of this comes the drinks bill, which can be very large when sherry, wine, champagne for the toasts and after-dinner port is included. If you are having a formal reception for, say, 75 guests you will probably spend the best part of £1000 by the time you have also paid for the cake to be made and iced.
Evening Party Wedding Budget
Many couples fund an evening party for their friends out of their own pockets; with hall hire, drinks, music and food this can easily cost £200 or more, even if there is no full meal laid on. Of course you could save on this sum or be more extravagant if you choose.
Honeymoon Wedding Budget
Lots of couples go abroad for their honeymoon, not least so that they can try and ensure that they have constant sunshine! Even the cheapest package holiday for a fortnight will probably cost several hundred pounds with spending money and meals, and anything more luxurious will be accompanied by an appropriate increase in the bill.
Official Fees Wedding Budget
There will inevitably be official fees for your wedding licence, minister's fees, registrar, etc.; check beforehand exactly what these will be. If you are getting married in church, you may have to pay the organist and almost certainly the choir and bell ringers if you want their services; the minister will advise you on the appropriate fees.
Dividing the Wedding Budget
Traditionally, the costs are divided as indicated below. Nowadays there is more flexibility and who meets the costs may vary as many couples opt to share all the costs or even pay for everything themselves.
The Bride • Bridegroom's wedding ring
• Wedding gift for the bridegroom
• Beauty treatments and hairdressing
• Hen party
• Going-away outfit
The Bride's Family • Press announcements
• Bride's dress and accessories
• Bridesmaids' and pageboys' clothes (the cost may be shared with their parents)
• Stationery items, including invitations and order of Service sheets
• Transport to the ceremony (except groom and best man) and to the reception
• Flowers for the ceremony and reception
• Photographs and video recording
• Reception venue, catering and the wedding cake
The Bridegroom • Engagement ring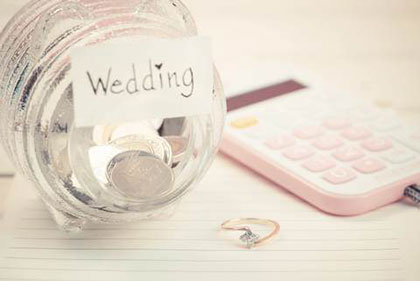 • Bride's wedding ring
• Wedding gift for the bride
• Stag party
• Going-away transport
• Honeymoon
The Bridegroom's Family • Bridegroom's outfit and accessories
• Ushers' outfits
• Church or Registrar's fees (including organist, choir, singers, musicians and bell-ringers)
• Flowers for the bride and bridesmaids, buttonholes and corsages
• Gifts for the bridesmaids, pageboys, best man and ushers
• Transport for the groom and best man to the ceremony and, possibly, for the bride and groom after the ceremony
• Out-of-pocket expenses for the best man
Wedding Budget Planning
Before you start to look for venues, or decide who to invite, each of you should draw up a wish list of the kind of wedding you would like, and then see how your lists compare. Use these lists to plan your own wedding budget. Fill in your own maximum sums a column and also fill in who will be responsible for that particular cost.
Set a Maximum Wedding Budget
Once you've settled on a potential number of guests, get the calculator out. It might make you change your mind and invite two witnesses and have a swift half down the pub. As an example, if you just think in terms of catering at £35 a head and drink at £15, 80 guests would cost £4,000 before you've hired a venue, bought a suit or frock, or been driven off in a Roller en route to your safari honeymoon. Of course, this may sound cheap to some. Elton John and his partner were reported to have spent £55,000 on their rings alone. Straight weddings are said to cost on average around £18,000. At the other extreme, the minimum cost is the amount needed for the civil partnership licence and to register the partnership – around £100-£150.
To get your head around how much you are going to spend, turn to the Budget Planner, allocate a rough idea of how much you want to spend on the options you are considering for your wedding – for example, maximum on catering £5,000. Think through the day to work out everything you want and how much you are willing to spend on it.
Supplier Quotations in Wedding Budgeting
Once you have allocated an amount to each of the items, you then need to obtain quotations from suppliers. Fill in the third column of the Budget Planner with your names if want to divide up the task of finding quotations. Prices will vary enormously depending on location, style of wedding, time of year and day of the week. For example, you can often halve the price of a venue by holding your ceremony on Monday through to Thursday.
Before you plunge into getting price quotations, read the relevant sections of the wedding planner to find out what questions to ask the suppliers, how to save money, and, if you want to really splash out on your big gay day, ideas for extravagant options. When you start to get your estimates keep a file or use the Budget Planner to record them. Complete the final column in the Budget Planner when you have decided which suppliers and items to buy.
Wedding Budget: Bank Account
Next, think about starting a new wedding bank account. This will make it easier to manage the financing of your big day. You can pay into it regularly, write one cheque to each supplier and hopefully avoid arguing about money. Most gay and lesbian couples will probably be paying for their own wedding, but if anyone else is contributing financially, I'd recommend allocating specific items to them to spend their money on, such as the flowers or the transport. This will hopefully reduce the risk of them dictating the detail of your day. I've seen at first-hand, from my experience of working in a hotel, the stress of parents taking over the show because they are paying. Once you start spending, keep a close eye on your budget and if you overspend in one area, find somewhere else on the budget to claw this money back.
Keeping Costs Down When Wedding Budgeting
Any celebration involving hiring a venue, supplying food and drink, etc., can become very expensive, so here are some money-saving tips:
Timing • Hold the ceremony on a weekday, or out of the peak season. Some consider this to be April to October, although the peak months are June, July and August, and December can be very busy at some venues because of Christmas events.
• If you want to go for the less popular months of January, February, March and November, good rates can be negotiated at venues, especially if the wedding is booked at the last minute.
• Book before January, when prices often increase.
Don't mention weddings • For some items, such as transport or even cakes, don't mention the word 'wedding' if you can avoid it when asking for quotations – otherwise the price will inevitably go up.
Friends • Go through the list of items on the Budget Planner and see if you can ask friends to do any of the jobs. However, make sure you are confident they can carry out the job. There is always a risk that they aren't as good as they say, or are sick on the day, or, worse still, that you fall out with them.
Negotiate discounts • Go to wedding fairs – suppliers will often offer a discount if booked on the day.
• If a number of guests are staying at the venue where you are holding the reception, negotiate a discount on bedrooms.
• Always ask if venues and suppliers can offer you a better price.
Cut out extras • Cut out the peripheries such as favours, or disposable cameras, as they often get wasted.
• Serve sparkling wine rather than champagne.
Sharing costs • If you are having a wedding in a venue that has several celebrations over the same time period, consider sharing the costs of flowers and decorations.
• Another option is to have a joint wedding. If you have very close friends who are also planning a civil partnership, it is worth considering as long as you can all agree on the format. This way you share the cost of all the suppliers and halve the workload.
Go 'vintage' or second-hand • If you don't mind second-hand wedding items, there are loads of bargains to be had. I typed in 'wedding' on eBay*co*uk and 29,466 items came up. Even when I searched for something as specific as wedding chair covers, 31 items came up.
• Borrow from people who have recently had weddings or big events.
Have a cheap honeymoon • Go away for a romantic weekend and save the once-in-a-lifetime trip for when you have more money.
• Do a house swap with friends?
• Go camping.
Consider being featured in the media • If you're not shy, you could offer to be a case study in a TV show or magazine – you may get a free makeover, props or photography.
Keep the numbers down • If money is tight, be strict about who you invite and make sure you keep control of the price per head. Have a story that you both stick to, such as only family and friends have been invited and no colleagues. You could always hold a separate party at home for work friends or wider circles, where people bring a bottle or a dish to contribute to a buffet.
Hire don't buy • Hiring wedding outfits, in particular, is much cheaper than buying. You can also hire decorations, plants, etc.
If you do buy, wait for the sales • Go shopping after Christmas for decorations, especially fairy lights, or wait for the summer sales for outfits.
• Look out for designer clothes sales or visit factory shops.
Check prices • Always check if prices include VAT and service. Smaller companies won't charge VAT. Remember this adds 171A per cent to your bill. Make sure when you compare prices that you are looking at like-for-like products or services.
Table 1: Wedding Budget Wish List
Each of you should fill in a table below to decide on the priorities for your wedding. This is to generate an overall idea. Write down your ideas and then give them a mark out of ten to show how important each criterion is for you. For example, if you definitely want outdoor space, give this a ten. If time of year isn't so important give this a three. This will help you work out what you are prepared to compromise on.
Criteria Ideas Rank out of to
Idea of budget
Style – intimate/grand
Ideal number of guests
Formal/informal
Traditional/unconventional
In the UK or abroad
Location: rural/urban
Type of venue
Time of year
Time of day
Separate evening party
Theme
Colour scheme
Involvement of family
Children invited or not
Use of outdoor space
Anything unusual
Other considerations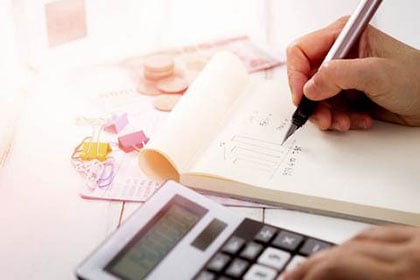 Table 2: Wedding Budget Planner
Fill in the following table, allocating a rough idea of how much you would like to spend on each item in the budget column. Once you start getting quotations fill in the estimates column (or keep in a separate file) and then record your final agreed quotation with your chosen supplier in column 4. If you want an interactive version, which keeps a running tally of your costs. The items below are in the recommended order of priority given in the 12-month timetable:
Item Budget Who to action Estimates Best quote
Engagement party
Announcement
Wedding planner
Venue hire
Ceremony
Reception
Accommodation
Registrar's fee
Catering
Canapés
main meal
evening buffet
reception drinks
champagne toast
Wine
soft drinks
evening bar
Cake
cake stand and knife
chocolate fountain
catering equipment
ice sculpture
Stationery
save the date cards
Invitations
Envelopes
information for guests
reply cards
order of the day
order of ceremony
evening invitations
name cards
menu cards
table plans
table numbers
guest book
favour boxes
wedding album
thank you cards
Insurance
Wedding
Travel
Legal advice
Honeymoon
Travel
Accommodation
spending money
Inoculations
Visas
Marquee
Photography
Video recording
Wedding website
Music
for ceremony
during meal
Disco
live band
staging and lights
dance floor
Toastmaster
Entertainment
Fireworks
Magician
kid's entertainment
Caricaturist
drag queen/king
Other
Celebrant's fee
Transport
stag or hen night
to ceremony
to reception venue
at end of the wedding
to the airport
Item Budget Who to action Estimates Best quote
Fun and frills
Balloons
wedding favours
Confetti
disposable cameras
decoration for room
Flowers for ceremony:
Bouquets
Posies
hall and table displays
Garlands
Buttonholes
Corsage
to decorate car
Flowers for reception:
top table
table centres
pedestal arrangement
presentation bouquet
cake table
Outfits
Dresses
Suits
Shoes
tiaras/hats
Accessories
handbags
top hats
cummerbunds
attendants' clothes
going away clothes
Jewellery
engagement rings
wedding rings
decorative jewellery
cufflinks
necklaces
Beauty treatments
manicurist
hairdresser
massage
Photos from: freepik . com