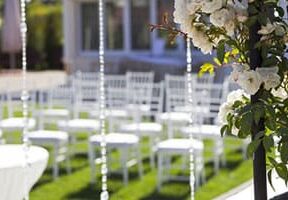 Dec 14
Choosing Outfits Accessories for Bride Groom and Guests Part 1
You will be the centre of attention on your big day, with cameras clicking in your face and family and friends watching your every move. In order to be totally confident and relaxed on the day, you need to make sure you are going to look and feel as fabulous as possible. This chapter guides you through how to choose your outfits, accessories and rings. It also covers preparing mentally and physically for your civil partnership.
When you are considering wedding outfits, there's actually a lot of possibilities to think about. The items include:
• Dresses/suits
• Attendants' clothes
• Tiaras/hats
• Ties/cravats/bow ties
• Waistcoats/cummerbunds
• Lingerie
• Underwear
• Shoes
• Handbags
• Going away outfits
• Coats or shawls
• Jewellery – necklace, earrings, bracelets, cufflinks
When choosing a wedding outfit, one option is to go to traditional wedding outfitters to buy or hire a classic ivory dress or morning suit; undoubtedly the quickest and cheapest option is to hire an outfit – both the cost and time needed increase significantly if you want an outfit made to measure. But there are plenty of designers, dressmakers and tailors who will make a bespoke outfit. You will normally need to allow about six months to have a dress designed – unless you dash off to the Far East (but make sure you don't end up supporting a sweat shop). If you don't want to wear traditional wedding clothes, why not treat yourself to a new suit, dress or fancy outfit to match your theme?
Whatever route you take, make sure you allow plenty of time to find the right outfits and all the accessories. You don't want to end up stressed and buying things in a hurry. And it's not just the main outfit – you might also want to change into something else in the evening and have a going away outfit; there's a lot to think about.
Some gay couples have decided to follow tradition and not see each other's outfits before the big day. This is fine, but make sure you give each other a clue about what you are wearing, so that you don't clash horribly.
You also need to decide if you want other guests to wear traditional wedding outfits such as morning suits or hats. Give people advance notice if this is the case. Even if you are not going down the traditional route, close family and friends often want to know how to co-ordinate with the overall look of the wedding party, so if you want a particular color scheme, let people know. You don't want mothers of the brides in clashing pink dresses!
When you get your estimates keep them on file or record in the Budget Planner (see online at gay-friendly-wed- ding-venues*com). Then, when you have decided on the best price and supplier, fill in the final column of the plan.
Style of the wedding – When you are deciding on your outfits, think about the style and format of your wedding, whether it is formal or casual, the time of year, and any theme or color scheme you have chosen. You should also consider the activities on the day, whether you will be outside, walking around a lot, or dancing.
Obviously, you can go for traditional white meringues and morning suits, but consider what matches your personality and how comfortable you want to be on the day.
The outfits of both men and women can complement the colors appropriate for the season. In winter, you might want rich burgundy, gold or green. Spring might inspire you to wear yellows, pinks or light blues. Even if you are wearing a dark suit, you may want to pick up seasonal colors in your tie, cravat, waistcoat, or cummerbund. Try to co-ordinate your look with the flowers and room decorations – it will look much better in the photographs.
Complementing outfits – One thing that same-sex couples have to think about more than hetties is complementing each other's outfits. You may want to be radically different from each other to show you are individuals, but think about the photographs – some colors look hideous together. Even if the color match is very subtle and you are just picking out one color in each other's outfits, it is worth thinking about. Equally, think hard about looking too similar.
Consider having your colors analysed by a specialist. They will look at your skin tone, hair color and eyes and hold up different swatches of color to your face to find out what suits you best. Ironically, white is not a good color on most people, as it washes out your complexion; however, cream is more forgiving. A good color lifts your face, makes you look healthy and often younger. Apparently, you are wearing the right color when people say you look well, rather than 'the color of that shirt is nice'! You might be surprised by some of the colors that are picked out for you. If you don't want to go to a color specialist together, at least take a photograph of your partner, so that the specialist can select a color that will complement you both. A color specialist will also advise on make-up and accessories.
Cross-dressing – This could be the occasion when men want to shock and come out dressed in a fabulous meringue outfit, and women want to wear the full tops and tails. You could both do this, or let one fulfill the traditional male and the other the female role. Anything goes. Obviously, you need to find a dressmaker or men's outfitters who are gay-friendly, have suitable changing facilities, and can provide outfits in the right size. The Man Shop in Sussex is happy to fit women for men's clothes, for example. Generally, wedding outfitters will make clothes and shoes to order, so if you can afford it, you'll get exactly what you want. For men who want to dress in women's clothes, there are agencies that will provide wigs, breast forms and large women's shoes, and other accessories to make your outfit as realistic as possible, for example, thebreastformstore*co*uk. Birdcage offers a dicreet dressing service and dresses for men, bryany.demon*co*uk
Wedding dresses – If you are going for the traditional look, it is best to make appointments with bridalwear designers or outfitters. Often this takes a couple of hours, while you are measured and try on different wedding dresses. Most will have an extensive range of wedding dresses that can be customised to meet your requirements for color, length, or adjustments, such as adding sleeves or straps. Dresses can range from around £150 to thousands of pounds.
You can also go to a bridal dressmaker who will create an outfit from pictures, photographs, drawings, or commercial patterns. Or you can make your own using commercial patterns sold in department stores and on the Internet. For ideas, check out Fabricheaven*net.
Jenny Peart, of bridalwear company Ragamuffin, based in Oxfordshire, says: 'We take into account where and when the wedding is and select appropriate outfits. There is not much point having a long train if there is not enough room to display it.'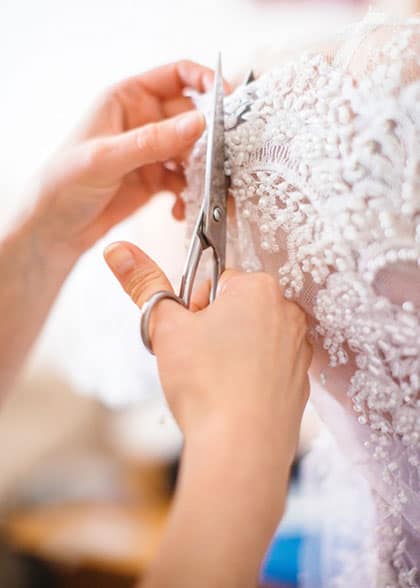 If you are on a tight budget, think about buying what are known as resale dresses. These are sometimes brand new, worn once, or nearly perfect dresses that were often produced as samples and are a much cheaper option. If you type in resale dresses in search engines, you will find suppliers. One example is ragamuffin- bridal*co*uk. Many bridalwear companies will offer payment plans to help you offset the cost over a number of months.
Bridalwear outfitters will often show you how to wear your outfits with poise and demonstrate how to sit, stand and turn easily, while showing off your dress to best effect.
The great thing about civil partnerships is that there aren't any 'rules' or traditions in place. You can make them up as you go along. With this in mind 1 think brides should remember who they are on their wedding day and remain true to themselves. So often people put on a different personality when they put on their wedding dress. Melanie Hancox, Ivory Towers Couture
Retro If you don't want to follow hettie tradition and wear a traditional dress, how about something glamorous from another era, such as a 1920s' flapper dress and feather boa finished off with a long bead necklace and lace-up pumps? Or a double- breasted pinstriped suit, white cravat and spats (shoes)? Retro clothes are easy to pick up on eBay, or in retro and charity shops. In London, there are two areas of retro clothes shops and market stalls – around Spitalfields market and in Covent Garden.
Suits – If you both decide to wear suits, this is a great way to co-ordinate your look for the day. You can distinguish between the two of you by the cut and color of the suit and the accessories, such as ties, bow ties, waistcoats or hankerchiefs. You need to decide which type of suit you want to wear – choose from the traditional morning, lounge suit, or tuxedo. A morning suit consists of a jacket with long tails, a waistcoat and pinstriped trousers, and is usually worn with a white wing-collar shirt and cravat or tie. A top hat and gloves finish off the outfit, or you could hire a matching handkerchief. A lounge suit can be worn with a waistcoat. The classic dinner jacket or tuxedo colors for a wedding are grey and white, but black may be more practical if you want to wear it for other occasions. A cummerbund is usually worn with a dinner jacket and bow tie and sits around the waist. They are often made of silk and come in different colors. It is a good idea to co-ordinate the color with your bow tie, cravat, or handkerchief.