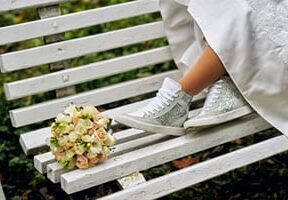 Sep 18
Choosing Outfits Accessories for Bride Groom and Guests Part 2 – Plan my Wedding
The cheapest option is to hire a morning suit or tuxedo. Make sure you go for a fitting a few months before the big day and find one that matches your size perfectly. If you want some of your guests to wear morning suits, negotiate a discount with the hire shop. Think through whether you want other guests to wear the same color suits or tuxedo as you. If you are relying on hiring an outfit, make sure you hire it in advance of the day and always take a back-up set of smart clothes.
When you pick up the suit in the week before the ceremony, check it thoroughly for stains and tears and find out what the policy is on any damage incurred. Shops often offer you insurance against theft, damage or loss, or they may ask you to leave a deposit. And if you are dashing straight off on honeymoon after the ceremony, you also need to delegate the task of taking suits back to the shop.
If you are tempted to buy a morning suit or tuxedo, think about how many times you are likely to wear it again – is it really worth it? If you feel it is worth the cost, ensure you spend time finding one that fits you prefectly.
If you are buying a new lounge suit, make sure it fits well on your shoulders and the sleeves don't droop over your hands. The trouser length should rest on the top of your shoes. Try your suit out sitting, standing and dancing, raise your hands above your head and put your hands in your pockets – these are good ways to check you feel really comfortable in it. Always check the type of fabric it is made from and how good the stitching is. If you want to get your money's worth out of it, think about the style and opt for a classic look rather than the latest fashion. Buy a suit that you can envisage wearing for other occasions. However much you spend, make sure you feel really confident in your new outfit.
Two of our friends, James and John, had a very smart civil partnership in a castle and chose to wear morning suits. They felt this was in keeping with the style of the venue. As it was a winter wedding, they picked gold and burgundy for their matching waistcoats and cravats. In terms of accessories, they had tie pins just to add a touch of detail, and black patent shoes. They didn't bother with top hats as they felt these would be more of a hindrance. They invited men and boys in the family to wear morning suits, but distinguished their own outfits by wearing cala lilies in their buttonholes, while the other men had roses. The single stem of the cala lily looked very elegant entwined in gold thread. They also wore upturned collars to emphasise the cravats. John says: 'If you're not used to tying a cravat, get someone else to do it or hire a pre-tied one.
'Attendants' clothes – You need to think about attendants: do you want the traditional pageboys, bridesmaids, best men and women to wear outfits to complement your own?
If you want attendants to buy specific outfits that they are unlikely to wear again, the onus is on you to pay for them. If you can't afford to do this, you need to have an honest discussion about whether your attendants can make any contributions. Some attendants will be happy to pay to hire morning suits, for example.
You can also ask people to buy their own clothes if you are not too specific. For example, ask everyone to wear a bit of pink to distinguish them as the best people team. This can also be done through buttonholes for men or corsages for women – flower arrangements that they pin on their outfits.
If you are buying complementary outfits, make sure this is co-ordinated well in advance and find a date when everyone can meet at the chosen outfitters. Make sure your attendants are happy with their outfits, otherwise they won't enjoy the day. Organize well in advance and ensure they communicate with each other – having a unified look will identify the wedding party and make them feel special.
Accessories – Choosing the right accessories can set off an outfit and add glamour and panache to your wedding day. Think through from top to toe how you want to create a stunning look for you and your attendants.
Tiaras – These are usually made from flexible wire and jewellery, and are available in different shapes, colors and heights. You can buy them off the shelf, or get them made to measure. For the design, select colors or symbols from your theme or outfits. Ideally, the tiaras should be as light as possible, so that their presence is barely felt. Although tiaras are usually flexible and can be adjusted, if you are buying them for your attendants, make sure you have their head sizes.
Hats – The obvious option for men is a top hat, which certainly looks good in photographs. However, if money is a bit tight, you could wear tails without a hat since, for most of the day, you probably won't wear it and will be worried about looking after it.
Ensure that any hat is really comfortable and doesn't get on your nerves. You should also consider the effect it will have on your hairstyle when you take it off to eat or dance. Let your guests know if you expect them to wear hats – nowadays few people wear them unless specifically asked to.
Don't forget, you can hire hats as well as buy them. To ensure you get a good match, take your outfit (or at least a swatch) to the shop.
Ties, cravats and bow ties – Weddings are a good occasion to try something different, especially if you wear a tie every day for work. Why not put on a cravat or bow tie for a change? If you have the money, splash out on a silk cravat, bow tie, or tie. However, polyester can often look like silk, so this is a way to save on the budget.
Wedding cravats come in pre-tied or self-tie forms. You can wear a regular shirt with a cravat, although some people choose a wing-collar shirt to give the cravat more emphasis. If you are buying or hiring outfits for your attendants, factor this in when you are deciding on the style and cost. If you want pageboys to wear ties or cravats that match, make sure they are available in boys' sizes. You can also buy tie clips to finish off the outfit.
Bow ties can also be pre-tied or self-tie, but there is less choice among self-tie bow ties. Many bow ties have matching cummerbunds and will come in a wide variety of colors. Standard wedding colors for men's accessories are red and ivory.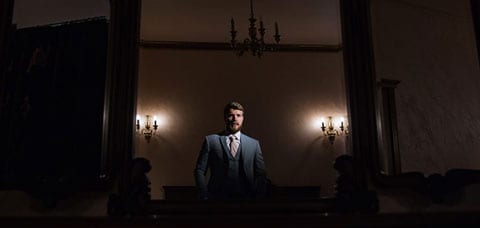 Jess and lee dress their docs
Jess and Lee, two blind women who had their civil partnership in Devon, even bought bow ties for their guide dogs. 'We bought dicky bows for them to match our outfits. Jess wore a beautiful claret and ivory wedding dress with a train, which of course I was not allowed to know anything about before the big day, and I wore a lovely business suit, with shirt and matching tie, to complement Jess's dress. We bought a black and claret bow tie for my dog, Andy, and a claret ribbon on a collar for Jess's dog, Faith.'
Waistcoats – Wearing a waistcoat can be a good way of showing your character and individuality, especially if you are wearing a dark suit. You can choose a colorful waistcoat, or one embroidered with jewels or unusual fabric. You may also want close family and friends to wear matching or complementary waistcoats. For that special touch, think about getting a handmade waistcoat.
Lingerie – You need to wear lingerie that gives you good support and complements your shape. Depending on what you are wearing, you may need to buy a strapless bra for your dress, or seamless underwear. You'll also want something sexy for your first night of wedded bliss! If you have a bit of a bulge you want to cover up, you may also want to buy a corset. Try to find lingerie to suit your chosen style of dress, such as a vintage lacy corset. A bridalwear designer will be able to advise on suitable lingerie or go to one of the many specialist lingerie shops and sections of department shops.
Underwear To feel loose and cool during the day, you may want to wear boxer shorts. Or, if you are wearing something tight fitting, seamless underwear is a must. If you are wearing a suit, treat yourself to some rich cotton socks that complement the outfit.
Money-saving tips
• Look for outfits and accessories on ebay*co*uk, or in charity shops. There are also second-hand bridalwear shops.
• Hiring wedding outfits saves a lot of money. You can hire wedding dresses as well as suits.
• To make the outfit look more expensive, complement a white shirt and black trousers with a flamboyant waistcoast and cravat.
• Borrow a dress from someone who married recently.
• Combine a holiday in Asia with having an outfit handmade at a fraction of the cost (but make sure it's not a sweat shop).
• If you are skilled enough, make your own outfits, or if not, ask a friend who can.
Shoes – It is sometimes difficult to find shoes that match your outfit perfectly, so bridal outfitters often sell plain silk shoes, which they can dye to complement your outfit, or you can take the shoes to shoe-dying specialists. You can also have shoes made using the fabric of your dress, or even incorporating jewels to match the overall look.
Black patent shoes look very dapper with morning suits or tuxedos. If the soles of shoes are very shiny, try scratching them against stones or rough ground, to avoid slipping all over the place. Make sure you wear in your shoes around the house in the week before your wedding, so you don't end up hobbling on blisters. Also check whether you can dance in your shoes and take some others for the evening, if necessary.
Top tips
• Check out the returns policies on any items you buy, in case you haven't got the right match.
• Check on what costs you are liable for if you damage outfits that you've hired.
Handbags and other accessories – As well as dyeing shoes, you can also dye handbags to match your outfit. Even if you don't normally carry a handbag, they can be very useful for carrying copies of speeches, tissues and an emergency kit. Another wedding accessory you might want to buy is a garter, which traditionally conceals a sixpence for good luck.
Going away outfits – If you are going straight from your reception to your honeymoon, you will need a change of clothes – make sure someone has delivered this to the reception venue. Traditionally, the happy couple changes into a going away outfit and leaves the reception before the end. However, if you are not following this tradition, don't waste money – having an outfit is only really worthwhile if your guests are going to see you 'go away'.
Coats and shawls – If there's the possibility that it might be raining or freezing cold on the day, try to find something glamorous to wear over your main outfit. Even a hot day can turn chilly at night, especially if you are going to be standing outside watching fireworks.