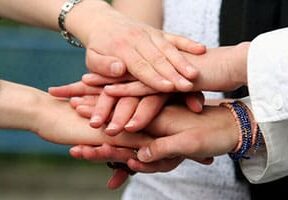 Dec 02
Create a Wish List and set a Maximum Budget – Plan my Wedding
Before you start to look for venues, or decide who to invite, each of you should draw up a wish list of the kind of wedding you would like, and then see how your lists compare.
Set a maximum budget
Once you've settled on a potential number of guests, get the calculator out. It might make you change your mind and invite two witnesses and have a swift half down the pub. As an example, if you just think in terms of catering at £35 a head and drink at £15, 80 guests would cost £4,000 before you've hired a venue, bought a suit or frock, or been driven off in a Roller en route to your safari honeymoon. Of course, this may sound cheap to some. Elton John and his partner were reported to have spent £55,000 on their rings alone. Straight weddings are said to cost on average around £18,000. At the other extreme, the minimum cost is the amount needed for the civil partnership licence and to register the partnership – around £100-£150.
To get your head around how much you are going to spend, turn to the Budget Planner, allocate a rough idea of how much you want to spend on the options you are considering for your wedding – for example, maximum on catering £5,000. Think through the day to work out everything you want and how much you are willing to spend on it.
Once you have allocated an amount to each of the items, you then need to obtain quotations from suppliers. Fill in the third column of the Budget Planner with your names if want to divide up the task of finding quotations. Prices will vary enormously depending on location, style of wedding, time of year and day of the week. For example, you can often halve the price of a venue by holding your ceremony on Monday through to Thursday.
Before you plunge into getting price quotations, read the relevant sections of the wedding planner to find out what questions to ask the suppliers, how to save money, and, if you want to really splash out on your big gay day, ideas for extravagant options. When you start to get your estimates keep a file or use the Budget Planner to record them. Complete the final column in the Budget Planner when you have decided which suppliers and items to buy.
Next, think about starting a new wedding bank account. This will make it easier to manage the financing of your big day. You can pay into it regularly, write one cheque to each supplier and hopefully avoid arguing about money.
Most gay and lesbian couples will probably be paying for their own wedding, but if anyone else is contributing financially, I'd recommend allocating specific items to them to spend their money on, such as the flowers or the transport. This will hopefully reduce the risk of them dictating the detail of your day. I've seen at firsthand, from my experience of working in a hotel, the stress of parents taking over the show because they are paying.
Once you start spending, keep a close eye on your budget and if you overspend in one area, find somewhere else on the budget to claw this money back.
Keeping costs down
Any celebration involving hiring a venue, supplying food and drink, etc., can become very expensive, so here are some money-saving tips:
Timing
• Hold the ceremony on a weekday, or out of the peak season. Some consider this to be April to October, although the peak months are June, July and August, and December can be very busy at some venues because of Christmas events.
• If you want to go for the less popular months of January, February, March and November, good rates can be negotiated at venues, especially if the wedding is booked at the last minute.
• Book before January, when prices often increase.
Don't mention weddings
• For some items, such as transport or even cakes, don't mention the word 'wedding' if you can avoid it when asking for quotations – otherwise the price will inevitably go up.
Friends
• Go through the list of items on the Budget Planner and see if you can ask friends to do any of the jobs. However, make sure you are confident they can carry out the job. There is always a risk that they aren't as good as they say, or are sick on the day, or, worse still, that you fall out with them.
Negotiate discounts
• Go to wedding fairs – suppliers will often offer a discount if booked on the day.
• If a number of guests are staying at the venue where you are holding the reception, negotiate a discount on bedrooms.
• Always ask if venues and suppliers can offer you a better price.
Cut out extras
• Cut out the peripheries such as favours, or disposable cameras, as they often get wasted.
• Serve sparkling wine rather than champagne.
Sharing costs
• If you are having a wedding in a venue that has several celebrations over the same time period, consider sharing the costs of flowers and decorations.
• Another option is to have a joint wedding. If you have very close friends who are also planning a civil partnership, it is worth considering as long as you can all agree on the format. This way you share the cost of all the suppliers and halve the workload.
Go 'vintage' or second-hand
• If you don't mind second-hand wedding items, there are loads of bargains to be had. I typed in 'wedding' on ebay*co*uk and 29,466 items came up. Even when I searched for something as specific as wedding chair covers, 31 items came up.
• Borrow from people who have recently had weddings or big events.
Have a cheap honeymoon
• Go away for a romantic weekend and save the once-in-a-lifetime trip for when you have more money.
• Do a house swap with friends.
• Go camping.
Consider being featured in the media
• If you're not shy, you could offer to be a case study in a TV show or magazine – you may get a free makeover, props or photography.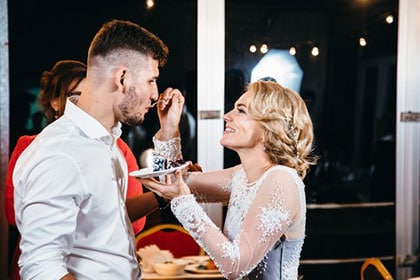 Keep the numbers down
• If money is tight, be strict about who you invite and make sure you keep control of the price per head. Have a story that you both stick to, such as only family and friends have been invited and no colleagues. You could always hold a separate party at home for work friends or wider circles, where people bring a bottle or a dish to contribute to a buffet.
Hire don't buy
• Hiring wedding outfits, in particular, is much cheaper than buying. You can also hire decorations, plants, etc.
If you do buy, wait for the sales
• Go shopping after Christmas for decorations, especially fairy lights, or wait for the summer sales for outfits.
• Look out for designer clothes sales or visit factory shops.
Check prices
• Always check if prices include VAT and service. Smaller companies won't charge VAT. Remember this adds 171A per cent to your bill. Make sure when you compare prices that you are looking at like-for-like products or services.