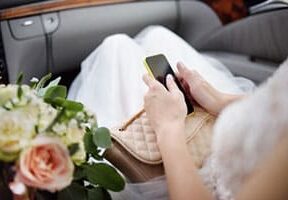 Nov 26
Different Kinds of Wedding Decorations – Plan my Wedding
You need to think about how else you want to decorate the ceremony room, the reception room and any areas guests will walk through, such as the entrance hall, corridors or stairs leading to function rooms. Then there are the table decorations and favours.
To get some ideas, talk to the management at the venue about what is possible and how other people have decorated it for weddings. The venue or your caterer may be able to recommend companies they have worked with before, or they may have props you can use. For example, they probably have table linen, vases, lighting and candlestick holders. If you are getting married in December or early January, the venue may be decorated for Christmas, saving you the trouble. Check if there are any restrictions – for example, some venues don't allow candles, or anything stuck to walls.
Before you go too far, you need to ask the venue how early you can access the room, where decorations can be stored and when they need to be removed. If you or a decorating company need access the day before or hours in advance, you might find you have to pay extra hire charges. If you are doing the decoration yourself, make sure you rope in friends to help – you don't want to be stressed hours before your big moment. Delegate the dismantling of decorations to friends, or if you have suppliers, such as caterers, ask them to oblige – sweeping up confetti at midnight is not how you want to start married life!
The table linen is an important part of the decoration and can set the tone. For example, two strong colors such as black and red can be very dramatic, or pink and white, very soft. The color and fabric of the chairs can complement your color scheme. Hire chair covers if you want to co-ordinate or tart up existing chairs.
If you have a strong idea of what you want, draw up a decoration plan, like a map, showing where certain decorations, such as fairy lights, should go and type up a list of what you want on each table.
To create a wow factor, there is a wide range of companies that specialise in decorating rooms for weddings. Some also have props and costumes to enhance the decoration. To give you an idea of how far you could go on the decoration front, how about turning a room into a Vegas-style glitzy venue with red carpet, sparkling diamonds hanging from the ceilings, roaming spotlights, gold lame' chairs, black and red linen, gold candlestick holders and huge displays of red roses and white ostrich feathers?
Fill the favour boxes with chocolate money and scatter the tables with sparkling diamond- and heart-shaped confetti. Hang a scenic backdrop of a Vegas scene, such as a stage of showgirls or the skyline of Vegas with all the neon signs, on a wall behind the buffet table to set the scene. You can complement all of this decoration with casino tables, waiting staff dressed in costume, and a cake decorated like a poker table.
Some companies specialise in balloon decoration, creating sculptures such as archways made from balloons for your guests to walk through on arrival. They can also produce ceiling displays of enormous exploding balloons that have other smaller balloons inside. As your guests arrive, the large ones are detonated, triggering a shower of balloons.
Top tips
• Check that the venue allows everything you want to use – for example, lighted candles, sparklers, smoke machines, confetti.
• Decorations should enhance your theme, but make sure you don't overdo it.
• If you want unusual items, try a theatrical prop agency.
• Don't forget to decorate buffet tables – some white muslin or tinsel can cover unsightly metal legs.
• If you have dark corners in a room, buy some large willow branches and spray them white or drape fairy lights around them.
• Float candles in water as a table decoration instead of flowers.
• Make sure table decorations aren't too tall and prevent people from seeing over them to talk.
• Look at the architecture of the room. If you have pillars, can they be entwined with ribbons, fairy lights, material, or even plants or flowers?
• If you aren't allowed candles, you can buy battery-operated candles in colored or frosted glasses, which give a flickering effect.
You can also buy a selection of 'just married', heart-shaped balloons, or ordinary balloons with ribbons and a disposable helium cylinder from suppliers. Don't forget you need to anchor them with weights or tie them to something, unless you want them to float up to the ceiling.
If you want to do your own decorating, there are plenty of shops supplying props and wedding paraphernalia. Accessories to decorate a table include soap bubble bottles (allowing your guests to blow bubbles around the room), extra-large party poppers, mini sparklers, glitter, petals and other shapes for scattering over the tablecloth. These now come in 'wedding' colors of silver, gold or white. Then there are confetti guns that shoot confetti across the room, and packets of sweets called 'Love Hearts', with your name and date of the wedding or just married' printed on them
If you are on a tight budget, it is quite fun to decorate the walls of the reception area, if you're allowed, with something depicting your lives together – for example, photographs or a projection of slides or video clips.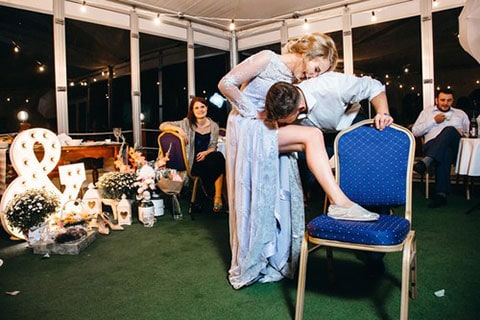 Favours
Traditionally, these were sugar-coated almonds wrapped in organza, for the female guests only, as a keepsake. Nowadays, many couples provide favours for each guest as part of their table setting. They are often sweets and could be anything from chocolates wrapped in rainbow-colored ribbons to two gingerbread men holding hands. The idea is to see the favours as part of your decoration or theme. They could also be sachets of pot pourri, jokey items or candles. Often the little gifts are put in favour boxes with ribbons on them. These boxes are something your stationer should be able to design in keeping with your other wedding stationery, and they can be personalised with your names and the wedding date printed on them. The favours could also go in organza bags, or you can get children's favour boxes decorated with Walt Disney characters. Handmade crackers are a popular option. Other ideas include drinks vouchers if you are having a cash bar, lottery tickets, or trivial pursuit questions about your day or your lives.
When you get your estimates keep them on file or record in the Budget Planner , then when you have decided on the best price and supplier, fill in the final column of the planner.