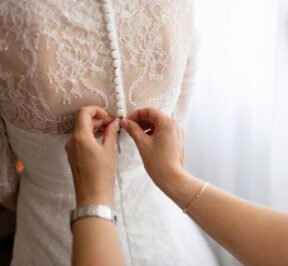 Aug 01
The Bride Dress
Your wedding dress is probably the detail of your wedding that will take the most time and care to sort out – and will also be the detail that everyone else wants to know about. It will probably be the most expensive garment you will ever invest in, and will be crucial to your feeling of happiness and well-being on your wedding day. So take your time over every detail and don't let anyone rush you.
Wedding Dress Traditions
The setting aside of a special dress to be worn only on the wedding day is a relatively recent custom; for many centuries ordinary brides were simply married in their smartest clothes. Often the only thing that distinguished a bride from all the other women at the wedding was that her hair was loose; this would be the last time that she would wear her hair 'down' as opposed to piled on top of her head, so she would make the most of the occasion by releasing it from its customary plaits or ponytail. For many years strict clothing rules governed who could wear what, so ordinary people were often barred from wearing special fabrics or garments.
Buying, Hiring or Making Best Wedding Dress
One big question that needs to be answered near the beginning is – where are you going to obtain your dress? Will it be bought, made by you, made by a dressmaker, borrowed, hired? Cost may well be a factor in your choice. If you have little money to spare you will need to borrow or hire a dress, or have one made very cheaply. If you can spend a medium amount you could hire or make the dress, or buy one from a cheaper range or choose a second-hand gown. If you have a lot of money to spare the world is your oyster; you can have a dress made with all the frills and furbelows you care for, or you can buy the dress of your dreams.
Making The Bride Dress Yourself
Some brides would never dream of buying a dress; they may have planned their own design, or maybe they know that they would never be able to buy quite the dress that they want, or at least not in the right fabric. Don't attempt to make your own wedding dress unless you are a very experienced dressmaker and totally at home with the fabric you choose and the techniques required. Paper patterns are available for wedding dresses, or you could adapt any other suitable dress pattern if you particularly like its neckline, waistline, etc.; alternatively, you can design the entire pattern yourself.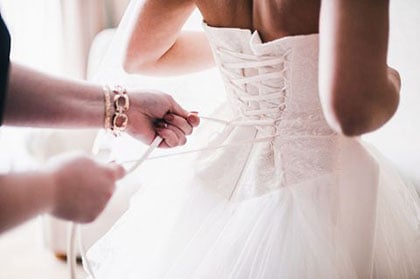 Whichever way you choose, it is worth taking the trouble to make a 'dummy' dress in cheap fabric first; that way you can adjust the size, fit, length, etc., and alter any details that don't please you before you cut into the expensive fabric. Make sure that you have all the right equipment for dealing with the fabric you choose – for instance long, fine pins for fitting, or the right needles and threads if the fabric is very delicate. Some brides combine the satisfaction of making their own dress with the reassurance of having the work done by a professional – they buy wedding dress kits that are cut out and ready to sew. Ask a friend or relation who is an experienced dressmaker to help you with the final fittings; it is impossible for you to perfect the fit on yourself or on a tailor's dummy.
Having Your Bride Dress Made by Someone Else
Brides who cannot buy what they want but who don't know one end of a needle from another need not despair: it is possible to get your dress made up by a friend or relation, or by a professional dressmaker. They can use a commercial paper pattern or design a pattern to your specifications, and will be able to advise you on fabrics, styles, costs and trimmings. Don't be afraid to stick your neck out over the details and the fit: it is your dress, and you have the right to have it exactly as you want it. If your dress is being made up by a professional dressmaker, it is worth obtaining a written guarantee that the dress will be ready by the agreed date. Ask how many fittings will be required, and make sure that you attend them; some dressmakers will come to your house for fittings, while others prefer that you go to them.
Borrowing The Bride Dress
Borrowing is certainly a cheap way out of the wedding dress problem, but only worth doing if a friend or relations has exactly the dress that you would love to wear. It is traditional in some parts of America for a daughter to wear her mother's wedding dress, but of course this only works if the two women are similar in size, shape, height and taste.
Buying The Bride Dress
Many brides choose to buy their wedding dress, either new or second-hand, and any peep at a bridal magazine will show you the wealth of choice available. Many large stores have their own bridal room, and some shops are devoted exclusively to bridal wear; in these places you can browse at your leisure and try on as many styles as you want without any obligation to buy. It's a good idea to take someone with you whose judgement you trust; traditionally this role is taken by the bride's mother, but that might not always be the best choice! if alterations are needed, check whether the shop will do them.
Hiring The Bride Dress
If you want a really special dress without having to pay a really special price for it, hiring is probably the answer. Look in your phone directory and the local papers for firms, and get a written guarantee that the dress you want will be available on the day you want it. Check whether you can collect the dress early (for instance if you want it when you choose your accessories), and also whether you have to have it cleaned before you take it back.
Choosing a Coloured Bride Dress
In Roman times the traditional wedding colour was yellow; the bride wore a long yellow veil that covered her literally from head to foot. Different countries have different traditions for bridal wear; among cultures where the national costume is very elaborate and colourful, the bridal clothes are often simply extra-fine examples of the traditional skills of weaving and embroidery. For quite a few centuries silver was the colour for royal brides in this country, later followed by silver and white – this tradition has led to the custom of having silver accessories, such as bag and shoes, for the bride.
Ordinary brides knew that they would probably have to wear their wedding dress as their 'Sunday best' for several years to come, as they couldn't afford to splash out on two new outfits; dresses were often pale pink, yellow or blue or even bright red. During the 17th century British families who had emigrated to America sent home for fabric from England for their wedding dresses; far from plain white or pastel fabrics, the most commonly chosen materials were brightly coloured and patterned. Blue was often a popular colour with brides in Britain as it was the traditional colour for the Virgin Mary's robe in paintings, and it also denotes constancy. Black and purple are the traditional colours of mourning and so were generally avoided, while green was considered unlucky.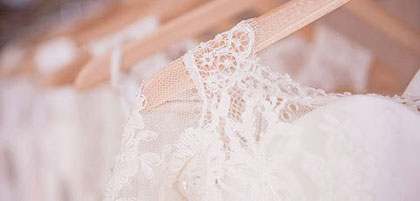 Coloured Bride Dress Past Interpretations
Married in white, you have chosen aright. Married in green, ashamed to be seen. Married in grey, you will go far away. Married in red, you will wish yourself dead. Married in blue, love ever true. Married in yellow, ashamed of your fellow. Married in black, you will wish yourself back. Married in pink, your spirits will sink. Married in brown, you'll live out of town. Married in pearl, you'll live in a whirl.
Choosing a White Bride Dress
The white wedding is a relatively recent innovation, although white has been associated with virginity and innocence since Elizabethan times. It was really Queen Victoria who started the cult of the white wedding on her marriage to Prince Albert; she broke with the tradition of royal brides wearing silver and chose white instead, and was slavishly followed throughout the land. The custom of white for the bride has never really died out since, although in recent years there has been a move towards introducing different colours to a basically white dress, for instance with the use of flowers, ribbons or embroidery in pale or bright colours. Many brides still choose white, but there is no reason at all why you shouldn't have another colour if you-prefer. Cream and silver are two close alternatives to white if you don't want to move right away from tradition.
A description of an 18th century Quaker bride paints a very different picture from the austere image often associated with that group. The bride wore a light blue brocade dress with matching shoes (with very high heels), a short blue bodice, a white satin stomacher embroidered in multi-coloured threads, and a black hood lined with white silk. Her groom, incidentally, was dressed in peach blossom cloth lined with quitted white silk.
Choosing a Style of the Bride's Dress
Decide what kind of dress you are looking for. One that evokes a particular era, for instance Victorian, Edwardian, or 1920s – or one that is in a particular mood, such as romantic, classic, elegant, severe? Whether you are buying, making or hiring your dress, choose a style that suits the tone of your wedding and is flattering to your figure.
• Peasant style, with a laced bodice, American style, with ruffled sailor puffed and gathered sleeves and a collar, bows at chest and sleeves, layered, gathered skirt. half-length gathered sleeves and calf-length gathered skirt.
• Edwardian style, with high neckline, leg-of-mutton sleeves, fluted skirt with deep sash dropping below waist level.
• 1920s style, with dropped waist, very low back, plain neckline, and tight sleeves ending in a V over the hand, and three-quarter length skirt.
• Pre-Raphaelite style, with layered ruffles on neck, sleeves skirt and waistband, scoop neckline and fully gathered skirt.
• Jacobean style with tight bodice, low neckline with half-length puffed sleeves, full gathered skirt with flounces.
• Mediaeval style, with high waist, centre-panelled bodice, square neckline, long angel sleeves and loose, swirling skirt.
• Victorian style with full sleeves puffed at the shoulders and gathered into tight, ruffled cuffs, panelled bodice with high neckline, tight sash and full skirt with ruffles at the hem.
• Tudor style, with box-pleated ruffles at neck and waist, V-pointed waistline, loose sleeves gathered at the elbows, lace trimmings and full plain skirt.
• 1950s style short satin dress with gathered skirt falling just below the knee, boat neckline, wide sash with bow, and no sleeves.
• Classic style in princess line with a high waist, plain A-line skirt with half-train, plain neckline and straight sleeves.
• Slim elegance with a gently gathered straight skirt, net bodice and sleeves over strapless top, sash and bow at waist.
Choosing a Special Wedding Dress
Once you have decided on the basic shape you want your dress to have, there are all kinds of embellishments that can be used on bought and home-made dresses that make that particular garment special. Some of the finishing touches are shown here; there are endless combinations of effect and colour.
• Tiny coloured flowers can be dotted over the dress or over the hemline and sleeves.
• Larger flowers can be made out of fabric and appliqued to the dress.
• Lace can be used for necklines and inset panels.
• Ribbons can be used as sashes and to tie in bows on sleeves and flounces.
• Ruffles of lace or fabric can be used to decorate sleeves, necklines, flounces or hemlines.
• Small or large tucks can be made in the fabric of skirt, bodice or sleeve.
• Embroidery can be used to decorate any part of the dress.
• Net may be layered over the main fabric of the dress to give an ethereal look.
• Flounces are real or pretend gatherings of the fabric, usually decorated with a bow.
• Transparent lace may be used as a bodice and sleeve material over an opaquer fabric.
• Sashes of any material can be used to nip in the waist and neaten the waistline.
• Trains are extensions of the fabric at the back of the skirt; they are generally reserved for formal weddings.
Checklist for Your Wedding Dress
Ask yourself these questions, and it will help you to decide just what kind of dress it is that you are looking for.
What is the mood of our wedding – formal or informal? Do I want ruffles or flounces on any part of the dress?
What style of dress do I want to match this mood? Do I want flowers at the neck, on the bodice or skirt, or on the sleeves?
Do I want a dress that reflects any particular era? Do I want ribbons or bows anywhere?
What length skirt should it have? Do I want a sash?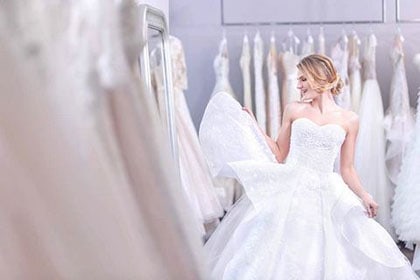 Will it have a train? If so, how wide?
What kind of fabric would I prefer? Should the sash be made of the dress fabric or something else?
What kind of waistline would I like? How do I want the skirt and hemline trimmed?
Do I want the skirt flared, gathered or straight? What colour dress do I want?
Do I want long, short, elbow-length or no sleeves? Would I prefer cream or silver to white?
Should the sleeves have cuffs, bands or elastic? Do I want any coloured ribbons or flowers on the dress?
Should the sleeves be straight, full, leg-of- mutton? Do i want any embroidery on the dress?
Do I want the bodice fitted or loose? Will it be easy to obtain or make bridesmaids' dresses to complement the style I want?
What kind of neckline am I looking for? Will it be easy to obtain or make flower girls' dresses to complement the style I want?
Trying on the Bride's Dress Checklist
When you are trying on your dress, whether it is being made or whether you are just browsing in a shop, it is important that the fit is just right and that you feel completely happy in the garment. Here are some pointers to watch for.
Does the dress look nice? (After all, you are going to be the centrepiece of the wedding ceremony.) How does the dress look from the back? (Through the ceremony all that most people will see is your back view.)
Is it in the style that you want? Are any buttons attached firmly?
Can you move your arms freely, or is it tight at the underarms or wrists? Will it be easy to iron?
Can you breathe? (Remember that you will be wearing the dress for quite a few hours.) Does it have to be dry-cleaned?
Does it fit well at the bodice and waist? Are any alterations needed?
Does it fit properly over your bust? If so, who will do them, and how quickly?
Will the fit be spoilt if you lose or gain a few pounds before the wedding? Is there any charge for alterations?
Are the sleeves the right length? Last but not least, how much does it cost?
Is the hem the right length? (Remember to wear shoes similar to your wedding shoes when trying on the dress.) Can I afford it?
Is the neckline smooth and well-fitting? Do I like it better than other dresses I have seen?
Are the seams finished neatly? Does it feel right, and make me feel like a bride?
Are all threads fastened off neatly? Do I want it?
Is the zip put in straight and unobtrusively?
Free pics from: Freepik . com