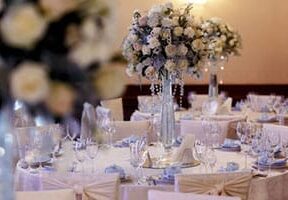 Nov 10
Organizing a Reception at Home – Plan my Wedding
If you are organizing the reception at home, there are still quite a few things to think about. Here are some pointers. Space If space is tight indoors and you have a garden big enough, why not have your wedding reception in a marquee? They don't need to look like boy scout tents – there are specialist companies that will decorate them in an Eastern, Moroccan, Spanish or even Bollywood style. Options include beautiful Arabian carpets, luxury cushions for lounging or dining, lanterns, lamps and shiny brass tables – saves you travelling abroad and creates a special atmosphere. Marquee companies often provide generators – they may be noisy, but you'll be glad of them.
Catering – If you have outside caterers, when do they need to set up and will they clean up? If you are doing it yourself, do you have enough crockery, cutlery, glasses and fridge space? And who is going to help clear up? Can you ask friends and family to help?
Children – Make sure they are fed and entertained and you have decided where you are happy for them to venture – you don't want to find your house turned upside down while you are celebrating in the garden.
Pets – Do they need to be looked after for the day?
Furniture – How is the furniture going to be arranged in the house? Are there enough chairs? Do you need to borrow some?
Flowers – One big floral arrangement as people come into the house sets the scene.
Jo and Imelda do it at home
We had both been fighting for lesbian and gay equality, so for us it was partly about exercising our civil rights, but also about celebrating our relationship with family and friends, very publicly. We chose to have a civil partnership within the first three weeks of the law changing, to be a part of history.
We had just bought a new house and wanted it to be the venue for the party, so we hired a marquee for the garden. Our friends set up the marquee and a dance floor, and ran the disco, while another friend did the catering.
We were really excited about having everyone back to our new house, as some hadn't seen it before and it meant a lot to us to celebrate at home. Although there was snow on the ground, we managed to have a barbecue and people danced in the marquee. But preparing the house was a lot of work and we had to cut down half the garden, as the marquee was too big, so I would only recommend having a reception at home if you have a high threshold for stress.
We organized it all in four months – I think that is the bare minimum. If I were doing it again, I would definitely have planned a holiday afterwards. However, the whole day was really special, wonderful, and one of the most important days in my life.
Jo Clare, Chief Executive of Housing Association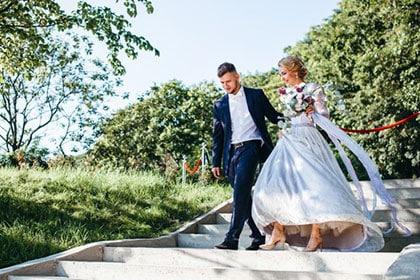 Decorating – Does anything need to be tarted up? Don't forget the bathrooms.
Parking – Contact neighbours to ask if driveways can be used or blocked.
Music – See the section on music, but warn your neighbours if you want to make a lot of noise.
Presents – Find somewhere safe to keep them.
Lighting – Check the lighting is suitable for the occasion.
Cleaning – Arrange for a cleaner to come in before and after the event.
Speeches – Where is a good place to make them?
Contingency plans – What will you do if it rains and you were planning to use the garden, or if it's too hot and people need shade?