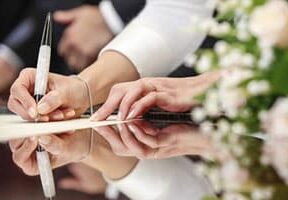 Sep 12
Photographers DVD Videographers and Wedding Websites
If you think of your wedding day as a performance, you need to start booking key characters such as musicians, photographers and florists, to add color and vibrancy. Whether you want a video crew, a pink Cadillac, or a vicar in a rainbow-colored sash to bless your union, it's time to indulge your fantasy of your perfect day.
This chapter guides you through what wedding suppliers offer and includes key questions to ask when you are enquiring about their services, as well as ways to save money.
With all suppliers, get everything in writing, draw up a contract and agree a payment schedule, then double-check all arrangements the month before the wedding.
When your big day is over, you will want to relive it through the photographs and video recordings. One way to have a lasting record is to upload them on to a website. Whatever you decide on, make sure you choose the best you can afford and people you feel comfortable with.
Photographers
Your ceremony only lasts a day, but the photographs will last a lifetime, so it's worth investing time in finding the right photographer for your big day. You can view examples of many photographers' work on websites, in wedding magazines and at wedding fairs. I would recommend meeting up to three photographers in person to discuss your requirements. They will often visit you in your home, or invite you to their studio. Ask to see a wide range of their work, from weddings to landscapes. If possible, ask to see all the photographs they have taken at a wedding, not just a few shots that they have selected. From a typical wedding, you can expect between 300 and 500 photographs. Ask to see examples of summer and winter weddings. Paul Demuth of Demuth Photography says: Anyone with a decent camera can take nice photos outside, but how many can capture the beauty of a candle-lit wedding ceremony without flash or studio lights?'
Ask to see how they present photographs to clients – for example, the quality of their albums, how easy it is to navigate a web gallery. Obtain references and follow them up.
It is important to find a gay-friendly photographer, since they will be recording some very intimate moments, such as your first kiss after signing the civil partnership. If you are not comfortable with your photographer, it will probably show in the photographs. Equally important is their method of working – you are the stars of the show, not them, so they should take their photographs in an unobtrusive manner.
You should also check if they have a professional photographer's insurance policy. This will cover them for theft, damage, accidental loss of equipment, hire of replacement equipment, personal accident and public liability. They should also have contingency plans such as a network of other trusted photographers they can call on in emergencies.
When you contact a photographer for the first time, make sure you run through the list of questions opposite. Be really clear about what you are paying for, since the extras, such as multiple prints, can add up.
Key questions
• What is their pricing structure?
• How long will they spend photographing your wedding?
• Do they offer a guaranteed number of shots?
• What size prints are included in the price?
• Do they provide a web gallery?
• How much do reprints or multiple copies cost?
• How do friends and family order extra copies?
• Are there any hidden extras, such as food, VAT or travel costs?
• What sort of cameras do they use?
• Do they offer a studio session beforehand?
• How long does it take before you see the photos?
• How long does the photographer hold the pictures on file – what if I want to order more years later?
• Is your photographer full-time, or just doing it at weekends for a bit of spare cash?
• Do they have the necessary insurance?
Budgeting for a photographer A photographer will usually charge by the hour, half or full day. Their charges might sound high, but the time they spend with you isn't the only time they'll spend on the photographs. You need to factor in the initial meeting and the development and presentation of the photographs on websites, CDs, or in albums.
Photographers should treat your day as a special occasion rather than a job. Don't skimp on the budget; it is around a week's worth of work for the photographer when you think of the meetings in advance and the work that takes place after the wedding.
Becky Kerr, Becker Photography
Prices will vary according to the time they spend with you, whether you want high resolution photographs that you can print yourself, or whether you pay for the shots you want reproduced. Extras, such as albums and copies of CDs, add up. You may also have to factor in expenses such as travel, parking and accommodation.
If you are on a tight budget, hire a photographer for the ceremony and just for an hour or two at the reception. In any case, think carefully about how long you want the photographer to stay – do you want them to see you dancing wildly in an inebriated state at the end of the evening? You can ask them to leave after the first dance.
It is tempting and a lot cheaper to ask friends or family to take all the photographs, especially as so many people have digital cameras and camcorders these days. However, remember that guests may get distracted by talking to other people, have too much to drink or may not be as experienced as they led you to believe. You will end up paying anyway if you want hard copies of your photographs. See your guests' photographs as a good complement to your official photographer. Don't forget to give your own camera to a guest, so that they can take some shots for you. As an extra, it can be fun to put disposable cameras on tables to get different shots, but remember to ask your attendants to collect them at the end of the day.
Photographic styles at weddings – There are different styles of photography for weddings and these mostly fall into two categories. The first is the formal, traditional poses of the couple and family and friends. Ideally, for this you want good lighting and backgrounds either at your venue or outside. It is a good idea to provide the photographer with a list of the combinations of poses you want. The bulk of these are normally taken after you have signed the civil partnership schedule. They could include several shots of the two of you kissing, showing off rings and posing over the registry schedule. And then you might want to include your guests in certain combinations – for example, you with each side of your family, work colleagues, best friends, etc. Make sure you have someone who knows most of your friends and family to co-ordinate this. This way, your guests can be enjoying a much-needed drink after the ceremony and the co-ordinator can collect guests when they are needed for their pose. If you want a large number of formal poses, think about what else your guests can do in the meantime and perhaps lay on some entertainment, such as a magician (especially, if you have a number of children).
The other style of wedding photography is known as reportage, which is more informal and captures people in different poses as they move about enjoying the day. The photographer blends into the event and takes shots from unusual angles, sometimes when people are least expecting it. This can also be more like a documentary of the day, taking photos of you getting ready, going to the ceremony, the catering being prepared, a row of women's shoes, etc. You can still ask for some formal shots to be included so that you get the best of both worlds, and many people go for this option.
The finish of the photographs There are quite a few decisions to take about the finish of photographs you want – these include special effects. You can decide to have a combination of these effects – for example, the bulk in color, but some in black-and- white or sepia. Make sure you let your photographer know beforehand.
Options include:
• Colour
• Black-and-white
• Sepia
• Hand tinting – adding a hint of color to black and white photos
• Digital imaging – where the photographer can make changes to the background, or heaven forbid, touch up the odd crow's feet, using a software package – well, it saves on the Botox.
On the day itself – On the actual day, the photographer will inevitably play a large part in the proceedings. They are there to give you a beautiful photographic record of your wedding day and should work unobtrusively. However, if they ask you to look this way or that at any time, try to be accommodating, as they usually have something specific in mind. It's your special day and the photographer probably does this every weekend and is only trying to make sure you look your very best. It's a good idea to get away from your guests for ten minutes, with the photographer, not only to take private photos, but also to give yourself a little break after the emotion of the ceremony.
After the event Photographers will usually load your photographs onto their website with a password so that you and your guests can choose which ones you want to order. They may also come to your home, or invite you to the studio, to present your photos. You need to decide if you want prints, an album or the images on CD. Check if these will be at high resolution and if the photographer allows you to make your own prints from them. The cheapest option is to have a CD of high-resolution photographs that you can print yourself, but make sure you don't skimp too much on the quality of the prints. Some photographers don't allow this, as it can reflect badly on their work.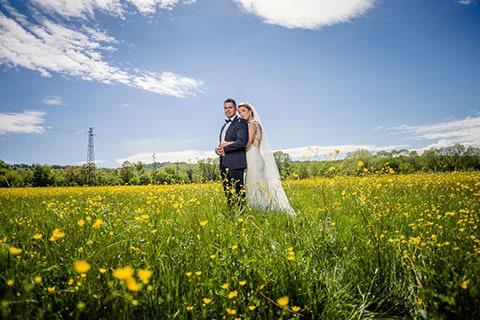 Top tips
• Put your requirements in writing to the photographer.
• Send the photographer the invitation so they can get a feel for the day.
• Decide if you want your photographer and/or guests to take photographs during the whole ceremony or just at certain points, such as signing the register, and ask the registrar to announce your preference at the beginning of the ceremony.
Some photographers will print the best photos in a beautifully bound album, which can be a wonderful souvenir. You can also do this yourself through a company called bobbooks*co*uk – you download software to design your book, drop in your digital photographs and then the company prints and binds it into a hardback book.
When you get your estimates keep them in a file or record in the Budget Planner, then, when you have decided on the best price and supplier, fill in the final column of the planner. Alternatively, use can use the online budget planner.
DVD/Videographers
Having a videographer at your wedding will mean that all those funny moments are captured in sound and vision. You may be so emotional on the day that you can't take it all in. By having a video recording, you can listen later to the speeches and readings again and relive the sense of buzz on the day.
If you have broadband, you can view samples of videographers' work on their websites, or you can ask them to send you DVDs of previous weddings they have recorded. Most will have price packages – find out what they include.
Questions to ask the videographer:
• How long do they film for?
• How many copies of DVDs or videos do they offer?
• How much do extra copies cost?
• How many camera operators and cameras are included in the price?
• What is their turnaround time and do they offer a same-day edit service?
• Do you have to pay a deposit, and when is the final bill payable?
You should meet potential videographers before commissioning them, to check that you feel comfortable. Talk through all your requirements – for example, how many hours you want them to record, if there is anything you don't want captured on camera, etc. Agree with them that you will have a say on the final edit, in case you want anything removed. If possible, ask them to attend a rehearsal of the civil partnership, or at least visit the venue with you so they can work out where they can position themselves.
If you want to capture the vows, readings and speeches, it is best if you and your speakers wear microphones. These can be wireless and discreet. Check how many the videographer supplies and whether these cost extra.
Some videographers offer a same-day edit service, which means your guests can watch a ten-minute trailer of the video at the end of the evening. Another special touch is to have a video diary room set up at the wedding, so that your guests can record messages to add to the final edit.
For something a bit different, you can have a pop video of your big day. Joel Churcher, of Actiondog Productions, says you can hire a music and film production company to make a music video based on your favourite sound tracks and action on the day. 'We can write captions over the film, even have the couple say special words, or repeat their vows over the music, and put it all together in a funky mix on DVD.'
Some companies, such as Weddingstreams, are also now offering live online broadcasts of weddings so that absent friends and family can watch the wedding on their computers. They will film your wedding using up to four camera operators and broadcast it on a password-protected website. Those watching can also use their own webcams to record video messages, which will be played on a big screen at the reception, rather like the old-fashioned telegrams from absent friends. This can be a good way of saving money by not having to invite everyone you know.
Money-saving tip
If you are having evening entertainment, such as a live band or singer, it is worth paying the videographer to film this, but don't bother if you are just having a DJ.
Top tips
• Check samples of videographers' work and look at original testimonials.
• Check with the venue that you are allowed to film, as some places have restrictions and may even charge extra.
• Choose some music to include as background to the video.
Special touches
• Ask your videographer to record messages from your guests.
• To add a bit of history, include some photographs of both of you as children.
• As an introduction, each record a message about why you are having a civil partnership – these can be recorded before the day.
• Ask the videographer to add some of your own or your friends' photographs of the wedding to the DVD.
Wedding websites
This is quite a new idea, but wedding websites can prove very useful throughout the planning of the wedding, as well as providing a permanent record. They are also a source of information for your guests, with links to accommodation, transport options and the gift list. A blog with pictures about proposing, planning the wedding, and what it means to both of you adds another interesting touch. Some photographers and videographers offer this as an additional service, or you can commission a wedding website designer. The other option is to build it yourself, if you know how.
After the event, it provides an online memory bank of photo-graphs, speeches, music, etc., and guests can add their own memories. If you are worried about security or privacy, make it password-protected.
Thing do thing about
• What do you want from your website?
• Will you want to update it frequently?
• How many pages do you want?
• How many photographs?
• Do you want other people to be able to add to it?
• Do you want it to be password-protected?
Andrew Kemp, of web design company Thisonly, advises registering a website domain name as soon as possible. 'You can register a name and "park" it for a while, you don't have to find someone to create a website immediately. Don't pay too much: "*co*uk" names should only cost a few pounds a year, and "*com" names no more than around £10. There are plenty of very expensive options around, so be careful.'
If you find other websites that you like, e-mail the owners and ask who developed their site, or this may be in the small detail at the bottom of the home page.
Once you've found a designer and the price is right, start thinking about the structure of the site – for example, page headings. Talk to the designer about how they might want to receive content. Keep it simple – the best websites are those that are easily navigable and only a click or two away from the information a visitor wants.
When you get your estimates keep them in a file or record in the Budget Planner, and then when you have decided on the best price and supplier, fill in the final column of the plan.