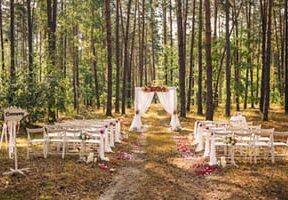 Oct 30
Tables Wedding Wish List Budget Planner Wedding Checklists
Table 1: Wedding wish list
Each of you should fill in a table below to decide on the priorities for your wedding. This is to generate an overall idea. Write down your ideas and then give them a mark out of ten to show how important each criterion is for you.
For example, if you definitely want outdoor space, give this a ten. If time of year isn't so important give this a three. This will help you work out what you are prepared to compromise on.
| | | |
| --- | --- | --- |
| Criteria | Ideas | Rank out of to |
| Idea of budget | | |
| Style – intimate/grand | | |
| Ideal number of guests | | |
| Formal/informal | | |
| Traditional/unconventional | | |
| In the UK or abroad | | |
| Location: rural/urban | | |
| Type of venue | | |
| Time of year | | |
| Time of day | | |
| Separate evening party | | |
| Theme | | |
| Colour scheme | | |
| Involvement of family | | |
| Children invited or not | | |
| Use of outdoor space | | |
| Anything unusual | | |
| Other considerations | | |
Table 2: Budget planner
Fill in the following table, allocating a rough idea of how much you would like to spend on each item in the budget column. Once you start getting quotations fill in the estimates column (or keep in a separate file) and then record your final agreed quotation with your chosen supplier in column 4. If you want an interactive version, which keeps a running tally of your costs. The items below are in the recommended order of priority given in the 12-month timetable
| | | | | |
| --- | --- | --- | --- | --- |
| Item | Budget | Who to action | Estimates | Best quote |
| Engagement party | | | | |
| Announcement | | | | |
| Wedding planner | | | | |
| Venue hire | | | | |
| Ceremony | | | | |
| Reception | | | | |
| Accommodation | | | | |
| Registrar's fee | | | | |
| Catering | | | | |
| Canapés | | | | |
| main meal | | | | |
| evening buffet | | | | |
| reception drinks | | | | |
| champagne toast | | | | |
| Wine | | | | |
| soft drinks | | | | |
| evening bar | | | | |
| Cake | | | | |
| cake stand and knife | | | | |
| chocolate fountain | | | | |
| catering equipment | | | | |
| ice sculpture | | | | |
| Stationery | | | | |
| save the date cards | | | | |
| invitations | | | | |
| envelopes | | | | |
| information for guests | | | | |
| reply cards | | | | |
| order of the day | | | | |
| order of ceremony | | | | |
| evening invitations | | | | |
| name cards | | | | |
| menu cards | | | | |
| table plans | | | | |
| table numbers | | | | |
| guest book | | | | |
| favour boxes | | | | |
| wedding album | | | | |
| thank you cards | | | | |
| Insurance | | | | |
| wedding | | | | |
| travel | | | | |
| Legal advice | | | | |
| Honeymoon | | | | |
| travel | | | | |
| accommodation | | | | |
| spending money | | | | |
| inoculations | | | | |
| visas | | | | |
| Marquee | | | | |
| Photography | | | | |
| Video recording | | | | |
| Wedding website | | | | |
| Music | | | | |
| for ceremony | | | | |
| during meal | | | | |
| disco | | | | |
| live band | | | | |
| staging and lights | | | | |
| dance floor | | | | |
| Toastmaster | | | | |
| Entertainment | | | | |
| fireworks | | | | |
| magician | | | | |
| kid's entertainment | | | | |
| caricaturist | | | | |
| drag queen/king | | | | |
| other | | | | |
| Celebrant's fee | | | | |
| Transport | | | | |
| stag or hen night | | | | |
| to ceremony | | | | |
| to reception venue | | | | |
| at end of the wedding | | | | |
| to the airport | | | | |
| | | | | |
| --- | --- | --- | --- | --- |
| Item | Budget | Who to action | Estimates | Best quote |
| Fun and frills | | | | |
| balloons | | | | |
| wedding favours | | | | |
| confetti | | | | |
| disposable cameras | | | | |
| decoration for room | | | | |
| Flowers | | | | |
| For ceremony: | | | | |
| Bouquets | | | | |
| Posies | | | | |
| hall and table displays | | | | |
| Garlands | | | | |
| Buttonholes | | | | |
| Corsage | | | | |
| to decorate car | | | | |
| For reception: | | | | |
| top table | | | | |
| table centres | | | | |
| pedestal arrangement | | | | |
| presentation bouquet | | | | |
| cake table | | | | |
| Outfits | | | | |
| dresses | | | | |
| suits | | | | |
| shoes | | | | |
| tiaras/hats | | | | |
| accessories | | | | |
| handbags | | | | |
| top hats | | | | |
| cummerbunds | | | | |
| attendants' clothes | | | | |
| going away clothes | | | | |
| Jewellery | | | | |
| engagement rings | | | | |
| wedding rings | | | | |
| decorative jewellery | | | | |
| cufflinks | | | | |
| necklaces | | | | |
| Beauty treatments | | | | |
| manicurist | | | | |
| hairdresser | | | | |
| massage | | | | |