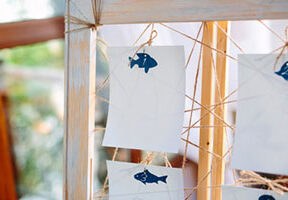 Jul 24
The necessary Documents by Civil Ceremony in the UK – Wedding Preparation
When giving notice of marriage, you will be asked to produce evidence of identity and national ity – preferably your passport or birth certificate – and proof of residence, e.g. an electricity or telephone bill. With a birth certificate, another form of identification is required – driving license, medical card, ID card or nationality document stating date of birth.
It is important to note that certain documents will be required if any of the following circumstances apply:
• proof of your parent's or guardian's approval if you are under 18. The relevant form can be obtained from the register office
• evidence of how your most recent marriage ended if you have been married before:
• in the case of divorce, your Decree Absolute bearing an original stamp from the issuing court, with an English translation if appropriate
• if you have been widowed, the death certificate of your former spouse
• a passport, Home Office Document or other official identity document, with an English translation if appropriate, if born outside the UK
• Deed Poll, Change of Name Deed or Statutory Declaration if you have changed your name.
Fees
Fees are set nationally by Parliament for register office ceremonies held in England and Wales and are regularly reviewed.
A fee will be payable for:
• giving the notices of a wedding; this is per person in each register office where notice is given
• conducting the marriage ceremony and one copy of the marriage certificate (this fee is payable on the wedding day, so be sure to have cash available).
Civil Marriage in approved Premises
Each local register office holds a list of approved premises in its district. These include banqueting suites, hotels, stately homes and other buildings of historical interest. More unusual venues include London Zoo, Pinewood Film Studios, Coventry City Football Club, Sandown Park Racecourse and HMS Warrior, Portsmouth.
If you have a civil ceremony at approved premises, the Registrar will charge a higher fee to take into account the additional administration, time and costs involved in travelling to the venue. The fee will also vary depending on whether the ceremony is to be held on a weekday, Saturday, Sunday or Bank Holiday and is payable in advance. Although these charges are set local ly, they tend not to vary significantly from area to area.
The law does not allow for civil marriages to be held in the open air, in a tent or marquee, in any other movable structure such as a boat or a hot air balloon, nor in any building that has present or past connection with any religion.
Some venues can only hold the wedding ceremony and you will have to find another venue for the reception. At other venues it is negotiable and some will only allow the ceremony if you have a reception as well. In any case, you should contact the manager or owner of the premises to make provisional arrangements before contacting the register office.
• Notice of intended marriage must be given in the district(s) where you both live and the certificate
presented to the register office in the district where the ceremony is to be held if they are not
the same.
• The same residency rules of seven clear days apply.
• The marriage may take place at any time within 12 months from the day on which notice was
given.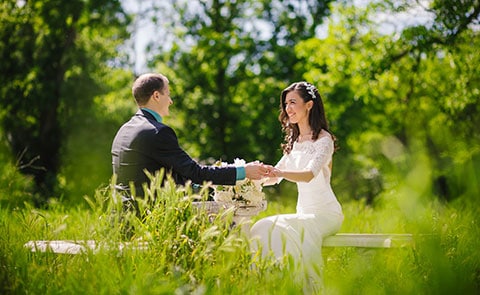 Suggestions for Music
Frank Sinatra Classics
□ Hello young lovers
□ Let's fall in love
□ Somebody loves me
The Beatles No. 1 Singles
□ Love me do
□ I want to hold your hand
□ Can't buy me love
□ All you need is love
Various Artists
□ Angels – Robbie Williams
□ Love is all around – Wet Wet Wet
□ l'll never break your heart – Backstreet Boys
□ I love you always forever – Donna Lewis
□ One moment in time – Whitney Houston
□ If you don't know me by now – Simply Red
□ Have I told you lately – Rod Stewart
□ How deep is your love – Bee Gees
□ It must be love – Madness
□ l'll never fall in love again – Deacon Blue
□ Show me heaven – Maria McKee
□ Wonderful tonight – Eric Clapton
□ Romeo and Juliet – Dire Straits
□ Power of love – Jennifer Rush
□ Always on my mind – Elvis Presley
Suggestions for Poetry and readings
□ I wanna be yours by John Cooper Clarke
□ Shall I compare thee to a summer's day? (Sonnet 18) by William Shakespeare
□ How do I love thee? Let me count the ways (Sonnet From the Portugese) by Elizabeth Barrett Browning
□ Songs from the Princess by Alfred, Lord Tennyson
□ Come live with me, and be my love (The Passionate Shepherd to His Love) by Christopher Marlowe
□ He wishes for cloths of heaven by W B Yeats
□ Ehe good morrow by John Donne