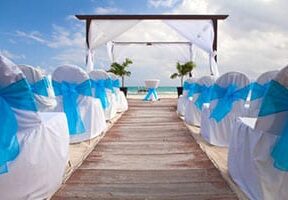 Jan 20
Wedding music
Music is an integral part of a wedding service. It adds to the dignity and special air of the occasion, and also contributes one of the notes of rejoicing and celebration. Also, it provides a chance for the couple to choose one or more pieces of music that are special to them for one reason or another. Most church weddings are accompanied by organ music as that is the most easily available instrument in that setting. Also the organ will be powerful enough to fill the whole church with music, whereas a soloist on another instrument such as an oboe or violin may not be loud enough to cover the bustle of everyone getting to their feet and saying how lovely the bride looks!
Before the service
Ushers, guests and the groom and best man will be at the church well before the bride, so it is best if your organist has a repertoire that will keep him or her occupied for at least 20 minutes before the bride is due. This helps to get people into the wedding mood, and also gives them the chance to listen to some enjoyable, relaxing music while they wait. The music can be of any kind the organist chooses but it is best to keep it fairly sober and classical, unless something like ragtime or old time musichall fits in with the style of the rest of your wedding!
As the bride arrives
The entrance of the bride may be greeted by a fanfare or a trumpet voluntary (depending on the talent you have at your disposal), and then the bride enters, usually to something relatively stately to mark the significance of what is about to happen. Before the (now rather hackneyed) Wedding March ('Here comes the bride') was first played in 1850, favourites used to be Handel's Occasional Overture or Mendelssohn's music from A Midsummer Night's Dream. The Wagner Wedding March (actually the Bridal Chorus from his opera Lohengrin) then swept the board for popularity, although other favourites in Victorian times included Handel's Processional March and March from Hercules, Mendelssohn's March from Athalie, and Beethoven's Hallelujah Chorus from the Mount of Olives. More recently, brides have entered to Bach's Jesu Joy of Man's Desiring and Verdi's March Aida, amongst others.
While the register is being signed
Try to arrange for some music to be played during this time, even if it is merely the organist repeating some of the pieces played before the service. This is the traditional time for friends of the bride and groom to play, or sing, or both, or if a choir has been hired this will be their chief spot. You can either choose the music yourself or leave it to the musicians concerned, depending on the extent of your own musical knowledge.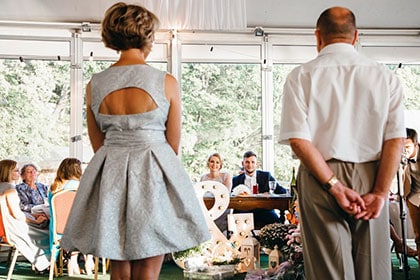 As you leave the church
Something triumphant and joyful is the keynote here; you are announcing to the world that you are married! Again you may have a piece of music that is special to you, but if not there are many suitable classical and modern pieces.
Some guidelines
You will need to check very carefully that the music you want is suitable for being played on the organ that is in the church. Some pieces can sound very grand played on a good organ by an excellent musician, but sound extremely weak played on a poor organ by an indifferent organist, in a church with dreadful acoustics. If you are using the church's regular organist he or she will be able to advise you on the best pieces to be played on that particular organ; even if you are importing your own organist, it's worth picking the brains of the regular one who will tell you which kind of music sounds best in that church. You may want to have your own music composed for your wedding, in which case you will need to be sure you have the musicians and the instruments to do it justice. If both organ and organist seem hopeless, all is not lost; a wide variety of tapes are available that can be played on any good PA system, so you can still have good-quality music.
Music – Making the selection
Musical selection
Listed here are some pieces that are suitable for playing at various times during the service.
As the bride arrives
Brahms
Theme from One. St Anthony Chorale
Charpentier
Prelude to a Te Deum
Clarke
Prince of Denmark's March
Guilmant
March on Lift up your Heads
Handel
Hornpipe in D from the Water Music Hornpipe in F from the Water Music March from Scipio Coro from the Water Music Minuet No 2 from the Water Music Arriual of the Queen of Sheba March from the Occasional Oratorio
Harris
Wedding Processional
Hollins
A Trumpet Minuet
Parry
Bridal March
Purcell
Trumpet tune Rondeau from Abdelazar
Verdi
Grand March from Aida
Wagner
Bridal March from Lohengrin
Walton
March from Richard III Crown Imperial
For the entrance or the recessional
Boyce
Trumpet Voluntary
Bride
Allegro Marzialle
Guilmant
Allegro from Sonata in D minor
Karg-Elert
Praise the Lord 0 My Soul
Mendelssohn
Sonata No 3 (first movement)
Stanley
Trumpet Voluntary from Suite in D
Suttle
Wedding March
Wesley
Choral Song
While the register is being signed
Albinoni
Adagio in G minor
Bach
Air from Suite in D
Sheep may safely graze
Adagio from Toccato Adagio and Fugue
Jesu, Joy of Man 's Desiring
Brahms
Behold, a rose is blooming
Handel
Minuet from Berenice
Air from the Water Music
Macdowell
To wild rose
Mendelssohn
Allegretto from Sonata No 4
Mozart
Romanze from Eine Kleine Nachtmusik
Schubert
Aue Maria
Schumann
Träumerei
Vaughan-Williams Chorale Prelude on Rhosymedre
Wesley
Air from Three Pieces
As the couple leave the church
Dubois
Toccata in G
Guilmant
Grand Choeur in D
Fletcher
Festive Toccata
Karg-Eiert
Now thank we all our God
Mendelssohn
Wedding March from A Midsummer
Night's Dream
Mulet
Carrilon-Sortie
Smart
Postlude in D
Vieme
Carrilon in B flat
Final from Symphony No 1
Walton
Crown Imperial
Whitlock
Fanfare
Widor
Toccata from Symphony No 5