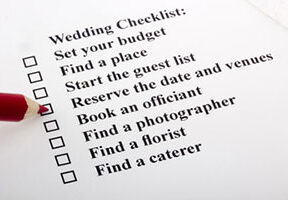 Oct 24
Two Weeks to go Before the Wedding – Plan my Wedding
Two weeks before the wedding, all the plans should be in place. However, it is a good idea to check arrangements and do the last- minute preparations.
Confirm with suppliers
• Telephone all your suppliers to double-check arrangements.
• Confirm transport arrangements for you and your guests.
• Check with hotels or guest houses that all the accommodation you've requested is still booked.
• If you are hiring clothes, confirm the time when you are picking them up and returning them.
• If you are having a cake, establish who is picking it up, or if it's being delivered and when.
• Check if there is a cake stand and knife at the venue. If not, you can probably borrow one from the caterer.
• Check with the florist to make sure your order is in hand, and finalise delivery arrangements.
• Confirm with any entertainers or musicians their time of arrival, how long you are expecting them to perform, and any last- minute requirements they have.
• Think through any suppliers' bills you need to pay and either pay the supplier in advance if you completely trust them, or allocate someone to pay them on the day. You may need to write cheques for your best man or woman to hand over at the end of the evening, or give them plenty of cash.
• Do a last-minute check of the guest list and confirm final numbers with caterers and the venue. Run through the table plan to check everyone is accounted for and any dietary requirements will be met and are marked on the table plan.
Meet the registrar
Make sure you have an appointment with the registrar at least two weeks before the event. This gives you a chance to run through arrangements and they will also check they are happy with all the readings, vows and choice of music – remember they can't be religious at all. Check that they are supplying flowers for the ceremony table, if it is the council offices, for example. Also ask them to supply water, in case your mouth dries out in the middle of the vows.
Book beauty treatments
Don't do anything radical to your appearance that you haven't tried months before. I heard of someone who had their upper lip waxed four days before and came out in a terrible rash. However, the following are some treatments that should be booked close to the wedding date:
Eyebrows – if you want to pluck them, shape them or dye them, this should be done one week before.
Eyelashes – you may want to have them dyed to give your eyes greater emphasis in the photographs.
Manicure – your fingers are photographed a lot on your wedding day so make sure they're looking good.
The honeymoon preparations
Prepare your clothes for your honeymoon, don't forget swimwear, and if you need to wax anything, book appointments. You also need to sort out any outfits you need for going away on honeymoon or leaving the hotel the next morning. Make sure you have travellers' cheques, currency, insurance, copies of reservations, tickets, travel arrangements, passports, visas, medical information about jabs, allergies, etc, any medication you need, and driving licences or other documentation such as diving qualifications.
Your attendants
Buy and wrap any presents you are giving to the attendants. Hold a rehearsal either at the venue or at home, if possible with attendants or people giving readings or speeches. You can choose to give them presents then or in public at your wedding. Make a list of everyone you need to thank on the day. If you can't hold a rehearsal, make sure all the attendants know what is expected of them. E-mail or post them the detailed running order. Make sure you've allocated someone to hand out buttonholes if you've ordered them. Decide if you are going to display presents and check with the venue if this is possible, then either arrange for someone to take them home, or for the venue to keep them safe.
Allocate people to take back any hire equipment – for example, suits, the cake stand and glasses. If your booze is on a sale or return basis, when do you have to return this to get your money back?
Delegate any last-minute jobs to friends and family, so you have nothing to do except enjoy your ceremony!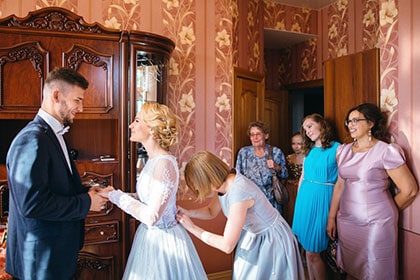 Think through a way of making sure you know who gave you which presents, and allocate someone to write a list for you on the day. If you have a gift list with a shop, find out when presents will be delivered to make sure you are back from your honeymoon or at home. If someone is looking after the rings, make a time to meet with them to hand them over.
Practice
Wear your shoes in to make sure they are comfortable on the day. Pack some plasters in case of blisters.
Practise any first dance you have chosen with your partner. Rehearse your speech, vows and readings in the mirror and to each other, if you don't mind hearing them first. Try to record them.
Try on your outfit and all the accessories to make sure you are totally comfortable with everything.