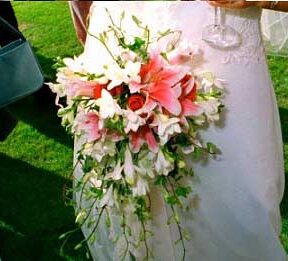 Jul 09
Wedding flowers
Flowers have played a part in countless weddings throughout the centuries, and a wedding wouldn't really feel complete without them. In ancient Roman and Anglo-Saxon wedding ceremonies both the bride and the groom wore garlands, and in the Middle Ages children strewed flowers in the path of the bride as she emerged from the church – this is the origin of our tradition of the flower girl. In early rural weddings in this country the bridal wreath often consisted of ears of corn or wheat, signifying plenty and fertility, and in some traditions the bride still carries ears of grain in her bouquet.
Your flowers
Flowers for your wedding can be as simple or as elaborate as you choose; there is no set rule to follow. You may want to restrict them to a bouquet for yourself, particularly if you are going for a small, simple registry office wedding, or you may want to splash out on large bouquets for bride and bridesmaids, buttonholes for all the men, corsages for the bride's and groom's mother, elaborate arrangements for church and reception, and flowers around the cake. You will also need to decide who is going to do your flowers. Ask several different florists for quotations and examples of their work so that you can compare the service. You may decide that you want to use artificial silk flower arrangements – ask around for a specialist who can make them up for you.
You will find wedding bands made of platinum in Germany only in our online store. Visit us in Frankfurt and check how our workshop for online jewellery works!
Color schemes
Choose the colors of all the flowers carefully so that they all blend together tastefully. You may want to have all white blooms in your bouquet; if so, remember that white flowers can look very yellow against a blue/white dress. Colors for flowers could be pastel, such as pale blue, violet, pale yellow or pink; they could be rich and dark such as purple, crimson, scarlet or deep peach; they could be autumnal such as gold, orange and beige, or they could be bright such as blue and yellow, red, white and green, flame, purple and gold. Make sure that they complement the complexions, hair colors and dress fabrics of you and your bridesmaids.
Seasonal guide to flowers
Some flowers are only available at certain times of the year; others may be available when not in season but at a vastly inflated price. Check with the florist when you are comparing prices. Plenty of the most popular flowers for bouquets, such as carnations, irises, roses, freesias and lilies are available all the year round. Some blooms, such as lilacs, lilies of the valley, cornflowers, heathers, lilies, carnations, daisies and gladioli are particularly long-lasting, and will not wilt at the crucial time!
Matching Wedding Bands – made in Germany only in our online store for jewellery
Winter flowers
Carnation
Chrysanthemum
Freesias
Forsythia
Gypsophila
Gentian
Iris
Lily
Orchid  Rose  Stephanotis  Snowdrop Winter jasmine
| | | |
| --- | --- | --- |
|  Spring  flowers | Summer  flowers | Autumn flowers |
| Azalea | Aster | Chrysanthemum |
| Apple blossom | Azalea | Daisy |
| Broom | Carnation | Dahlia |
| Bluebell | Cornflowel | Freesia |
| Carnation | Chrysanthemum | Gladioli |
| Cherry blossom |  Delphinium | Gypsophila |
| Chrysanthemum | Daisy | Hydrangea |
| Clematis | Freesia | Iris |
| Camellia | Fuchsia | Lily |
| Daffodil | Gladioli | Morning-glory |
| Daisy | Hollyhock | Orchid |
| Forsythia | Heather | Rose |
| Freesia | Iris | |
| Gladioli | Jasmine | |
| Honeysuckle | Lilac | |
| Iris | Lily | |
| Jasmine | Lily of the valley | |
| Lilac | Lupin | |
| Lily | Marigold | |
| Mimosa |  Orchid | |
| Orchid | Peony | |
| Polyanthus | Rose | |
| Rhododendron | Rhododendron | |
| Stephanotis |  Stock | |
| Tulip | Sweet pea Sweet William Tiger lily | |
Foliage
I Bouquets often have a little greenery to offset the color of the flowers, but most arrangements are so ornate that they don't need much. Popular choices are ivy, asparagus fern, lily of the valley leaves, myrtle and bracken.
Flowers – Bouquets
Bouquets
Bouquets come in many shapes and sizes, from the floor-to-shoulder draperies of lilies seen early this century to a single bloom carried by the bride. Most, though, are somewhere in the middle! When choosing the shape and size of your bouquet keep in mind your own height and build and coloring, the length and fabric of your dress, the 'feel' of the wedding – very formal, country garden, minimal ceremony, spring, winter, etc – and, last but not least, how much you want to spend.
1Single bloom
2Circular posy
3Posy with ribbons
4Large round bouquet
5Spray of flowers
6Teardrop or fall
7Trailing teardrop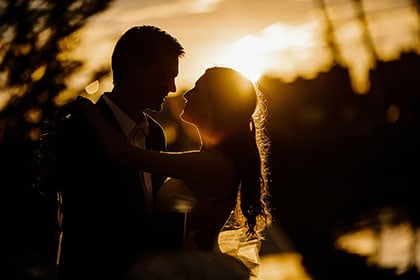 Other flowers
Flowers for your wedding are unlikely to stop at just your bouquet and flowers for the bridesmaids! You may want to continue the color scheme of your flowers through to the buildings and the other guests so that they unite the whole day in your chosen colors.
Flower girls
In many countries of the world small children attend marriage or betrothal ceremonies and scatter flowers, so traditionally flower girls (usually aged under 10) carry baskets of flowers.
Buttonholes
These had their origins in the tradition of the men at the wedding wearing 'favours' – usually knots of ribbon – in the bride's chosen colors. In the 18th century the men wore flat white satin bows on their shoulders. These days the buttonholes are more likely to be carnations, roses or lilies of the valley. They can be ordered for just the men of the wedding party (groom, best man, pageboys, fathers of bride and groom) or for all the men who will be attending the wedding.
At the registry office
Many registry offices are decorated with fresh flowers in pretty arrangements each day, and so you may not need to provide them yourself. Check with the registrar when you make arrangements for your wedding.
At the church
Some churches have restrictions on the colors or sizes of the flowers allowed inside; check this in good time. Sometimes you can choose the flowers in conjunction with the person who would normally have been arranging the church flowers for the following Sunday – if so you may not need to pay all the cost of the flowers yourselves. Pew ends are decorative flower arrangements in the shape of posies, rings, hearts or sprays: this is an American custom that is becoming popular in this country as well.
At the reception
Flower arrangements at the reception will continue the festival air and brighten up even the dullest hall. If the reception is formal you could order a small arrangement for each table and larger ones for the sides of the room. For a buffet the tables could Include a selection of small arrangements. The cake may be topped or surrounded by fresh flowers. Some brides and grooms arrange surprise bouquets for presentation to their mothers just before they leave for their honeymoon.