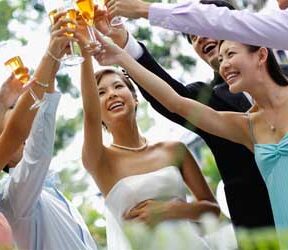 Aug 03
Floral headdresses
Flowers are very attractive as headdresses for your wedding; they can be used in many different ways, from single blooms to entire garlands. The flowers may be real or imitation; if you want to use real flowers in your hair on the day check the details with the florist when you order your bouquet.
1White side comb holding trailing strands of tiny flowers.
2Circlet of white and colored flowers round a topknot.
3Exotic-looking wreath of large net flowers and leaves.
4Floral headdress holding a veil in place.
5Circlet of large and small silk roses and colored ribbons.
6Ivory rose and rose petals decorating a chignon.
7Wreath of white lilies.
8Circlet of colored flowers and ribbons.
9Half-circlet of white and colored roses and stephanotis.
10Circlet of tiny flowers with star shaped trim.
11Side spray of flowers and stems.
Matching Wedding Bands of Platinum – made in Germany only in our online store for jewellery
Accessories
It's no good choosing your dress carefully unless you pay just as much attention to what goes with it! Your accessories should complement the mood and style of your dress and of the wedding in general – for instance it would be inappropriate to wear flat white sandals with a very formal dress with a train. Keep your dress in mind when choosing all your accessories – ideally try them on with it – and you can be sure that the complete effect will be harmonious.
Shoes
You may not think that your shoes are particularly important, but they could make or break your wedding day. Choose shoes that are a sensible height so that you don't fall over when you are walking down the aisle or the church steps. Remember that you will be standing up for quite a long time during the day, so choose shoes that are comfortable. Try your shoes on with your dress to check that the hemline of the dress is not too short or too long. If your dress is full-length the hemline should barely brush the ground; anything longer is just asking for trouble! Shoes are generally white or silver to go with a white dress. When you are getting dressed on the big day, put your shoes on after your dress so that you don't rip the fabric as you get dressed.
Stockings
Decide in advance whether you want to wear white or neutral-coloured stockings or tights, and then buy two pairs in case of accidents! If your wedding is in the spring or autumn you may want to invest in a pair of warmer tights as a back-up in case the day dawns gloomy and cold.
Garter
It is traditional for brides to wear a garter in memory of the days when an unseemly scramble to remove the bride's garters was all part and parcel of the wedding celebrations… you may wish to dispense with this custom! If not, garters can be bought singly or in pairs.
Coverings
It is not terribly appropriate to put a coat on over a wedding dress, which causes problems if the weather is cold or wet. It may be advisable to invest in a lacy but warm white shawl or one made of fringed or embroidered white fabric to put round your shoulders without spoiling the look of your dress if your wedding day is colder than anticipated. White parasols are more ornamental than useful, but photographers and wedding car chauffeurs may bring more practical white umbrellas with them; check this with the firms concerned.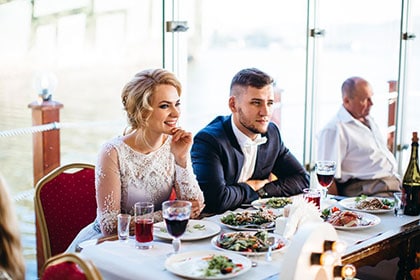 When the bride and groom's first night, or 'bedding was a much more public affair than nowadays, all hinds of frivolities were indulged in by the wedding guests. One of the traditions was that of 'flinging the stockingthe bride's stockings were (forcibly) removed, then the guests would take it in turns to sit on the end of the bed and fling the stocking over their shoulder onto the bed, trying to get it to land on the groom (if the guest was male) or on the bride (if the guest was female).
Please don't forget before you go to your favourite location to order on time your vintage wedding rings from our goldsmiths.
lingerie
Surprisingly, your lingerie can be a very important part of your wedding outfit. Once again you need to be comfortable, and you need a bra that is in no danger of riding up or coming undone. Try your bra and panties on under your dress: are there any unsightly lines or bulges? Can your underwear be seen under your dress? If so, what sort of petticoat will you need? Is the skirt of your dress full enough to warrant a stiff petticoat? If so you will find it much cheaper to order one through one of the bridal magazines than to buy one from a bridal shop.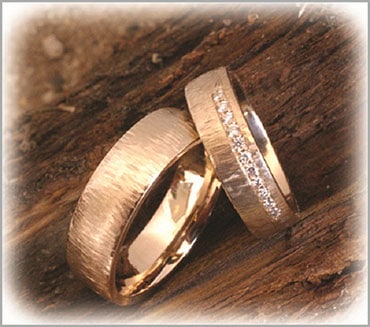 Jewellery
Your jewellery should, of course, be chosen to complement your dress – for instance you will only be able to wear a pearl necklace or sparkling pendant if your dress has a low neckline or a plain high one. Earrings, too, should be tried on with your dress, and with your hair and headdress as you plan to have them on the day. Try all the jewellery you are thinking of wearing together with the dress itself – pearls might look too creamy, glittery necklaces too ornate.
Checklist for bride's outfit
Dress
Is the dress laid out flat, not hanging up? (The fabric may be so heavy that it will pull the dress out of shape if left on a hanger.)
What am 1 going to do with the dress after 1 have changed?
Do I know how to iron the dress ready for the day?
If the dress is hired, who is going to clean and return it?
Have i tried it on for fit a few days before the wedding, to make sure I haven't gained or lost weight since it was chosen?
Am I happy with the length?
Do i have an emergency repair kit at hand, in case of accidents?
Headdress
Have i tried on the headdress with the dress, to make sure that they complement one another?
How am i going to fix the headdress to my head? Do i need to buy any clips, bands or combs?
Have i tried on the headdress with the hairstyle i will have on the day?
How do i get any creases out of my veil?
Is it packed carefully so that it will not get crushed or mis-shapen?
If i am having real flowers, when do i need to collect them?
Do i need to buy any extra ribbons or flowers to go with it?
Have i double-checked the order with the florist?
Jewellery
Is all my jewellery ready?
What is going to happen to it when 1 change?
Does it all go together?
Are all the clasps and fastenings secure?
Does it all go with my dress?
Is it all clean and bright?
Shoes
Are my shoes the right height for my dress?
Are they clean?
Are they comfortable?
Have 1 removed all the labels from the soles?
Are they easy to walk in?
Have I broken them In so that they don't chafe?
Are the soles non-slip?
Stockings
| | | |
| --- | --- | --- |
| Have I go! a clean new pair of stockings or | Do i need a thick pair of tights in case of cold | |
| tights? | weather? | |
| Have I got a back-up pair? | | |
Underwear
| | |
| --- | --- |
| Does my bra make a good line under my dress? | Do i need a petticoat to make my skirt stand out? |
| Does any of my bra show above my neckline? | Are my undies comfortable? |
| Can you see my undies through my dress? | Are they right for the weather – cool in summer, warm in winter? |
Miscellaneous
Do  want a parasol?
Do i want to go for 'something old, something new, something borrowed, something blue'? If so, what?
Do I want a shawl?
Where am i going to keep my handkerchief?
What happens if it rains or is cold?
Should 1 be wearing any family heirlooms?