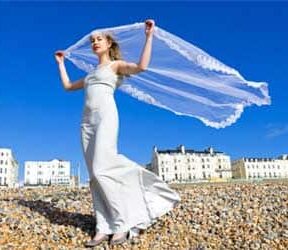 Aug 02
Bride headdresses
What am i going to wear on my head? This is perhaps the first question to ask once you have decided on your wedding dress. Of course you don't need to wear anything, but it is the rare bride who doesn't at least want to put a flower in her hair for the trip down the aisle.
The veil is the most traditional bridal headdress; it is seen in various forms in different cultures, where it sometimes had the purpose of preventing the bride and groom from seeing each other, and sometimes was supposed to offer symbolic protection to the couple. At times the veil was a piece of fabric held over the head of the bride or of the couple as the ceremony took place; in some cultures the bride was draped to the ground in the veil. Veils disappeared from fashion in this country for several centuries and brides tended to wear flowers instead; the joint Victorian cults of the white wedding and the coy female led to the reinstatement of the veil as a means of hiding the bride's supposed blushes!
1Frothy veil decorated at the edges.
2Lace veil worn to fringe the face.
3Tulle veil piled high over the headdress.
4Circular veil edged with ribbon.
5Long tulle veil held in place with a tiara.
6Full-length decorated veil.
Veils can be of many kinds, fabrics and lengths; generally they are of a transparent or semi-transparent material such as tulle or lace. They may be chosen so that they can be piled decoratively on top of the head or so that they fall smoothly down, and they may be held in place with a tiara, comb, clip or other headdress. Some veils are heirlooms and are worn by succeeding members of the family; these veils may be of very fine Brussels or Honiton lace, or may have been made by the original wearer.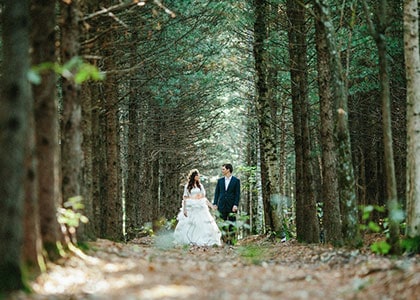 You will find wedding bands made of platinum in Frankfurt, Germany only in our online store. Visit us in Frankfurt and check how our workshop for online jewellery works!
In Ireland the ancient custom of holding the bride Is veil in place with a sprig of mistletoe or a twig of hawthorn is still sometimes followed.
Headdress – Hats and circlets
Hats and circlets
Many brides choose to wear something other than a veil on their head, especially if the wedding is not very formal. Some of the many options are shown here.
1Circlet bound in white ribbon and trimmed with ribbons and imitation flowers.
2Round brimmed hat with a net of coarse tulle at the back.
3Circlet of lace bows interspersed with imitation flowers and with a small lace veil.
4Pointed 'circlet of white rings and imitation flowers.
5Small flat hat with pearl-studded veil covering the face.
6Tiara of imitation gemstones and flowers.
7Wide-brimmed hat trimmed with net and ribbon.
8Cap trimmed with ribbon and coarse veiling.
9Flower and ribbon circlet holding a fall of lace.
With us, you always have the choice to have your wedding rings produced in grey gold, white gold or platinum 950