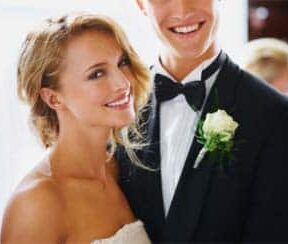 Jul 30
Styles of wedding dress
What kind of dress are you looking for? One that evokes a particular era, for instance Victorian, Edwardian, or 1920s – or one that is in a particular mood, such as romantic, classic, elegant, severe? Whether you are buying, making or hiring your dress, choose a style that suits the tone of your wedding and is flattering to your figure.
1Peasant style, with a laced bodice, 2 American style, with ruffled sailor puffed and gathered sleeves and a collar, bows at chest and sleeves, layered, gathered skirt. half-length gathered sleeves and calf-
length gathered skirt.
3 Edwardian style, with high neckline, leg-of-mutton sleeves, fluted skirt with deep sash dropping below waist level.
4 1920s style, with dropped waist, very low back, plain neckline, and tight sleeves ending in a V over the hand, and three-quarter length skirt.
5Pre-Raphaelite style, with layered ruffles on neck, sleeves skirt and waistband, scoop neckline and fully gathered skirt.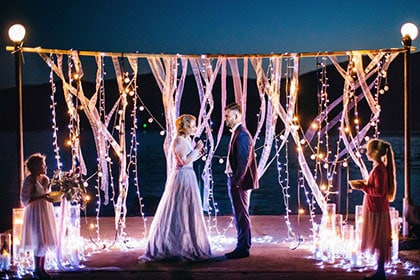 6 Jacobean style with tight bodice, low neckline with half-length puffed sleeves, full gathered skirt with flounces.
Bride's dress – Choosing a style
7 Mediaeval style, with high waist, centre-panelled bodice, square neckline, long angel sleeves and loose, swirling skirt.
8 Victorian style with full sleeves puffed at the shoulders and gathered into tight, ruffled cuffs, panelled
bodice with high neckline, tight sash and full skirt with ruffles at the hem. 9 Tudor style, with box-pleated ruffles at neck and waist, V-pointed waistline, loose sleeves gathered at the elbows, lace trimmings and full plain skirt.
10 1950s style short satin dress with gathered skirt falling just below the knee, boat neckline, wide sash with bow, and no sleeves.
11 Classic style in princess line with a high waist, plain A-line skirt with
half-train, plain neckline and straight sleeves.
12 Slim elegance with a gently gathered straight skirt, net bodice and sleeves over strapless top, sash and bow at waist
If you order online your bridal wedding ring sets from our goldsmiths, you will no longer even think to cancel or postpone your wedding ceremony!