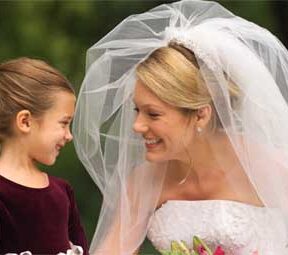 Aug 04
Looking your best, bride tipps
Needless to say, on your wedding day you will want to look your very best, with all your good points emphasised and your weaker points played down. Go over in your mind each aspect of your appearance – weight, complexion, hair, make-up, etc – and think it through in the light of how you want to look on your wedding day.
Face
A good deal of attention will be focused on your face, as this is the focus of your general wellbeing and emotions – and also the cause of lots of beauty problems! However, with a little planning and preparation you will be able to be a radiant bride. Even if you don't generally wear very much make-up, make an exception for your wedding day; with all the finery around you it is easy for your face to 'disappear' and be overshadowed. Plan to wear quite a lot of well-chosen and well-applied foundation, blusher, eye-shadow and lipstick, and choose colors that tone well with your skin tones, your dress, and the flowers you will be carrying. Check, too, that the colors match your going-away outfit; there won't be time for a total reworking while you are changing at the reception.
There may be aspects of your appearance that you would like to camouflage a little for the special day, even if you are not usually too bothered about them. Moles and prominent birthmarks can be covered with special cosmetics; beauticians will be able to advise you on choosing and applying suitable preparations. Unwanted hair can be bleached, If it is fine, or removed by electrolysis if it is dark or coarse, and eyebrows can be plucked into the chosen shape. If you plan any hair removal by plucking or electrolysis, schedule this for at least a week before the wedding in case any redness or soreness results. Spots afflict almost everyone at some time; buy an antiseptic cover stick to match your skin tone well before the wedding, so that you are prepared for emergencies on the day!
Facials are a wonderful way of bringing a healthy glow to your skin; defoliants remove rough and dead skin cells to leave your skin looking clearer, and face masks bring impurities to the surface so that they can be sloughed off by the skin's cleansing processes. Tanning makes your skin look brown and healthy, and also helps to get rid of acne, but you need to keep your skin moisturised so that it doesn't dry out. Saunas can make you feel extra clean and glowing with health, as can mud baths and massage. If
you plan saunas, tanning sessions or other radical health treatments in preparation for your wedding, book them at least a week before the date so that your body has time to readjust and even out any excesses. Facials will be most effective if done the day before your wedding.
If you order online your bridal wedding ring sets of platinum from our goldsmiths, you will no longer even think to cancel or postpone your wedding ceremony!
Hair
You will want your hair to look at its best for your wedding, and this will involve quite a bit of forward planning. The condition of your hair will be improved enormously if you are eating a good diet and getting plenty of fresh air and exercise and healthy food for some months before your wedding – and your face will look at its best too.
You will need to choose a hairstyle for the day that suits the general shape of your face and body, goes with the feel of your outfit (for instance, you don't want punk spikes with a romantic flounced gown), and will suit the headdress you have chosen. Just before your wedding is not a good time to make radical changes in the cut or color of your hair – there won't be enough time for it to revert if you decide you don't like the result! Take your headdress along to your hairdresser, or try it out yourself, some weeks before the actual wedding day, so that you can get all the details sorted out in good time. Make sure that the style and headdress feel secure, and also that you will be able to adapt the style to suit your going-away outfit.
Hands
There will also be quite a lot of attention paid to your hands, as everyone will be wanting to look at your new wedding ring. Give your hands a good manicure in the week before your wedding, moisturising them and shaping the nails well and rubbing in plenty of cream. Then you will be ready for your final application of nail varnish, if you are wearing it, and hand cream on the day.
Weight
If you need to lose some weight before your wedding – start early, and take it slowly. Don't leave it to the last minute; either you will never manage to diet in the middle of all the preparations, or you will be tempted to follow an unhealthy crash diet. Lose the weight slowly and sensibly and then it is more likely to stay off. If you are in any doubt as to what foods to eat to lose weight, ask your doctor or join a slimming group; losing weight alongside other people often adds that extra impetus needed for the diet to succeed.
If you want to buy custom wedding rings from a picture or a draw, you can ask our sales support about that and they will give you a great offer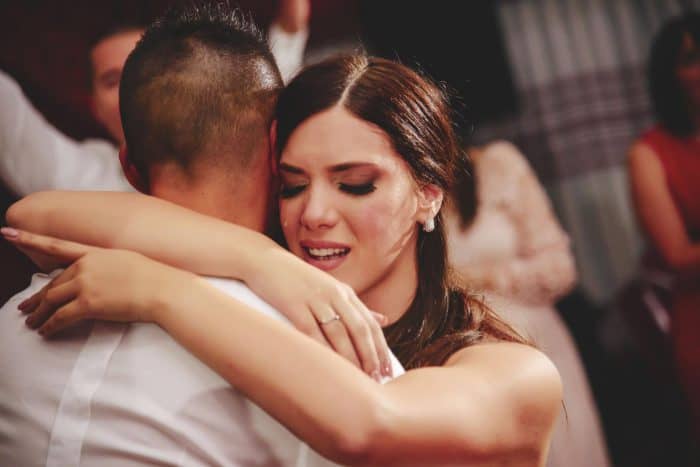 Bridesmaids
Virtually everything that applies to the making, buying or hiring of the bride's dress applies also to the bridesmaids' dresses; it is important that each bridesmaid feels completely happy with her outfit on the big day. Often bridesmaids live in different towns from one another or from the bride, so getting all the outfits ready simultaneously may prove quite tricky. Start early to ensure that there is enough time to do all the dresses properly.
Colors
What colors are your bridesmaids going to wear? This can be quite a difficult choice; you want a basic color that blends well with your dress and with the flowers that you want to carry, that coordinates with the clothes that will be worn by the rest of the wedding party, and that suits the ages, colorings and personal preferences of the bridesmaids themselves. It is only kind to consult the bridesmaids about the choice of color, especially if they are contributing towards the cost of the outfit themselves.
The traditional colors for bridesmaids' outfits are the pastels – yellow, lilac, pink, pale blue, peach. Green used to be considered unlucky, but green can be a very pretty color indeed for bridesmaids' clothes. However, there is no need at all to stick to pastel colors. Darker violet, beige, brown, vivid pink, red, midnight blue, turquoise; all these could look very attractive on bridesmaids of the right coloring. Also there is no need to choose a plain color; the dresses can be in a check, a print, stripes, spotted material, etc, or in a mixture of fabrics, for instance a plain bodice with patterned skirt and sleeves. Or the skirts could be made of one color with a flounced or shorter overskirt in another color.
If the coloring of your bridesmaids is very different, for instance if one has jet-black hair and coffee-colored skin while the other has reddish blonde hair and a peaches-and-cream complexion, make very sure that your chosen color suits them both! If the bridesmaids are of very different ages you may want to dress them in two tones of the same basic color, for instance a plain blue dress for the matron of honor and a blue and white print for the junior bridesmaid.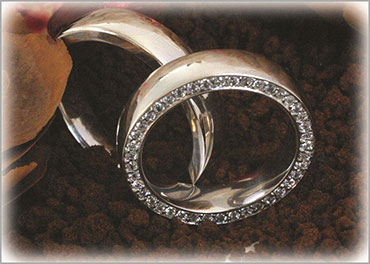 Styles
You will also need to choose a style of dress that suits all your bridesmaids. For instance, it may be quite appropriate to dress a six-year-old girl in a short
Bridesmaids' dresses
dress, white pantaloons and a mob cap, but this would not look so good on a 35-year-old matron of honor! Similarly, low-necked off-the-shoulder dresses look fine on older bridesmaids with good figures but would look inappropriate on small girls.
You may want to choose a basic style of dress that reflects the pattern of your wedding dress. This will help to give an overall homogeneity to the bridal party. Many ranges of off-the-peg bridal gowns have coordinating bridesmaids' dresses available to complement them, and many sew-it-yourself patterns either have sister patterns for bridesmaids' dresses or give instructions for making attendants' dresses from the main bridal gown shape. Obviously this only works if your bridesmaids are the same size and shape as you are.
If your bridesmaids cover a wide age range, you can probably think up adaptations of a basic dress pattern that would suit all of the different ages. For instance, the basic pattern could be a style with a fitted bodice and a gathered skirt. The matron of honor and any older bridesmaids could wear dresses with low necks and off-the shoulder sleeves; teenage bridesmaids could wear the basic pattern with a scoop neck and puffed sleeves, and younger bridesmaids could wear dresses with a high neck and puffed sleeves. The younger bridesmaids' hems could be knee-length instead of full-length.
For very young bridesmaids it is always sensible to keep away from floor-length hems; it is very easy for a small girl to trip over a long hem. Make the dress ankle-length, calf-length or knee-length. If your bridesmaids are very different shapes, make sure that you find a pattern that flatters them all. A heavy bridesmaid will feel ridiculous in a closely fitted and gathered dress, especially if she is with sylph-like counterparts