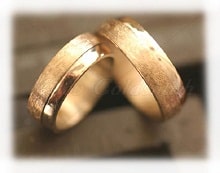 Aug 25
Yellow Gold Wedding Bands
Yellow gold is the classic precious metal for wedding rings in Europe and above the ocean as well. Its colour, warm as the sun in people's heart and has been enchanting for millennia. Yellow Gold rings are unmistakeably recognised and often used as wedding bands.
Quality should be always in your interest
The alloy is one of several deciding factors in the quality of your wedding ring.Since 2002, our web page visitors have relied on our high-quality standards concerning gold 14ct. and platinum. We will gladly consult you on your purchase of a wedding rings set.
Two Tone Wedding Bands?
Yes! Yellow gold is almost always among these colours. We offer total of 4 different gold colours(white, yellow, grey and rose gold). These colours are the result of years of research and were developed especially for wedding bands and engagement rings.
With us, you always have the choice to have your wedding ring produced in grey gold or white gold