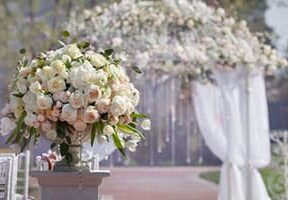 Aug 30
Wedding accessories
It's no good choosing your dress carefully unless you pay just as much attention to what goes with it! Your accessories should complement the mood and style of your dress and of the wedding in general – for instance it would be inappropriate to wear flat white sandals with a very formal dress with a train. Keep your dress in mind when choosing all your accessories – ideally try them on with it – and you can be sure that the complete effect will be harmonious.
Shoes
You may not think that your shoes are particularly important, but they could make or break your wedding day. Choose shoes that are a sensible height so that you don't fall over when you are walking down the aisle or the church steps. Remember that you will be standing up for quite a long time during the day, so choose shoes that are comfortable. Try your shoes on with your dress to check that the hemline of the dress is not too short or too long. If your dress is full-length the hemline should barely brush the ground; anything longer is just asking for trouble! Shoes are generally white or silver to go with a white dress. When you are getting dressed on the big day, put your shoes on after your dress so that you don't rip the fabric as you get dressed.
Stockings
Decide in advance whether you want to wear white or neutral-coloured stockings or tights, and then buy two pairs in case of accidents! If your wedding is in the spring or autumn you may want to invest in a pair of warmer tights as a back-up in case the day dawns gloomy and cold.
Garter
It is traditional for brides to wear a garter in memory of the days when an unseemly scramble to remove the bride's garters was all part and parcel of the wedding celebrations… you may wish to dispense with this custom! If not, garters can be bought singly or in pairs.
Coverings
It is not terribly appropriate to put a coat on over a wedding dress, which causes problems if the weather is cold or wet. It may be advisable to invest in a lacy but warm white shawl or one made of fringed or embroidered white fabric to put round your shoulders without spoiling the look of your dress if your wedding day is colder than anticipated. White parasols are more ornamental than useful, but photographers and wedding car chauffeurs may bring more practical white umbrellas with them; check this with the firms concerned.
When the bride and groom's first night, or 'bedding was a much more public affair than nowadays, all hinds of frivolities were indulged in by the wedding guests. One of the traditions was that of 'flinging the stocking the bride's stockings were (forcibly) removed, then the guests would take it in turns to sit on the end of the bed and fling the stocking over their shoulder onto the bed, trying to get it to land on the groom (if the guest was male) or on the bride (if the guest was female).
Lingerie
Surprisingly, your lingerie can be a very important part of your wedding outfit. Once again you need to be comfortable, and you need a bra that is in no danger of riding up or coming undone. Try your bra and panties on under your dress: are there any unsightly lines or bulges? Can your underwear be seen under your dress? If so, what sort of petticoat will you need? Is the skirt of your dress full enough to warrant a stiff petticoat? If so you will find it much cheaper to order one through one of the bridal magazines than to buy one from a bridal shop.
Jewellery
Your jewellery should, of course, be chosen to complement your dress – for instance you will only be able to wear a pearl necklace or sparkling pendant if your dress has a low neckline or a plain high one. Earrings, too, should be tried on with your dress, and with your hair and headdress as you plan to have them on the day. Try all the jewellery you are thinking of wearing together with the dress itself – pearls might look too creamy, glittery necklaces too ornate.