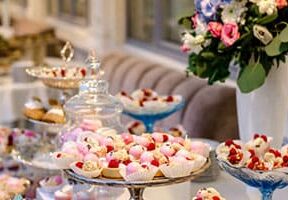 Nov 22
Consider using a Wedding Planner – view more Details
If you are frantically busy with your job, looking after the kids or an elderly relative, or just feel overwhelmed by the thought of planning a gay wedding, you can call in a wedding planner to take the strain. 'Gay wedding planners' is certainly one of the most popular searches that leads to our website, and planners are noticing a marked increase in enquiries from gay couples.
A wedding planner will sit down, preferably with both partners, and work out your specific requirements and budget. You can ask them to take over all the responsibility for planning the wedding, or just specific elements. They will help you with the initial ideas about the style or theme of the day and point you in the right direction to get what you want. If you want them to continue working for you, ask them to do the research and help you select venues and caterers. They can even help with details such as ordering and sending out invitations and managing the replies on a database.
Use the Budget Plan, your wish list and the following checklist as the basis of your discussions and to make sure the planner has thought of everything.
What can a wedding planner do for you?
• Help with initial ideas
• Shortlist venues
• Find suppliers
• Source unusual requests
• Liaise with venues and suppliers
• Coordinate invitations
• Organize the day itself
• Organize the honeymoon
Wedding planner Jenny Barnes, based in Buckinghamshire, says: 'The majority of our clients are either career couples with not much time to spare for organizing their wedding, or they are having a wedding at some distance from their home. We carry out the time-consuming tasks, like supplier or venue searches, using our local knowledge. This leaves them free to concentrate on the big decisions and saves them a considerable amount of travelling.'
Usually, wedding planners have good relationships with venues and suppliers, such as florists and entertainers, and can often negotiate a good rate for you. They will gather quotations and liaise with the venue and suppliers throughout the preparation, all the way to the big day. Most wedding planners will attend on the day – from your home to the civil venue to the reception – to make sure everything goes smoothly. If there are any glitches – for example, the drink not being delivered or transport not arriving on time – they should have a string of suppliers they can call on in an emergency. They can even organize the honeymoon for you – which certainly relieves some stress in the middle of planning your wedding, believe me!
If you want something unusual or wacky but don't know where to start, a wedding planner will undertake the research and make sure your dreams can be fulfilled. They will also be up to date with the latest innovations in the wedding market and can organize the finest level of detail – for example, sourcing ice sculptures, arranging cabaret performers, singing waiters, casino tables or fireworks.
How to budget for a wedding planner
Wedding planners will often provide a range of services, from a two- or three-hour initial discussion of ideas, to a three-month planning service, to full co-ordination, including liaison on the day. Some will charge a set fee for particular services – for example, the initial discussion, finding a venue and each supplier – or offer an overall package for full co-ordination. Others will charge you a fee, but also take commission from the suppliers and venue. Some take a fee based on a set percentage of your spend on the wedding. There are pros and cons with all of these methods, but the last one could work out more expensive if your costs start to escalate. Find out exactly how much they charge and whether they take commission from venues and suppliers.
If you are on a tight budget, you may choose to use a planner for a small element, such as the initial brainstorming meeting. A lot of venues also have wedding co-ordinators who can help with some of
the planning and will certainly manage the reception arrangements on the day itself. However, a wedding planner can ensure that the venue provides exactly what you have ordered, will look after the gifts and liaise with the photographer, and do numerous other things that the in-house coordinator might not do.
Sometimes another supplier can also act as an unofficial wedding planner for certain aspects of the day. For example, our caterer said he could organize the flowers and decoration as he often worked with companies he knew and could negotiate a discount for us. He also organized all the napkins and tablecloths to co-ordinate with the color scheme.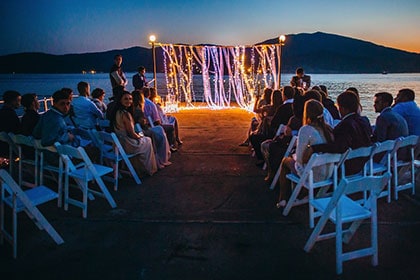 Alternatively, on the day itself you can hire a toastmaster, who is trained to ensure that events run smoothly by liaising with all the suppliers and organizing your guests. This is what we did and it took away all the worry of hosting the event. Our toastmaster arrived at the reception venue while we were at the registry office. He made sure all the decorations were in place and the caterers were going to be ready on time. He then welcomed the guests, introduced speakers and liaised with the photographer, band and venue manager to make sure everything went like clockwork. However, we spent a lot of time organizing the wedding in advance and had fully briefed the toastmaster, so if you are short of time in the run up to your big day, I'd recommend using a wedding planner. When you get your estimates keep them in a file or record in the Budget Planner, and then when you have decided on the best price and supplier, fill in the final column of the Budget Planner.
Top tip
• Whatever your budget, agree a set fee and make sure you have a detailed account of the wedding planner's services and responsibilities.