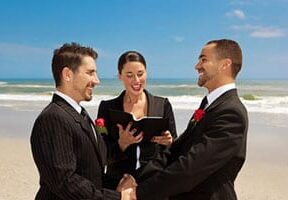 Sep 05
Wedding presents
If you are very lucky, all your guests will have sent their wedding presents In advance by post so that none at all will appear at your wedding reception, but this is becoming less and less common and many guests will probably arrive clutching small or large beribboned parcels.
The first problem is what to do with the presents during the reception. It is very awkward if the couple are handed presents while they are in the receiving line. One solution is to have a special table just inside the door for presents; this way the guests can get rid of their encumbrances early on and are then free to shake hands, take a drink, etc. The first few guests to arrive with presents can be asked to place them on the table, and others arriving later will then see the purpose of the table and follow suit.
Another solution is to have a table elsewhere in the room, perhaps as part of the overall decoration – presents could even be placed around the cake to form a display in themselves. If neither of these ideas proves practical, the best man, chief bridesmaid or bride's mother can be detailed to take charge of any presents that are handed to the couple and to form a surreptitious pile somewhere out of harm's way.
For more than a decade, it is very popular to provide a donation box at the wedding ceremony for your guests. They are supposed to put money, bank cheques, credit advices etc. in there instead of giving you other bigger and old fashioned wedding presents which last years are less and less popular and remains very often in the past. This donation box is also called wishing well box and it can be in any unusual form or color and is made mostly of cardboard.
Every couple's nightmare over presents is when the labels or cards become detached from the presents they were with, so it is a good idea to detail someone to look after this side of things. Perhaps a younger member of the family could be armed with a roll of sell tape and instructed to fix the cards and labels firmly onto the wrappings so that neither goes astray.
The second problem is what to do with the presents when the reception is over. Of course, if you are both staying around for an evening party you can deal with the presents yourselves and take them to an appropriate venue, either your new home or perhaps the bride's mother's house. If you are going straight away on honeymoon then it is best if the best man or bride's mother takes charge of all the presents and looks after them safely until you return from your holiday.