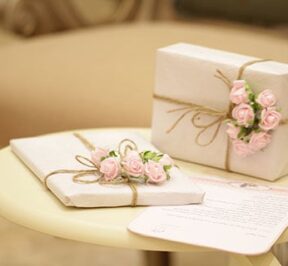 Jul 22
Gifts to Give and Presents on the Wedding Day
As bride and groom you will want to show your appreciation to the people who have been involved in your wedding party, and the best way is by giving them a present to remind them of the special day. Try to make these presents lasting and, if possible, personal; they will like to have something that they can look at in later years, and something that has obviously been selected with care and thought.
Gifts to Give to Best man and Ushers on the Wedding Day
It is often difficult to select presents for men, but some things are very suitable for men of the wedding party; these include cufflinks, decanters, tiepins, watches, engraved tankards, etc. You will want to give your best man something more special than the gifts you give to your ushers, as he will have done much more work for the big day! Of course you will know the personal tastes of your own best man and may well want to choose an unusual gift for him such as a brandy goblet, a leather jacket, a television, etc.
Gifts to Give to Bridesmaids on the Wedding Day
Bridesmaids are very much easier to choose presents for, as any kind of jewellery is appropriate and also any kind of beautiful ornament. Presents for bridesmaids could be necklaces, pendants, bracelets, rings, earrings, stick pins, engraved glasses or goblets, figurines, special thimbles, etc. Some couples choose jewellery for their bridesmaids that can be worn on the wedding day to complement the bridesmaids' dresses.
Presents for Other Attendants on the Wedding Day
Flower girls and other small female attendants are also easy to choose presents for; they too could be given a pretty necklace or pendant, a figurine, or a pretty set of crockery such as the Beatrix Potter or Brambly Hedge designs. Little boys are harder to choose for, and it is difficult to think of many presents that small boys will be interested in for long; you may well find that the best bet is something like a computer game or a special toy. Some firms provide wedding dolls for small girls; you could vary this idea by dressing a doll in a replica of your own dress, or in a dress made from the same fabric as the attendant's.
Gifts to Give to Each Other on the Wedding Day
Although you will have been spending out a lot of money on the other preparations for your wedding, you will probably want to give each other something special as a gift to mark this special day. Your presents to each other will reflect your financial state, so don't feel obliged to give something showy if you can't afford it. If money is no object the groom could give the bride a string of pearls, a fur coat, a diamond pendant, a car; she could give him a motorbike, a subscription to a golf club, gold cufflinks, etc. Keep your ears and eyes open for clues to the presents that would really please your partner; the bride might be delighted with something more prosaic such as a guitar, a rocking chair or a cookery course, while the groom may hanker after a camera, a leather suitcase or a set of brandy glasses.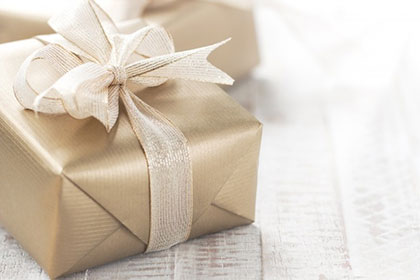 Presents for Parents on the Wedding Day
Some brides and grooms like to buy a small present for their parents as they finally leave home for the last time, to say 'thank you' for all their care over the years. Others choose a present for their respective mothers, such as a dish commemorating the day, an engraved perfume bottle or a piece of jewellery, or arrange to have a bouquet of flowers delivered on the day. Both sets of parents would be delighted with a wedding photograph in a silver or enamel frame.
Presents for Everyone on the Wedding Day
In some countries it is customary for everyone at a wedding to take away a small favour – often sweets wrapped up prettily. Several wedding firms provide wedding favours such as boxes of dragées, lace squares enclosing sugared almonds, wedding crackers, and commemorative scrolls thanking the guest for attending.
Different customs for Presents on the Wedding Day
In Uganda the Buganda people associate the banana plant with fertility, and on the arrangement of an approved marriage the bride's brother presents her with banana leaves.
Among Zulu tribes presents between bride and groom often took the form of beads; these were considered particularly special as they had actually been worn by the person concerned. In some of the ancient Masai tribes the man seeking a particular girl's hand in marriage is given snuff and a meat of porridge by her father. The next day, and the day after that, he brings a present of beer for the father, and on the third day comes back with the dowry or bride-price in the shape of cattle or goats. On the fourth day he comes back again to claim his bride.
Make Wedding Gift Lists
This may seem a bit premature, but you want to start thinking about a gift list in order to include information with your invitation. Gift lists are also known as wedding lists or wedding registry in the US.
These lists provide ideas for the basic household items that may be useful to you as wedding presents; you could use this as a starting point for your own list, or photocopy this list and circulate it among your guests. Obviously each couple will be different in what they require and what they already have; add your own individual wants or needs such as a yogurt-maker, sandwich toaster, pictures, fire irons, paints and brushes, etc.
There are various options for your lists:
• Items at a specific store.
• Gift vouchers for specific shops, or online stores.
• Items from a range of suppliers or shops.
• Specific amounts to pay for elements of your honeymoon.
• Donations to charity.
• Handmade or homemade presents.
• Others.
Household Wedding Gift List Sample
Barbecue Pedal bin
Bath mat Pillowcases
Bath rack Pillows
Bedspread Salt and pepper set
Blankets Sheets
Candlesticks Tablecloths
Clock Table mats
Dustpan and brush Tea towels
Duvet Toast rack
Duvet cover Tools
Electric blanket Towels
Iron Trays
Ironing board Vases
Lamps Waste paper baskets
Linen basket
Kitchen Wedding Gift List Sample
Baking tins and trays Kitchen tools
Bread bin Knife rack
Bread board and knife Knife sharpener
Casseroles Mixing bowls
Cheeseboard and knife Potato peeler
Coffee percolator Ramekins
Colander Rolling pin
Corkscrew Salad bowl
Deep fryer Saucepans
Dish drainer Sieve
Doormat Slow cooker
Egg whisk Spice rack
Flan dishes Storage jars
Flask Tea strainer
Food processor Toaster
Food scales Vegetable rack
Frying pans Wooden spoons
Kettle Wok
Crockery Wedding Gift List Sample
Plates – small, large, medium Cream jug
Soup bowls Coffee cups and saucers
Vegetable dishes Teacups and saucers
Cereal Dessert bowls Butter dish
Other serving dishes Mugs
Sugar bowl Egg cups
Milk jug Other crockery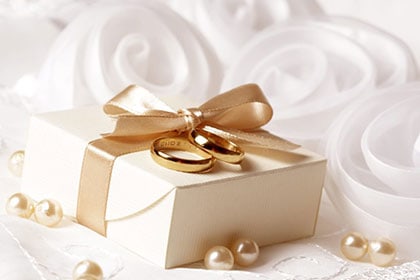 Glassware Wedding Gift List Sample
Decanters Fruit bowl
Jam pot Other glassware
Cutlery Wedding Gift List Sample
Knives Coffee spoons
Forks Serving spoons
Dessert spoons Butter knives
Dessert forks Steak knives
Soup spoons Salad servers
Fish knives Ladle
Fish forks Carving knife
Teaspoons Others
Wedding Gift Lists at Department Stores
The traditional route is to set up a gift list with a department store. The shops offer a free gift list service and you can either set them up in person or do it online. Department stores recommend setting up gift lists about ten weeks before the event, so that the product range is the same when your gifts are purchased. However, you can always add things to your list under their 'manage your list' options. Some of them, like John Lewis, operate the list six weeks before your wedding and two weeks after, so you should check this with each store. They also offer the option of gift vouchers, so if you want more expensive items, people can contribute to them. Another way to deal with expensive items is to divide them up into £10 chunks, so that people buy contributions towards a flat screen TV, or whatever budget-buster items you've chosen.
Your guests can buy over the phone, online or in the shop, but they sometimes need a code or password to access your gift list. They can tell the gift list department their price range and will be told what is available, so they can make a selection. It's also important that guests let the gift list department of a store know if they buy something in the shop, so it's deleted from the list.
Some shops also offer you a gift voucher for setting up your gift list and others will add a percentage to money pledged by your guests if your gifts are over a certain amount – for example, some will add 3 per cent if your gifts come to more than £1,000 in total.
Wedding Gift Delivery from Department Stores
You should also check whether items will be wrapped or just packaged up. Usually, they are packaged up for safe transport, rather than individually wrapped. Most stores will deliver all the presents free of charge, but make sure you arrange a date when you are back from your honeymoon. Usually, deliveries are collated three weeks after your wedding because they may have to order some items if they are out of stock. They will also wait until the list has closed before ordering all items within a range, to avoid slight variations in fabrics or tones of pottery, for example.
Wedding Gift Lists from a Range of Suppliers and Shops
You can also create wedding gift lists with companies that specialise in this area. They offer a wide range of gifts from different suppliers including designer ranges. Here is a selection:
• weddingshop*com: this has a range of 250 brands of mainly household items.
• wrapit*co*uk: over 350 brands from garden furniture to books and electrical goods.
• marriagegiftlist*com: allows you to compile a list from a range of department stores, so you are not limited to one shop.
• theweddinglist*com: this is the General Trading Company's site, which sources products from around the world, offering a wide selection of glass and chinaware, contemporary and traditional furniture, oriental and African artefacts, and kitchenware.
Gay Wedding Gift Lists
If you want specifically gay presents, you can set up a gift list with lavendarlifestyles*co*uk, which has a wide range of lesbian and gay art, jewellery, homeware, books and videos.
Alternative Wedding Gift Lists
There is a growing number of alternative gift lists. For example, thebottomdrawer*co*uk will host lists for people who want a garden makeover, new kitchen, or hot tub in the bathroom. It has a network of skilled suppliers who will work with you to decide on what you want in your home and then work out prices and create a gift list with bite-sized presents that people can purchase online. For example, if you want a garden makeover, a landscape gardener will visit to consult on the design and then draw up a list of items such as decking boards, plants or a water feature, broken down into parts so people can afford to contribute to the overall effect. Or you can just divide up the total cost into varying amounts, so people with different budgets can contribute.
Another good alternative for the couple who has everything is a gift list for your honeymoon. There are companies who will set up gift lists detailing costs of your honeymoon that people can contribute to; for example, a night at a hotel, entry to a museum, dinner overlooking the sea or a helicopter ride. Remember to include a wide variety of prices to allow for all budgets. It is normally recommended a few gifts in the £100-£150 range and a few in the £20 range, with the majority somewhere in between.
Charity lists as Wedding Gifts and Presents
Another option is to have a gift list with donations to charity. The obvious choice for a civil partnership is Stonewall. You set up an account with them and the charity gives you a reference number to pass on to your guests. They, in turn, can make donations by credit card or cheque. Stonewall gives examples of what donations will buy, such as:
• £10 will pay for mailing 20 head teachers with a pack to help them address homophobic bullying.
• £30 will pay for the distribution of 350 postcards as part of an awareness-raising campaign. These will be sent from lesbian and gay adults to their old schools detailing the bullying that they encountered.
• £50 will pay for briefings on discrimination against lesbians and gay men to go to 25 MPs.
• £100 will enable Stonewall to keep a designated Education for All website running for a week. This will mean that schools can download resources, and children from across the country can anonymously post their views and share experiences.
If you want to give to a range of charities, you can create a list with the Alternative Wedding List at give-it*org*uk. Each charity gives you a range of options at different price brackets, as with the Stonewall example above. The charities include Barnardo's, FARM-Africa, Marie Curie Cancer Care, Samaritans, Terrence Higgins Trust and War on Want.
Wedding Gift List Tips
• It is a good idea to set up your gift list before sending out your invitations, since you can then enclose information about how to purchase gifts. Some department stores will print inserts for your invitations as part of the service.
• You can usually view the progress of your list online.
• Check the store's returns policy, as some will only allow you to return 25 percent of your gifts, which is fair enough, since you chose them in the first place.
• Find out what happens if your guests don't contribute enough for an item on your list. Some stores will allow you to top it up, or transfer the money to another gift, or get a refund of the cash.
• Check how gift list operators make their money – i.e. if they charge a percentage of your gifts, or take money from suppliers, etc.
• Check what happens if your wedding is cancelled or postponed.
• Choose a range of items from the frivolous to the practical and at different prices.
Thank you Notes for the Wedding Presents
Remember to keep a list of who gave you what so that you can thank people appropriately. If people bring presents to the reception and you decide to open them there, tuck the labels into the presents as an aide-memoire. To make your task easier, many firms now print special thank you notes. These can be printed specially with your names to match your wedding stationery, or you can buy packs of thank you cards from ordinary stationers' shops and add your own message.
Dealing with Presents and Gifts on the Wedding
If you are very lucky, all your guests will have sent their wedding presents in advance by post so that none at all will appear at your wedding reception, but this is becoming less and less common and many guests will probably arrive clutching small or large beribboned parcels. The first problem is what to do with the presents during the reception. It is very awkward if the couple are handed presents while they are in the receiving line. One solution is to have a special table just inside the door for presents; this way the guests can get rid of their encumbrances early on and are then free to shake hands, take a drink, etc. The first few guests to arrive with presents can be asked to place them on the table, and others arriving later will then see the purpose of the table and follow suit.
Set a Specific Wedding Gifts and Presents Place
Yet another solution is to have a table elsewhere in the room, perhaps as part of the overall decoration – presents could even be placed around the cake to form a display in themselves. If neither of these ideas proves practical, the best man, chief bridesmaid or bride's mother can be detailed to take charge of any presents that are handed to the couple and to form a surreptitious pile somewhere out of harm's way.
Set a Donation box at Your Wedding
For more than a decade, it is very popular to provide a donation box at the wedding ceremony for your guests. They are supposed to put money, bank cheques, credit advices etc. in there instead of giving you other bigger and old fashioned wedding presents which last years are less and less popular and remains very often in the past. This donation box is also called wishing well box and it can be in any unusual form or colour and is made mostly of cardboard.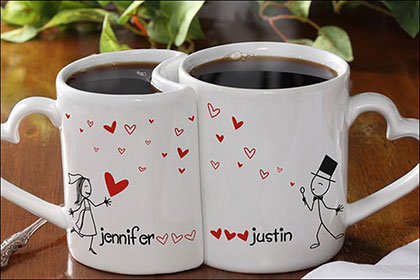 Keeping the Cards and Labels on Your Wedding Gifts
Every couple's nightmare over presents is when the labels or cards become detached from the presents they were with, so it is a good idea to detail someone to look after this side of things. Perhaps a younger member of the family could be armed with a roll of sell tape and instructed to fix the cards and labels firmly onto the wrappings so that neither goes astray.
Where to Keep Your Wedding Gifts after the Reception
The last problem is what to do with the presents when the reception is over. Of course, if you are both staying around for an evening party you can deal with the presents yourselves and take them to an appropriate venue, either your new home or perhaps the bride's mother's house. If you are going straight away on honeymoon, then it is best if the best man or bride's mother takes charge of all the presents and looks after them safely until you return from your holiday.
Photos by freepik . com