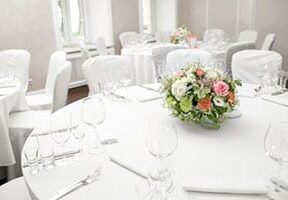 Sep 21
Find a venue and Ideas of Budget – Plan my Wedding
Once you have an idea of budget and how many people you want to invite, you can start looking for a venue to accommodate your 500 close friends! Your ideas might change once you have looked at a few, so keep an open mind. You may find you fall in love with somewhere that can hold only 50 people, or one that is so expensive you can afford to invite only 20.
You may be looking for a venue to suit either your theme or the timing of your wedding. For example, if you want a winter wedding, you might choose a castle that is dressed for Christmas, or a summer wedding would suit a country house with grounds.
For the actual civil partnership ceremony, you can use any registry office or licensed wedding venue in the country. This means that they hold a civil wedding licence, not an alcohol licence, but obviously both are important. If you don't fancy the municipal nature of some registry offices, they will give you a list of licensed wedding venues in the area – there are over 3,500 of them in the UK, ranging from castles to racecourses, hotels to country barns, and even the London Eye.
You can search for licensed wedding venues by postcode or town on the General Register Office website:
• in England and Wales at: gro*gov*uk
• in Scotland at: gro-scotland*gov*uk
• and in Northern Ireland at: groin*gov*ukA good site for finding unusual venues listed by category is civilvenuesuk*com.
Some licensed venues are promoting themselves as gay-friendly. You can look on gay-friendly-weddingvenues*com, of course, or other websites, such as pinlcweddings.biz or modern- commitments*co*uk.
All licensed wedding venues have a limit on the number of people who can attend the ceremony, even if they can actually cater for more. So you may want to have the ceremony at a registry office and then the reception at another venue, inviting some people to the ceremony and more to the reception. Wherever you decide to hold the event, you have to 'give notice' of your intention to have a civil partnership at your local registry office.
Nikki and Donna split the occasion
We wanted the least amount of hassle and consequently chose the easiest and most enjoyable route – which was to split the event. We had the ceremony in April and the reception a few months later at the Royal Society for the Arts in London.
I'd say choose a venue that your guests would find interesting and that has decent public transport links so that they can drink as much as they like without having to worry about driving home. Meet the operations manager/ conference manager prior to the event and go through everything in detail. If they aren't helpful, find another venue. On the day, arrive early and go through everything again, make sure all the technical equipment works and that either you know how to use it, or someone will be on hand to put it right. There are bound to be things that go wrong, but your guests don't know what to expect, so just work your way around it… so long as there's plenty of alcohol, no-one will notice!
We didn't really expect a civil partnership to make any difference to our relationship – we saw it as a way of legally protecting each other during the worst of times. Instead, we both agree that the public declaration of our partnership has added depth to our commitment to each other and brought a sense of calm and peace that we didn't even know was missing.
Nikki, Charity Communications Director, London
Types of venues
If money is no object, you can hire a venue such as a castle, country house or stylish restaurant for exclusive use. Some swish venues allow you to arrive by helicopter or private plane, or float down in a hot-air balloon.
Religious buildings – You are not yet allowed to hold a civil partnership ceremony in a religious building – it has to be a secular ceremony. However, there are a number of buildings with a wedding licence that are former churches, or that have a spiritual or religious connection. However, you are not allowed to have any religious content in the readings or vows of a civil partnership, although if you can find a celebrant who is willing to officiate, you can have a blessing after the civil ceremony.
Gay venues – To keep it all 'in the family', you may want to hold your wedding or reception in a gay pub, club, hotel or restaurant. Many can be hired for private functions and some have wedding licences. Additionally, they may already be themed, which will save you decorating them, and they may have sound systems and resident DJs to make sure your party goes with a swing. If you are new to an area, look out for rainbow flags or stickers in windows, or check out the Internet or magazines for local gay listings.
Hotels The vast majority of licensed wedding venues are hotels with a choice of room for the ceremony and reception. The advantage is that your guests don't need to stagger far for their accommodation and even if you don't want to stay there, you are usually offered a complimentary room in which to change outfits, have a fag break, or escape from Auntie Maud.
Many hotels offer wedding packages with a per head price that includes drinks, food, room hire, accommodation and all the services you would expect. They usually have a wedding co-ordinator who will talk you through all aspects of the day and can arrange a florist, DJ, red carpet, help with seating plans and be the master or mistress of ceremonies on the day.
If you want a truly relaxing wedding, hold your civil partnership in a spa hotel. Treat yourself to a mud wrap, thermal bath, or dip in an ozone pool before you tie the knot. You can't actually hold the ceremony in the spa, but most are located in hotels, so you can have the formalities in the function rooms and then get your kit off for an unusual reception.
A spa is also a good place to hold your hen or stag night if that is your thing – some have specific days or nights for each gender. Castles Imagine tying the knot in a romantic castle with fairy tale turrets, a moat and manicured lawns. Many castles have to be hired on an exclusive basis, which can set you back a few bob, but does provide perfect privacy. Some castles are privately owned and can provide a unique insight into how the other half lives – why not pretend to be queens for the day!
Marquees Some venues, such as licensed hotels or castles that have smaller rooms for the ceremony, often offer the option of hiring a marquee for the party afterwards so that you can entertain more friends.
Country houses – If you love a sense of history, a country house can add a touch of class to your wedding day, and if you want a venue on an exclusive-use basis, with plenty of privacy, hiring a country house could be a good answer.
Restaurants – Some restaurants have wedding licences, so the ceremony can be swiftly followed by a slap-up meal. However, in any restaurant or venue, you aren't allowed to serve food or drink before a civil partnership ceremony, in case you are inebriated by the time you sign on the dotted line! Restaurants can also be a good option for a separate reception since you can often hire them exclusively.
Pubs or inns There are over 100 pubs in the UI< with civil wedding licences and, of course, you can usually hire a private room upstairs, or take over the whole venue for a reception. Village halls and community centres Some village halls have wedding licences so you can conduct the whole event there, but the fact they have a licence usually makes them twice as expensive to hire as an unlicensed hall. A good budget option is to have your reception in the local village hall, especially if friends and family can help with the catering and decorating, although getting caterers in will save you having to clear up after your own wedding. You can probably supply your own booze, so that knocks down the price. Some halls also offer a discount if you live locally. James and John Their dream was to get married in a castle with friends and family all around them. They chose Thornbury Castle, just outside Bristol, where they live. Close friends and family stayed the night before in the baronial-style hotel with fabulous four-poster beds. As they held the event on a Sunday in early December, there weren't many other guests, so it felt like they had the castle on an exclusive-use basis without having to pay for that privilege - a saving of several thousand pounds. James and John entered the oak-panelled library to the theme tune from Dynasty, played by a string quartet. The registrar then introduced the ceremony by giving some of the history of the castle. The signing of the register was followed swiftly by a champagne reception, which kept guests occupied while formal photographs were taken. The photographer orchestrated a group shot by climbing up into the rafters of the castle to look down on the guests. A formal sit-down dinner followed, with the traditional top table and 50 guests on round tables. The room was decorated for Christmas anyway, so that gave a great atmosphere with a big tree, candles and fairy lights. A fireworks display in the castle grounds signalled the grand finale. James and John were then swept off in the castle's Bentley for a half-hour spin - a perfect way to end a sumptuous wedding. Think about whether you need to hire a bouncer or someone to keep an eye on security, especially if you have presents or guests' belongings on show. Consider having someone to host or manage the event for you - perhaps hire a toastmaster or appoint a guest as a master of ceremonies, because unlike at other venues, you may not have someone in a management role. A useful website is hallshire*com, which lists more than 400 village halls for hire. Unusual venues A good site for finding unusual venues listed by category, such as private schools, is civilvenuesuk*com. Sports venues - Many sports venues have excellent catering facilities and some are licensed to hold weddings. Venues range from football clubs and racecourses to golf, sailing and rugby clubs. However, with any sports venue you should ensure that your preferred date doesn't clash with fixtures, which often take place on the weekends, and aren't always known a long time in advance, being dependent on results. But these venues can provide a grand and stylish setting, with exclusive use midweek or outside the sport's season. Academic institutions If you fancy sipping champagne in the quad and being punted off down the river to your honeymoon, a number of universities have wedding licences, including some Oxford and Cambridge colleges. Over twenty public schools also have civil wedding licences. You may be restricted to having a wedding outside term-time, but with the long holidays, this should not be too much of a problem. Museums and arts venues - Add a little history to your special day by holding your civil partnership ceremony in a museum. Or, if you like a bit of drama, a number of theatres have civil wedding licences. You can also get married in some cinemas, galleries, concert halls, arts centres, or film studios. Private clubs - If you like that exclusive feel, a number of private clubs are available for hire. Ships, boats and piers - If you fancy a nautical theme or a captain in uniform, how about a wedding aboard a ship or cruising down the Thames on a pleasure boat? Zoos and safari parks - Some zoos and safari parks have wedding licences and offer unusual options. Planes, trains and . . . - Believe it or not, you can actually get married at an airport. Shoreham Airport is a gay-friendly venue with a civil wedding licence. If you have a pilot licence, you can take off on your honeymoon straight away! You can also tie the knot in the Concorde viewing lounge at Manchester Airport. If you are a real trainspotter, you can tie the knot at over eight different railway centres. Gardens or parklands - Strictly speaking, a civil partnership has to be indoors; however, it is only the signing of the register that is the legal part. Some venues have engineered it so that the ceremony starts on the terrace overlooking the gardens, with a welcome or reading, and then the couple go inside for the formalities, although guests can still hear the proceedings outside. They then go back out to exchange rings in front of the guests. In the UK, there are over 40 venues set in extensive gardens or parklands that hold a wedding licence. Alternatively, a good budget option is to hire a camping barn or a field and ask your friends to literally pitch up with drinks, food and tents. It's a good idea to also hire a barn in case of bad weather or at least have a pub nearby. Some campsites belong to farms, so bed and breakfast is often available for guests who don't like camping. Barns - If you like a bit of line-dancing, you could hire a barn for your wedding. There are over twenty with wedding licences, some in magnificent surroundings. Barns Farms also conjure up country and western themes, offering a rural, isolated setting with plenty of privacy and space. There are over twenty farms with wedding licences around the UK. Other unusual venues The London Eye has proved a popular choice among gay couples. Other unusual venues include a bingo hall in Cricklewood, North London; a brewery in Wrexham; mines in Somerset, Cornwall and Wales; Brighton Sea Life Centre; Fortnum and Mason in London; a part of Tower Bridge in London; and a vineyard in Surrey. At Denbies Wine Estate in Surrey, for example, your guests can enjoy a winery tour, cinema experience and tasting in the cellars. Money-saving tops • Hold your civil partnership on a weekday or outside the peak summer season, which is May to September. • Hire a venue for the ceremony itself and hold the reception at home. • Hire a venue only and either do your own catering or hire caterers. • Find venues where you supply the booze. • Hold the reception in a gay bar and ask people to pay for their own drinks. • Invite only close friends and family to the ceremony and have a separate larger party later. Questions to ask when you first contact a venue • Is the venue licensed to carry out civil partnership ceremonies? • Have they had a gay wedding before? • What are the contact details for the nearest registrar? • Is the venue available on the required date or selection of dates? • Can they send you a brochure and price list? • How many people can the venue accommodate for the ceremony and catering? • How much overnight accommodation is available? • How many car parking spaces are available? • Can you hire the venue on an exclusive-use basis? • Will there be other weddings on the same day? • Can you make a provisional booking? • When do you need to confirm? • How much do you have to pay as a deposit? • Does the venue have any special discount arrangements with local suppliers? • Can you see sample menus? • Are outside caterers allowed? • If the venue is open to the public, when is it available for hire? • What are the contingencies if the weather is bad? • Where is the nearest public transport/airport, etc.? • Do you have to pay extra for the hire of tables, chairs, linen, dance floors? • Are there any restrictions (for example, no stilettos, no red wine, no children, no disabled access)? • Can they give you ideas for themes or decoration from other weddings? • Do you need to hire any technical equipment, such as lights or a PA system? To get some idea of price, ask the following: • Cost of room hire for ceremony • Cost of room hire for catering • Starting price for wedding packages - what does this include? • Can you supply your own alcohol? • If so, is there any corkage cost? • Cost of a bottle of house white/red wine « Cost of a bottle of house champagne • Any minimum spend on catering • Minimum cost of a sit-down meal per head • Minimum cost of a buffet meal per head 0 Cost of accommodation • Any extra costs (for example, hire of cake stand and knife) • Do prices include VAT? More detailed questions before you book the venue • Do they allow confetti to be thrown at the venue? • Can you bring your own band or DJ? • Do they allow candles to be lit in the reception room? • Do they allow professional firework displays at their venue? • Do they have landing permission if you want to arrive by helicopter, balloon or private jet? • Do they offer the option of a marquee? • Are there separate rooms provided for the wedding, reception, meal, evening reception? • Is there a changing room provided for the day? • What is the latest finishing time? Questions to ask in the build-up towards the big day • Does the venue supply any flowers or decoration? • Can the venue provide someone to act as the master of ceremonies for the day? • Does the venue have a Public Address (PA) system for speeches? • When can suppliers have access to begin setting up the rooms, e.g. florists, decorators, DJ? • Is there any creche or babysitting facility? • When does the reception room need to be cleared by? • Is there somewhere safe to store presents? • What is the checkout time from accommodation? • Where are the best photo opportunities?