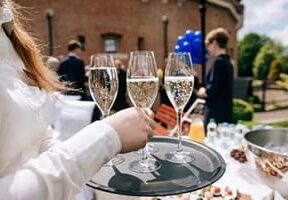 Oct 08
Decide on Catering Buffet Drinks Cakes – Plan my Wedding
There are three types of catering that you will want to consider for your wedding: self-catering, outside catering and in-house catering. The first can be done in your own home, or at a venue that you hire, such as a village hall or marquee. Outside caterers can be used in your own home or at any venue that allows them on their premises. However, most venues have their own in-house caterers, although they may allow you to supply the alcohol.
Alternatively, if you are having a very small reception, for up to ten friends, a good option is to book a table at a restaurant. To limit the budget, choose a set menu and specific wines ahead of time. Don't forget to have a vegetarian option.
When you get your estimates, keep them in a file or record in the Budget Planner, and then when you have decided on the best price and supplier, fill in the final column of the Budget Planner or online table.
Consider which of the following you would like:
• Canape's
• Buffet
• Sit-down meal
• Drinks
• Cakes
• Chocolate fountain(s)
• Ice sculpture
• Hire of catering paraphernalia
Contact caterers early on, as they will give you an idea of what you can get for your budget, and this might determine how many people you can invite. Apart from the food, there may well be a charge for linen, waiting staff and hire of equipment.
With regards to catering, it's important to think about the timing of your event. If you have a ceremony earlier in the day, you may have to feed people twice – once for lunch and then an evening buffet or meal. To save money, we held our ceremony at 4.30pm and the party started at 5.30pm. We had a reception first, serving pink Cava. We had thought about having canapes but I indulged my fantasy and had a chocolate fountain. Guests were able to dip strawberries, melon, pineapple, marshmallows and mini doughnuts into the flowing chocolate. After the drinks reception, which lasted an hour-and-a- half, we then had a substantial two-course buffet supper.
If you hold your ceremony in the late afternoon, people will have eaten lunch before they arrive. I have been to many a wedding where the ceremony starts at say 2.00pm, lasts an hour, then there are photographs and we finally eat at about 5.00pm. By that stage, people are either pissed, famished, or both – not a good combination.
Top tips
• If using a caterer, insist on giving a deposit, no matter how small; it will make it harder for them to dump you should they be offered a larger function.
• Make sure you have the caterer's personal mobile phone number.
• Watch out for letters of recommendation that have the same handwriting – they could be a con.
• If visiting the kitchen of a caterer, satisfy yourself that it is clean.
• Ask for a tasting session and invite a few friends for second opinions.
If you want to really splash out, you can hire first-class chefs from top restaurants for the day. Special touches could include serving Beluga caviar, oysters and vintage champagne.
Canapes – It is quite popular to have a canape and champagne reception by itself, or as a preamble to the main meal. They can be very imaginative – my cousin, who had his civil partnership in Canada, brought a taste of England to the reception by having roast beef and Yorkshire pudding canapes.
Money-saving tip
• Jeremy Gibson, from Yumarooney caterers, says: 'If you are on a tight budget you should find a caterer who will do a "lay and leave" buffet and then rope in friends to help run the reception, thus avoiding staffing costs.'
Key questions
• What is the minimum and maximum number of guests you want to invite?
• What type of food do you want?
• Do you want a sit-down meal or a buffet?
• If you are having a lunchtime wedding, do you want a buffet for the evening?
• Does the venue have all its own crockery and tables?
• If hiring a marquee, do you need a separate catering tent? Are there cooking facilities for outside caterers at the venue?
• Do they have references that you can contact?
• Are there any 'extras' not on their quotation?
• How much and what type of liability insurance do they have?
• What are their billing terms and conditions?
• What are their contingency plans if they are ill on the day?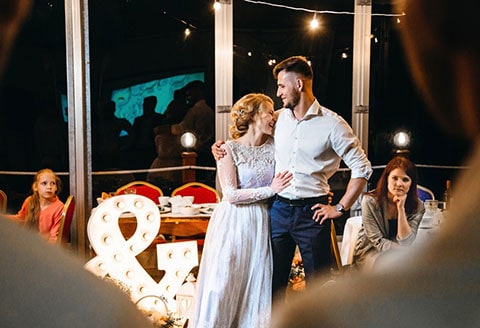 Sit-down meals versus buffets – If you are having a sit-down meal for more than twenty people, this will usually involve a set three- course menu that you choose in advance. Sometimes a venue will allow a choice of two or three dishes per course, but you need to check this. Others will allow a choice, but will want your guests to decide in advance. Co-ordinating everyone's choice can be a bit of a nightmare, but if you are well organized, you can ask your guests for choices in an information sheet you send out with the invitation, which they can return when they reply. Don't forget to ask guests on the invitation for any dietary requirements, and if you are serving meat or fish, it is advisable to offer at least one vegetarian alternative.
Sit-down meals can be slightly cheaper than a buffet since the caterer only has to supply the food required and there is no choice. However, staffing will be more expensive than with a buffet. When Laura and I got quotations, the sit-down meal came in a pound cheaper than a buffet, but we wanted the occasion to be less formal and for people to have more choice. For the extra pound, guests had a selection of four main dishes, three salads and three puddings. There were also lots of extras such as dips, samosas and olives. We combined the best of both worlds as people had place settings at specific tables, rather than trying to stand around eating or grabbing chairs, and they could eat a wide range of food.
Sometimes people have a sit-down meal during the day and a finger buffet in the evening. Hotels will often provide an evening buffet quite cheaply if you have already had a main meal for your guests. With a buffet, make sure anyone with mobility problems has someone on hand to help them get their food.
If the buffet is your main meal, it is also quite a good idea to have the starter, or at least bread rolls, on the tables so that people have something to keep them going before their table is called to the buffet and don't have to queue for both courses.
Cheaper options – If you are doing the catering yourself, have a buffet and ask friends and family to each bring a dish. Or ask one of your local restaurants, supermarkets, or bakers if they have a catering service for you in your own home or local venue, or perhaps they supply all the food ready prepared for you to reheat.