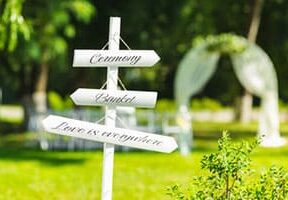 Nov 06
Drinks Calculator Glasses for the Cathering – Plan my Wedding
Top tip
Add cold water to your ice buckets or boxes to speed up the cooling process. Wine will take only about ten minutes to chill down in an ice bucket.
Shoping list
50 bottles of champagne 45 bottles of red wine
45 bottles of white wine
20 bottles of sparkling wine (if required)
60 x 2-litre bottles of soft drinks 50 x 33d bottles of beer
Bottles
Champagne reception
allowing 2-3 glasses champagne each
50
Soft drinks options, allowing 1 serving
12×2 litres
each
Orange juice or sparkling water
(if required)
Dinner
allowing V2 bottle of wine each
25 red and 25 white
Soft drinks options, allowing 2 servings
24 x 2 litres
each
Orange juice, sparkling (if required) and
still water and lemonade
After dinner toast
allowing 1 glass each
Sparkling wine
20
Drinking into the night
allowing 2 glasses each
20 red and 20 white
Soft drinks options, allowing 2 servings
24 x 2 litres
each
Beers, allowing 50 servings
50 x 33d bottles
Glasses
120 champagne flutes – 240 if you don't have anyone to wash them between the initial reception and the toast.
120 tumblers
120 wine glasses
120 tall glasses for juice
Ice boxes: 11 if you want to keep everything chilled from the start, or you could halve this if you have people available to keep refilling the boxes
Ice: 33 ice bags for 11 boxes
Ice buckets for tables: 10 if you have ten tables
Ice: 10 bags for ice buckets
Corkscrews, bottle top cutters and bottle openers: 10 of each would be handy
Boxes to contain empties: you can use the crates the bottles came in and recycle them.
Top tip
For a special touch, have napkins monogrammed with your names and the date of your wedding.
Allegra and Susi conjure up a flamboyant feast
Allegra McEvedy, co-founder of Leon restaurants and cookery writer, says she and her partner, Susi Smither, a party organizer, primarily decided to marry because they plan to have children and want to create a stable environment for them. 'We also both like a good party and have always thought that gay couples have just as much right to their big day as heteros.'
They held their partnership ceremony in a registry office, and then, two days later, following a blessing in a church, they had a celebration at the Weir Bank in Bray, a riverside venue. Allegra explains: 'We always wanted to do our own thing and for us, three courses, buffets and substantial canapes had all been done to death. So we came up with the idea of Trolleys and Dollies. The Dollies were girls walking around with ush-erette trays filled with Mrs King's pork pies, warm crab tartlets, or other bits of deliciousness. And the Trolleys were like overgrown dim sum vehicles winding their way through the guests. One trolley had whole sirloins of roast beef with watercress and horseradish; another had two soups served from huge china tureens. Another had whole sides of the best smoked salmon, while yet others had bales of English asparagus with hollandaise or melted butter. We had a guy from the local Chinese restaurant who shredded Peking duck for pancakes and we also brought in expert sushi makers who rolled to order at each table. Ham stands with Pata Negra circled while Southern Fried chicken and ham biscuits (a nod to Susi's Virginian parentage) also worked the crowd."
Their cake was also completely different. 'Neither of us really likes wedding cake and we both have a bit of a passion for cheese, so during one drunken wedding meeting at Leon Ludgate, a bunch of us came up with the idea of The Cheese Cake. A few days later our best man, Fred, duly went off and spent a very happy afternoon at Neal's Yard flirting over the ewe's milk. Eleven cheeses and a thousand pounds later we had the most beautiful towering stack, from an enormous Montgomery's Cheddar wheel at the bottom up to the tiny pyramid-shaped goat's cheese, Tymsboro, at the top.'
Allegra's advice is that if you really care about food, don't settle for anything less than amazing. Co in with your own ideas and don't let caterers push you towards salmon and chicken (with pasta for the veggies). It's your day and you deserve better than that.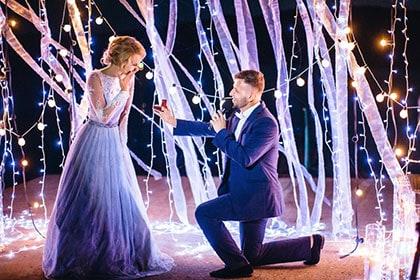 Money-saving tips
• Order a large iced cake from your local bakery and don't tell them it's for a wedding – you'll be amazed at the price difference.
• Order a plain iced cake and make it look more expensive by decorating it with fresh or silk flowers, or topping it with strawberries.
• Make your own cake and then have it iced professionally.
• Serve the cake instead of dessert, or have a dessert and no cake.
• If you want the cake to look grand and have three or four tiers, but you don't need to feed that many people, a professional trick is to cut a block of polystyrene and ice it for the bottom layer – just don't serve it!
Special touch
Ask your cake maker to transfer photos of yourselves onto sugar icing and stick them around your cake as decoration.
Chocolate fountains – Chocolate fountains are very popular for functions and some hire companies have orders two years in advance, so book as early as possible.
The options for your wedding are:
• Hire a chocolate fountain company with staff to work the machine.
• Hire the machine and operate it yourself (known as 'dry hire').
• Buy your own chocolate fountain(s).
Some chocolate fountain companies will only host the fountain themselves, as they want to manage and look after the equipment. Apparently, there is a lot of skill involved in making sure the chocolate flows smoothly.
The chocolate fountain companies usually supply a range of fruit, such as pineapples, bananas, kiwi and strawberries, or marshmallows or fudge, on skewers to dip into the chocolate. Sometimes dipping food is charged per person or included in the hire price.
The fountains come in different sizes and can cater for between 30 and 300 people. You need to supply access to electricity and a table for each one. Make sure you don't stand them on a precious table or tablecloth, as there are bound to be drips.
If you have a large number of guests, it may be advisable to have two or three fountains on different tables to avoid unseemly bundles or long queues. A round table, with access all around, is
the best option. It is also advisable to serve children rather than leaving them to help themselves, so that they don't make a huge mess.
Things to check
• Does the venue allow chocolate fountains?
• Do the staff of the hire company serve people, or just monitor the machine?
• Does the company bring a base, or do you need to provide a table?
• Does the company provide dipping food and, if so, what is it?
• Does the company provide napkins or plates?
• Do the operators have health and hygiene certificates?
• Does the company have public liability insurance?
Warning
If you are paying per person, watch out for companies that supply the food already skewered, or cut it in half, as this means you get less to dip than you would from a company that displays, for example, the whole strawberries for you to skewer and dip.