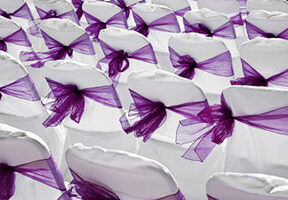 Oct 10
Entertainers Magicians Casino Roving artists Cabaret Fireworks
As well as music, you may want to have other forms of entertainment to keep your guests amused. This is particularly useful if there is a lull while official photographs are taken, or if you have a lot of children in the wedding party. It is also a way to enhance the theme of your wedding – for example, if you are having a Vegas-style wedding, set up a casino. Entertainment can also round off the occasion with an amusing cabaret act or spectacular fireworks.
Possibilities include:
• Magicians
• Casino
• Roving artists « Lookalikes
• Cabaret or drag artist
• Jugglers and acrobats
• Masseurs
• Fireworks
• Creche facilities
Any entertainer is going to be like a guest at your wedding, so spend some time talking with them before the event to make sure you are comfortable with them.
Agree the fee, start and finish times, any pay for overtime, if necessary, and whether food and breaks are required.
When you get your estimates keep them on file or record in the Budget Planner (online at gay-friendly-wed-ding-venues*com), then when you have decided on the best price and supplier, fill in the final column of the planner.
Magicians
Booking a close-up magician – one who performs in front of individuals, rather than from a stage – for a wedding reception can have real benefits: as well as acting as the perfect ice-breaker, the magician will keep guests entertained during that awkward period while the wedding photographs are being taken. The magician will normally meet and greet guests during the drinks reception, performing while moving from group to group, and then from table to table during the meal (between courses). The tricks can provide a good talking point and help to relax guests, especially if they are sitting with people they haven't met before.
Magician Mandy Davis warns couples to think very carefully about what they expect from a magician. She says people often expect close-up magicians to entertain children, but she suggests that hiring a separate children's entertainer is preferable if that's what you require. 'So often we get guests coming up to us and telling us the children are "out of control", as if we are nursemaids. That's not why we are there – unless you book us solely to entertain children.'
She recommends using a magician either during the reception or the dinner – a magician works best between the courses, not during, as people need to concentrate on their food. 'It's not so important at the desserts and coffee stage – then people are happy to put down their forks and pick a card or hold a coin.' During a three-course meal a magician can comfortably cover 10 tables, 12 at the very most. If you need more than one magician, make sure they work well with each other.
Some magicians also offer souvenirs that guests can take home – for example, balloon models. Others can do cabaret magic if your venue has a stage or other workable area. Make certain that all your guests will be able to see everything from where they are sitting at their tables and that there are no pillars blocking the view.
Top tips
• Magical entertainment is better at the earlier part of the event to break down any awkwardness and before any loud music starts.
• A magician can entertain around 120 people over three hours. If you have more guests, perhaps hire two magicians.
• A magician works best between courses.
Roving artists
Hiring an artist to cut out silhouettes or draw portraits of guests provides a novel experience and can also save on providing favours for your guests. Charles Burns, a roving artist, says: 'I regularly meet people at events who last saw me five or even ten years before. They still have the silhouette I cut for them, usually framed, and can tell me exactly where, when and what the event was! That kind of impact is a wonderful thing to create at an event if you can.' Caricaturist Rick Coleman says: 'Don't choose your artist on the basis of how many people they can draw in an hour. Accept that you're not going to get everybody drawn, no matter how many hours you've got, or how fast your artist is, so choose an artist for their experience, style and personality.'
Don't waste time with ticketing schemes or lists of people to draw, as this can lead to confusion and disappointment if time runs out. Rick Coleman adds: 'If you choose your artist well they should have the experience to draw as many people as they can, take reasonable breaks at the right times, and know when to "take the Mickey" and when not.'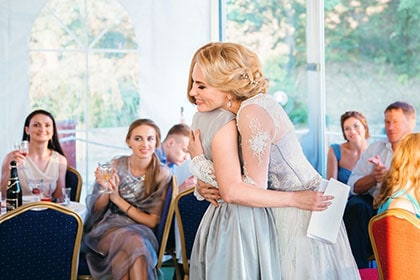 Lookalikes
Elvis and James Bond lookalikes are very popular at weddings that have a particular theme. Actors roam around the room and cause quite a stir. If you want the occasion to be particularly camp, have Shirley Bassey or Dame Edna lookalikes. If you want to trick your guests into thinking you have high-flying friends, there is a wide range of lookalikes, from Tony Blair to Elizabeth Taylor. If you pick one who is a singer, they will double as a cabaret act. Try to see them in action before you book them, or at least see a demo DVD.
Casino
Hiring a casino is a great idea, especially if you want a Vegas-style wedding. The company will supply roulette wheels, poker tables and gaming machines, and provide a casino manager and croupiers. They will also supply lighting and music to create the right atmosphere. The betting money can also be personalised to mark your civil partnership.
Cabaret/drag artists
If you want some cheeky repartee to liven up your celebrations, why not hire a drag artist to roam among your guests or do an after- dinner act? They will usually tell saucy jokes, sometimes pose as a guest, sing a few songs, change into several outrageous outfits and perform some tricks. When you meet an artist, be very specific about the level of swearing or blue jokes they can use. You should also ensure that there are adequate changing facilities.
Darrell East, also known as Miss Dot Com, says: 'I always ask if the family and other guests know I'll be at their civil partnership.' He suggests displaying his publicity photo at the reception or listing 'Drag Cabaret Show' on the wedding invitations.
A good drag artist always arrives two hours before going on stages to test sound and lighting equipment. They then put on their outfit and make-up and will sometimes start to mingle with guests. This helps to build up the atmosphere before they take to the stage. Ideally the best time for them to perform is after the dinner and before people want to get on with partying. Some will also double as a DJ, provide karaoke or compere for the evening, which is a good money saver.
Circus acts
If you want to entertain your guests on a larger scale, you can put on a circus show and provide jugglers, acrobats, fire-eaters or human sculptures. There is an endless choice. You need to allow plenty of space and, if it is to be outside, rely on good weather or have a marquee.
Masseur
To add a bit of luxury to your day and help people relax, you could have a roving masseur. This can be very helpful to soothe the nerves of those guests giving speeches.
Fireworks
Fireworks will make a spectacular end to your special day and can fit in with your theme or color scheme. You should check that the venue allows fireworks and you need to allow plenty of space – 150 square metres is ideal. Either get a responsible and sober friend to set off the fireworks, or hire a professional company – some will allow you to remotely control them from a distance. I'd strongly recommend hiring professionals since a friend may drink too much, or may not be experienced enough for this hazardous work.
A reputable fireworks company will visit the site and do a risk assessment. You should be able to specify the type of fireworks you require, or ask the company to design the display. Jared Steiner, of
Fireworks Connections, did a display at a civil partnership where the couple requested 'quiet' fireworks, as there were horses nearby. 'We used a combination of quiet fireworks and pyrotechnics and achieved a "rainbow" theme, which fitted with the couple's ceremony.' He advises that a ten-minute display is long enough at a wedding and twenty minutes is the absolute maximum; people can get cold standing outside in their finery.
Creche facilities
I have been to many a wedding where a child has screamed all the way through the ceremony. If you have lots of children attending your civil partnership, it might be worth investing in creche facilities – this way the children are entertained and the adults can relax.
When booking a creche, you need to consider the size of room available – preferably hire a large one with as little furniture as possible. A creche facility should include toys, books, games, art materials, and sometimes even involve a bouncy castle. For longer periods, a TV or DVD player is useful so that children can watch cartoons or use the TV for PlayStation games.
Andrea Parker, of Scalliwags Mobile Creche, says people often think about employing a clown to entertain young children: 'This is fine, but they only "appear" for a set length of time and only entertain children rather than actually look after them. If a child gets upset or wants the toilet, then there is often no-one to help and an adult has to be called in from the party.'
Once you have contacted various entertainers, fill in the Budget Planner with your estimates and then the final, agreed price.