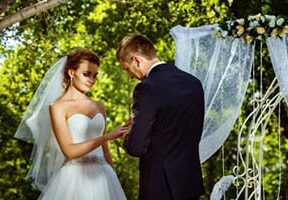 Sep 02
Wedding parties
Many couples these days choose to have an evening party for wider groups of friends when they have not been able to invite them all to the reception. This is an ideal opportunity for colleagues, friends from sports teams or clubs, etc, to give you their own good wishes for your married life and also to join in the celebrations.
The venue for an evening party can be almost anywhere. Since you will probably be doing this in addition to a reception you may want to keep the costs down, so a hired hall will probably be perfect. If you want to do things more formally, perhaps to have a full meal or a formal dance, then again you can hire a room in an hotel or restaurant. Since the evening party is often specifically to entertain the couple's friends, it is appropriate for the couple to offer to pay for it themselves. This need not be an expensive undertaking; you could just provide drinks and snacks, or you could even make it a bring a bottle party.
The style of the party is entirely up to you; choose it to suit your own preferences and the ages and interests of those who will be coming. You can have a disco or other music such as a jazz band, steel band or even orchestra; your local paper will probably give you plenty of ideas for entertainment. The food can be just crisps and peanuts or could be a full buffet or a formal meal. If you wish you could just have an evening celebration in a pub or club, where people could buy their own drinks and just have an excuse to get together and wish you well.
The timing of an evening party can be awkward, particularly if some people have been to the service and then have a gap of several hours to fill before the party. If groups of friends will be attending who all know each other you could suggest that they all go out for tea together, or that another of your friends entertains (hem informally for the afternoon; then they won't feel too much like lost souls in the intervening time. Whatever kind of party you choose, make sure that it is one that needs the absolute minimum of organisation from you; you will have far too much to think about on the day to be bothered with organising yet another event.
You will need to decide too how much time you are going to spend at the party yourselves. Remember that you will probably be absolutely dropping by this stage; never underestimate the degree of exhaustion you are likely to feel at the end of the day! You may choose just to make a token appearance at the beginning of the party and then let the other guests enjoy themselves while you slip away quietly; this is a very good arrangement if you want to get away to an hotel, etc, the same night, and if you have some responsible people around in whose hands you can leave the rest of the evening's entertainment. On the other hand you may want to be there till the bitter end yourselves – especially if you are planning to spend your first night nearby, so you haven't got far to stagger home! Or you may want to choose a compromise; stay for about half the party and then have your ceremonial 'going away', since you won't have had one at the reception.
Evening parties need not be confined to 'overflow receptions' for those on the fringe of your families. Evening parties in your absence can be a very pleasurable way of entertaining friends and relatives who have travelled from a distance for the wedding and are going to be staying the night in the locality. If you haven't had your reception at home the bride's mother may feel up to holding a small, informal get-together for favourite relatives, and again it is a courteous way to entertain the groom's family if they are staying in a town far from home. If both sets of parents live in your home town then it will be very easy for them to get together and go out for a meal, say, and relax after a busy day, letting someone else do all the hard work. You may even want to pay yourselves for your parents to go out for a meal, as a way of saying thank you for all the effort of the day, and the preparations leading up to it.
Whatever kind of evening party you plan, make sure that there is someone responsible and trustworthy looking after it, and that all the arrangements are quite clear about when to finish, clearing up, paying for hired halls, food, etc. Then there will be no loose ends for bemused friends and relations to try and sort out.