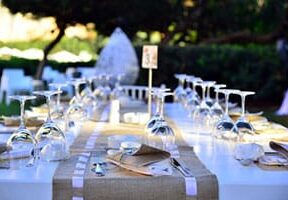 Jan 14
Wedding day presents
As bride and groom you will want to show your appreciation to the people who have been involved in your wedding party, and the best way is by giving them a present to remind them of the special day. Try to make these presents lasting and, if possible, personal; they will like to have something that they can look at in later years, and something that has obviously been selected with care and thought.
Best man and ushers
It is often difficult to select presents for men, but some things are very suitable for men of the wedding party; these include cufflinks, decanters, tiepins, watches, engraved tankards, etc. You will want to give your best man something more special than the gifts you give to your ushers, as he will have done much more work for the big day! Of course you will know the personal tastes of your own best man and may well want to choose an unusual gift for him such as a brandy goblet, a leather jacket, a television, etc.
Bridesmaids
Bridesmaids are very much easier to choose presents for, as any kind of jewellery is appropriate and also any kind of beautiful ornament. Presents for bridesmaids could be necklaces, pendants, bracelets, rings, earrings, stick pins, engraved glasses or goblets, figurines, special thimbles, etc. Some couples choose jewellery for their bridesmaids that can be worn on the wedding day to complement the bridesmaids' dresses.
Other attendants
Flower girls and other small female attendants are also easy to choose presents for; they too could be given a pretty necklace or pendant, a figurine, or a pretty set of crockery such as the Beatrix Potter or Brambly Hedge designs. Little boys are harder to choose for, and it is difficult to think of many presents that small boys will be interested in for long; you may well find that the best bet is something like a computer game or a special toy. Some firms provide wedding dolls for small girls; you could vary this idea by dressing a doll in a replica of your own dress, or in a dress made from the same fabric as the attendant's.
In Uganda the Baganda people associate the banana plant with fertility, and on the arrangement of an approued marriage the bride's brother presents her with banana ¡eaves.
Presents for each other
Although you will have been spending out a lot of money on the other preparations for your wedding, you will probably want to give each other something special as a gift to mark this special day. Your presents to each other will reflect your financial state, so don't feel obliged to give something showy if you can't afford it. If money is no object the groom could give the bride a string of pearls, a fur coat, a diamond pendant, a car; she could give him a motorbike, a subscription to a golf club, gold cufflinks, etc. Keep your ears and eyes open for clues to the presents that would really please your partner; the bride might be delighted with something more prosaic such as a guitar, a rocking chair or a cookery course, while the groom may hanker after a camera, a leather suitcase or a set of brandy glasses.
Parents
Some brides and grooms like to buy a small present for their parents as they finally leave home for the last time, to say 'thank you' for all their care over the years. Others choose a present for their respective mothers, such as a dish commemorating the day, an engraved perfume bottle or a piece of jewellery, or arrange to have a bouquet of flowers delivered on the day. Both sets of parents would be delighted with a wedding photograph in a silver or enamel frame.
Presents for everyone
In some countries it is customary for everyone at a wedding to take away a small favour – often sweets wrapped up prettily. Several wedding firms provide wedding favours such as boxes of dragées, lace squares enclosing sugared almonds, wedding crackers, and commemorative scrolls thanking the guest for attending.
Among Zulu tribes presents between bride and groom often took the form of beads; these were considered particularly special as they had actually been worn by the person concerned. In some of the ancient Masai tribes the man seeking a particular girl's hand in marriage is given snuff and a meat of porridge by her father. The next day, and the day after that, he brings a present of beer for the father, and on the third day comes back with the dowry or bride-price in the shape of cattle or goats. On the fourth day he comes back again to claim his bride.