Posts Tagged 'wedding rings sets'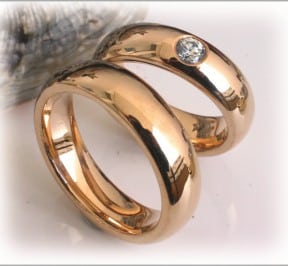 Aug 22
Rosé Gold Rings Itself Without knowing what it is, many women intuitively opt for Rosé gold. Most of them admire the harmony between the Rosé colour and the skin tone. Rosé gold is less conspicuous than yellow gold and is therefore quite discreet.  This is made especially clear in comparisons – a comparison that is worth making.
But What is Actually Rosé Gold? Rosé has nothing to do with pink. Rosé gold wedding rings combine advantages of yellow gold and red gold. Take a bit of time to inform yourself about this interesting precious metal. Many couples ask themselves: "White gold or yellow gold?" Small differences – big effect
But why not something different? The choice does not have to be always limited. (more…)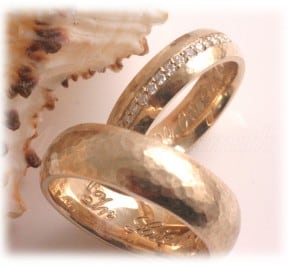 Aug 21
The red gold rings alloy Like white gold, red gold is an artificially changed color of gold. Unfortunately, we can't find pure red gold in the nature. We offer red gold in 14ct. (58,5% gold in alloy), and 18ct. (75% gold in alloy). Find out in person how red gold looks on your hand. Our team from weddingrings-gold.com will be happy to consult you.
What's the effect of red gold? Red gold possesses a fascinating allure. Red gold wedding rings look much different in the shop window than they do on the hand. Red gold wedding rings go with many skin tones. White gold, on the other hand, makes an impression with its contrast. Make one of our various red gold tones your choice.
All our wedding bands and engagement rings are 100% nickel free.