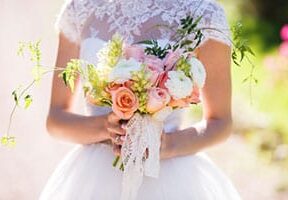 Aug 09
Wedding drinks
Once you have decided what you are going to eat at your reception, you will need to decide what you are going to have to drink. Choose the drinks to fit in to the general style and formality of the occasion, just as the food should.
Before the meal
If possible, arrange for the guests to have access to a drink of some sort as soon as they arrive at the official part of the reception – that is, as soon as they have deposited their coats, tidied up, and gone past the receiving line if there is one. If it is a very large, formal reception, where guests may be waiting around for quite some time before the receiving line starts, you can arrange for them to be served a first drink in a nearby lounge or attractive hallway. Traditionally, sherry is the best drink to offer at this time; you could arrange for a selection of medium or dry so that the guests have some degree of choice. Alternatively you could offer red or white wine, or an alcoholic or non-alcoholic fruit cup. If you are holding the reception in premises where there is a bar, you can arrange for the barman to serve the guests with the drink of their choice as they arrive. At this stage, as at every other stage of the reception, make sure that there are also plenty of non-alcoholic drinks available for children and for adults who prefer soft drinks.
With the meal
If you have arranged a sit-down meal with a set menu, it will be easy to choose a suitable wine or wines to go with it. if you are having very exotic food, you will probably want to arrange a selection of different wines to complement the different courses. If you are having a buffet, the easiest way to deal with the drinks is to have a plentiful supply of both red and white wine and also suitable non-alcoholic drinks; this way the guests can choose what they prefer. Even if the food is a serve-yourself buffet it is generally best to have one or two people (or more, depending on the size of the reception) officially in charge of topping up the glasses.
For the toasts
Champagne is the traditional drink with which to toast the good health of the bride and groom, but if you are running on a fairly tight budget you may want to go for one of the less expensive alternatives, suchas Asti Spumante or an ordinary sparkling white or rosé wine. Even if you choose champagne you do not have to pay a fortune for the very best; many of the reputable chainstores market their own champagne at very reasonable prices. If you have been drinking white wine with the meal, there is nothing wrong in toasting the couple in the same wine, but if you have been serving red it would be more appropriate to serve a different wine for the toasts.
After the meal
After the meal you have numerous options for serving drinks; your choice will depend again on the tone, style and budget of the reception. After a large, very formal meal you may want to serve a dessert wine, or brandy, port or liqueurs. You may just wish to serve tea and coffee. Or, if the reception venue has a bar, you could encourage guests to buy any further drinks they want, or you could pay for, say, the first £80 and then guests could buy their own when that kitty has been used up.
Obtaining the drinks
If you are holding the reception at an hotel, restaurant or club, you may find that they insist on supplying the drinks themselves. Others may allow you to import your own drink but charge a corkage for serving it If you are arranging the drink yourselves, make sure that you deal with a firm that will provide them on sale or return; this way it doesn't matter if you overestimate the amount needed, if the hotel or restaurant is providing the drinks, check that they will charge only for those actually consumed and not a blanket charge.
Checklist for drinks
What will we drink before the meal?
What will we drink with the meal?
What will we use for the toasts?
What arrangements will we make for drinks afterwards?