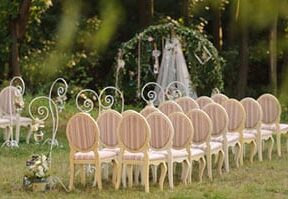 Aug 08
Wedding food
Good food makes for a good reception, and if you provide your guests with something tasty as part of a special celebration they will certainly remember the day with affection! The food doesn't have to be exotic and super-extravagant; a selection of well-chosen dishes with differing tastes and textures, served attractively, will give just the right impression however much – or little – you can afford to spend on the menu.
If you are using a caterer the firm will supply you with different menus to choose from, whether you are having a sit-down meal or a buffet. The prices will vary from around £10 per head for a basic, simple, linger buffet to £30 a head or more if you are having an exclusive sit-down menu using expensive ingredients. Certainly you will be able to find a menu that will be tasty and attractive to fit into your set budget. It is worth comparing the services and menus offered by caterers; don't be afraid to ask for sample menus from many firms so that you can check their value for money.
Sit-down meals need to be chosen particularly carefully, as generally everyone will be required to have the same food; this means that you will need to choose relatively 'safe' dishes that everyone will like. So dishes such as liver, seafood, curry, etc, may be best avoided, unless you know that most of your friends and relations like unusual foods. Most people go for a basic ingredient such as chicken, turkey or beef for the main course; if these are to be roasted, make sure that the quality of the roast and the vegetables is high so that people don't feel that they are simply sitting down for a school dinner.
For something a little bit different you could arrange for a 'safe' ingredient to be cooked in a slightly unusual way, for instance, chicken casseroled with white wine and cream, beef cooked en crofite, chicken portions baked with bacon and mushrooms, etc. For starters and dessert again it is best to stick to something relatively safe, although a sit-down meal does at least give the opportunity to serve dishes that can't be eaten at a buffet, for instance soups, hot desserts, etc.
Buffets can be either finger buffets, where everything can be eaten with the fingers so that no cutlery is needed, or fork buffets. If the guests are going to be standing all the time it is best to serve a finger buffet; it can be very trying juggling a glass, napkin, plate and fork while standing – and trying to eat as well! You will also need to decide whether you are going to have any hot dishes; this is easier if you are using facilities of an hotel or restaurant which have their own good, large kitchens for heating food.
Whichever type of meal you are having, remember to check whether any of your guests are vegetarian or have other diets such as gluten-free, low salt, kosher, etc. If you are having a buffet most people will be able to select a satisfactory meal for themselves whatever their requirements, but for a sit-down meal you may need to have special portions of alternative foods available. Remember, too, that not all vegetarians eat fish or eggs, so these might not be suitable substitutions.
If you are doing the catering yourself, two main considerations will occupy your thoughts; the first is how much to make of all the dishes, and the second is how to store them. If you are arranging a sit-down meal It is fairly easy to judge the portions; simply estimate the average meal for one person (eg half an avocado, 28g (loz) prawns, tbsp seafood dressing, 2 slices turkey, 1 large baked potato, 113g (4oz) salad, 1 slice gâteau) and then multiply by the number of guests. If you are doing a buffet, things are a little more complicated. Caterers generally work on the assumption of 15-20 'bits' per person – a bit being one item such as a stuffed hard-boiled egg, a helping of salad, a canape, a vol-au-vent, etc. If the items you are preparing are large, such as individual strawberry tarts or large vol-au- vents, then keep the numbers down to 10-15 items per person. Then arrange your menus so that in total they produce the required number of servings for the expected number of guests. Do everything you can in advance, for instance, preparing whole dishes and freezing them, baking cakes and storing them in airtight tins. On the day, enlist the help of people who will not be at the service to lay out the food, keeping it covered until the last minute so that it stays fresh and attractive.
Food – Ideas for the menu
Menu ideas for a sit-down meal
typical menu for an economical, fairly safe three-course meal:
Prawn cocktail or melon; roast chicken with roast potatoes, carrots and peas; fruit flan and cream or chocolate gâteau.
Sample menu for a more exotic three-course meal:
Chilled vichyssoise or gazpacho; sole stuffed with crab and baked in white wine, served with piped creamed potatoes and broccoli mornay; fresh fruit pavlova or melon in kirsch.
Ideas for starters
Melon, avocado vinaigrette or with prawns, Florida cocktail, prawn cocktail, grapefruit,'consommé, lobster soup with cream, green pea soup, minestrone, eggs mayonnaise, pâté and toast, smoked mackerel fillets, seafood vol-au-vents, smoked salmon, corn on the cob, tomato soup, deep-fried mushrooms, French onion soup.
Ideas for main courses
Baked gammon with parsley sauce, cold turkey, beef or chicken salad, tournedos Rossini, beef en croûte, mild chicken curty with pilau, chicken baked with tomatoes and onions, lamb cutlets and minted potatoes, pork steaks baked with apple rings, turkey goulash, steak and kidney pie, chicken and asparagus pie, turkey and bacon casserole with cream, duck with orange or cherry sauce, lobster salad.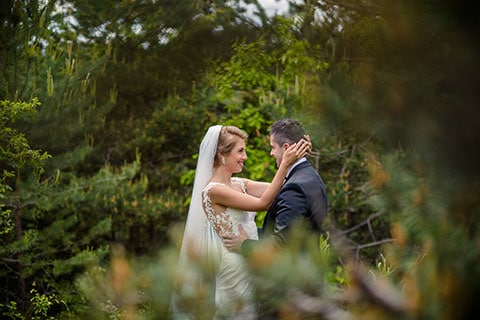 Ideas for desserts
Poire belle Hélène, peach melba, black forest gâteau, chocolate mousse, fresh fruit salad, profiteroles, pineapple or strawberry pavlova, fruit sorbets, raspberry or apricot mousse, black cherry or raspberry cheesecake, syllabub, lemon meringue pie, apple pie with cinnamon, mincemeat tart, baked apples with raisins and cream, peaches in brandy, ice cream with hot fudge or chocolate sauce, crème caramelle.
For the wedding of a farmer's daughter in Pomerania in 1907 the list of ingredients was: 32cwt flour, 4 pigs, 2 calves, 3 sheep, 32 geese, 18cwt fish, 54 casks of beer, 500 bottles of wine, 300 litres of brandy.
In Sussex brides traditionally had a pie containing a whole hen stuffed with hard-boiled eggs – this was supposed to be symbolic of fertility.
Menu ideas for buffets
| | |
| --- | --- |
| Dishes for a fairly conventiona! buffet | Dishes for a more unusual buffet |
| Sausage rolls | Salmon quiche |
| Stuffed hard-boiled eggs | Cheese and herb straws |
| Scotch eggs | Tomato and aspic salad |
| Pätes | Salad niqoise |
| Egg and cress Sandwiches | Potato salad with harn and peas |
| Ham Sandwiches | Mushroom salad |
| Cucumber and cream cheese rolls | Chicken and apple salad |
| Salmon Sandwiches | Waldorf salad |
| Cheese and onion dip | Curried prawn vol-au-vents |
| Prawn coleslaw dip | Crab or clam dip |
| Plain coleslaw | Salmon mousse |
| Celery, carrot sticks, cauliflower | Vegetables for dips |
| pieces and pepper slices to use in | Pinwheel Sandwiches |
| dips | Double-layer Sandwiches |
| 'Ricesalad | Cream cheese and walnut Sandwiches |
| Tomato and onion salad | Egg and anchovy Sandwiches |
| Lettuce and cucumber salad | Smoked salmon Sandwiches |
| Chicken drumsticks | Asparagus rolled in brown bread |
| Turkey nuggets | Avocado and prawn salad |
| Potato salad | Prunes rolled in bacon |
| Chicken and mushroom vol-au-vents | Pork and apple meatballs |
| Ritz biscuits | Cheese and sausagemeat meatballs |
| Cheddar and Cheshire and Edam | Salmon steaks |
| cheeses | Rolls of salami filled with cream |
| Crisps in several flavours | cheese |
| Twiglets | Duck päte |
| Mayonnaise | Liver and bacon päte |
| Fruit salad | Mayonnaise with fresh herbs |
| Profiteroles | Thousand island dressing |
| Fruit mousses | Lemon cheesecake |
| Chocolate mousse | Strawberry and almond tarts |
| Strawberries | Fresh pineapple slices Peaches in kirsch Ginger mousse Coffee gäteau |
Food – Checklists
Checklist for doing it yourself
Who will do most of the cooking?
Who will help out on the day?
Who will help out?
Who will serve the food?
Where can we store food before the day?
Who will do the clearing up?
What is the cooking schedule?
What will we do with leftovers?
Where will we get table linen?
Where will we get glasses?
Where will we get crockery and cutlery?
Can all the food be prepared in advance?
How much will it all cost?
Checklist for catering firm
Who will be doing the catering?
When do they plan to leave?
Will any of the food be hot?
How many people will be serving?
Is tea and coffee included?
Do they provide all the crockery, etc?
Will they cut and serve the cake?
Do they provide table linen?
What will happen to any leftovers?
Do they provide glasses?
Will the servers be in uniform?
Does the cost include drinks?
Do their waiting staff seem pleasant and helpful?
Does the cost include VAT?
Are all the arrangements in writing?
Does the cost include insurance?
How much is it going to cost?
When will they arrive at the venue?