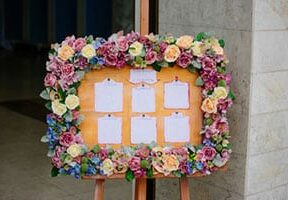 Oct 02
Think about Themes and Styles – Plan my Wedding
Once you have taken the first steps of creating a wish list, deciding how many people to invite and how much to spend, you can venture out into the world to make your wedding a reality – choose the venue, decide on catering and book the registrar. This stage is very exciting as it all begins to feel very real.
The next step, once you've set the budget, is to decide on the theme or style of your wedding. You can really have some fun and let your imagination run wild – it's your big gay day. The theme or style can determine the venue, stationery, how you decorate the room, how you or your guests dress, the food, transport, music – the possibilities are endless. You can base your theme on anything you fancy – from the time of year to your favourite film or a particular passion. It can be something simple like a choice of color or symbol, through to an elaborate fantasy.
For example, if you are thinking of holding your civil partnership around Christmas time, you could follow the lead of comedy actor Matt Lucas and have a pantomime theme at your civil partnership. He and his partner, Kevin McGee, dressed up as Aladdin and Prince Charming. Over 400 guests came in fancy dress with actress Barbara Windsor as a fairy godmother and singer Will Young as an ugly sister. Sir Elton John and his civil partner, David Furnish, also appeared as Captain Hook and Prince Charming.
Companies that specialise in staging events will dress a room in any style for you, even employing lookalikes of famous people to wander around the room acting the part. A company I know created an underwater theme with a centrepiece of a submarine with water running around it, big helium fish hanging from the ceiling and the backdrop of a coral reef. They used special lighting effects as well as fake fish skins as tablecloths. Another client wanted the theme from the TV show Only Fools and Horses, so they had a Reliant Robin as the centrepiece and Rodney and Del Boy look-alikes wandering around. Other wedding themes the company has created include a James Bond set, a fairy's grotto and a Sri Lankan temple.
You can, of course, make or buy your own props. eBay and second-hand or retro shops are good sources of memorabilia. If you want to create a fantasy setting for your wedding, get some inspiration by watching relevant films, going to museums, reading books and magazines, or searching the Internet to see how people dressed in different eras.
Here are some more ideas, from the simple to extravagant. Incorporate the theme into your invitations, menu cards, order of ceremony, place names, table and room decorations, and even your outfits and jewellery.
Gay symbols – Weave your theme around one of the recognized gay symbols, such as rainbows, black triangles, pink triangles, two male or female gender symbols joined together, or the labrys – the double-bladed axe symbolising lesbian love.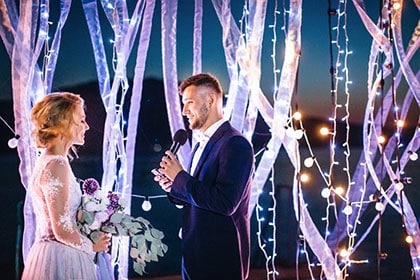 Gay icons – Choose your theme based on gay icons, with the room decoration inspired by their style. Match your outfits to theirs, and play music performed by them or featured in their films.
• Annual events such as Pride festivals
• Colour – rainbows or pink
• Camp theme -think feathers, flamingoes, drag kings and queens
• Country and western – line dancing in a country barn
• Nationality or ethnicity – from Scottish to Indian
• Pagan wedding – do something different
• Weekend house party – for that exclusive feel
• Era – 1920s flapper girls or 60s swingers