Posts Tagged 'white gold wedding band'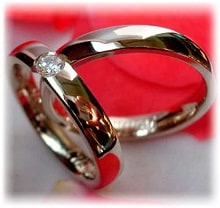 Aug 24
Black Gold Wedding Bands Grey or black gold is quite a recent term. One usually speaks of white gold. But what is the difference?
When we talk about black, grey or white gold?
Like white gold, grey gold is a synthetic precious metal. Its origin is gold but by black gold (also called grey gold) we don't use rhodium to colour extra the wedding bands and they keep their natural white glance. In other words grey or black gold is actually white gold without rhodium.
Are black gold and white gold suitable for wedding rings?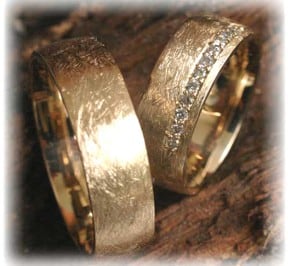 Aug 23
Gold or Platinum Rings Palladium is a fairly recent addition to our wedding ring metals. What could make palladium so attractive for all wedding bands byers? What is palladium?
Palladium is one of six precious metals of the platinum group. The comparison with platinum is obvious. Both precious metals have similar properties. Because of its properties, palladium is especially suited for wedding rings.
What do palladium wedding rings look like?
Palladium wedding rings are pure white. The beautiful colour of palladium does not change a lot over the years. The alloy of our palladium wedding rings is exclusively 950 Palladium (950 Pd). All alloys are exactly weighed to meet the highest demands. This offer better comfort than all conventional palladium alloys. (more…)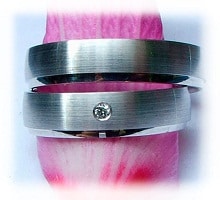 Aug 20
What is white gold rings? White gold is a synthetic material and can't be found in the nature. The colour does not occur naturally. Because of lacking norms, there are countless varieties of white gold. The basis is gold. Through the use of various alloys, the colour can be altered.
Proven quality of all our rings! For reasons of quality all our alloys are undergo rigorous testing. Your wedding bands should not be a nuisance to wear every day.
White gold wedding rings require special attention before you make your decision. Because white gold is a synthetic precious metal, (more…)