Posts Tagged 'platinum wedding rings'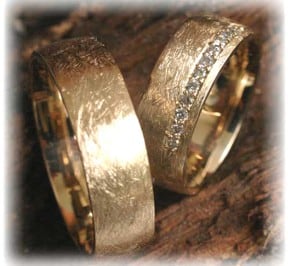 Aug 23
Gold or Platinum Rings Palladium is a fairly recent addition to our wedding ring metals. What could make palladium so attractive for all wedding bands byers? What is palladium?
Palladium is one of six precious metals of the platinum group. The comparison with platinum is obvious. Both precious metals have similar properties. Because of its properties, palladium is especially suited for wedding rings.
What do palladium wedding rings look like?
Palladium wedding rings are pure white. The beautiful colour of palladium does not change a lot over the years. The alloy of our palladium wedding rings is exclusively 950 Palladium (950 Pd). All alloys are exactly weighed to meet the highest demands. This offer better comfort than all conventional palladium alloys. (more…)