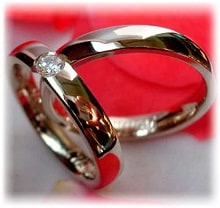 Aug 24
Black Gold Wedding Bands Grey or black gold is quite a recent term. One usually speaks of white gold. But what is the difference?
When we talk about black, grey or white gold?
Like white gold, grey gold is a synthetic precious metal. Its origin is gold but by black gold (also called grey gold) we don't use rhodium to colour extra the wedding bands and they keep their natural white glance. In other words grey or black gold is actually white gold without rhodium.
Are black gold and white gold suitable for wedding rings?